Mirroring renders the surface of lenses reflective. A hard coating that reflects light is applied to the front side of lenses to reduce the amount of light that passes through lenses and reaches your eyes and limit ambient glare.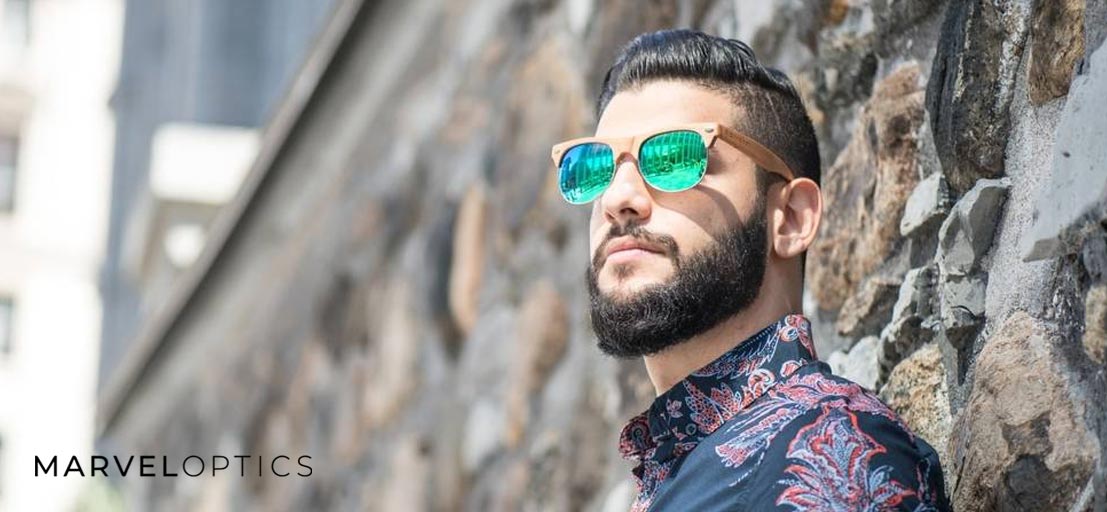 Because mirroring involves the application of a coating, you can choose a striking reflective color and finish for the outside of the lens that flatters the color of your frames. A mirror coating color can differ from the color of lenses.
The lower-quality mirror coatings used in the past were more prone to develop scratches. Leading optical brands and custom mirror prescription lenses now use high-quality hard coatings that are less likely to prematurely develop scratches.
Polarized Sunglasses Reduce Glare
Polarized coatings wrap around an entire lens to block light that gets reflected horizontally. Polarization blocks glare on a molecular level by functioning similarly to window blinds.
Mirroring and polarization are different lens features that are not competitive. In other words, it is possible to order plano lenses or customize prescription lenses that are both mirrored and polarized, such as polarized mirror Ray Ban Chromance lenses.
One drawback to polarized sunglasses is that this lens treatment makes it much harder to see backlit screens outdoors. While it may be possible to check the screen of your smartphone at the right angle, a person who frequently uses devices outside should consider whether polarized lenses are the right choice.
Prescription Sunglasses With Mirrored or Polarized Lenses
Mirror coating can be preferable to polarized lenses for certain environmental conditions. The lenses of most snow goggles are mirrored, while eyewear intended for wear on open water is often polarized.
The darkest sunglasses lenses are mirrored and polarized. Combining these features significantly cuts down on visible light transmission, ambient light and glare.
You will need to replace scratched mirrored or polarized lenses to maintain the intended level of visible light and glare reduction. Buffing these lenses can undermine the efficacy of lens treatments. The high-quality hard mirror coatings offered by leading optical brands and available on custom mirror prescription lenses from Safety Gear Pro are more scratch-resistant.

FAQs
Where can I order eyewear with mirrored or polarized lenses?
Safety Gear Pro offers a large selection of prescription and plano sunglasses that have options for lenses that are mirrored, polarized or both mirrored and polarized. Browse glasses that are available with plano mirrored or polarized lenses or select one or both lens features when customizing prescription lenses for sunglasses.
Can I get prescription lenses that have mirror finish?
Mirror finish is an option for most prescription-ready sunglasses frames. Select your favorite eyewear brand and style and check to see whether your prescription is compatible with the frames. The customization process allows customers to choose lens tints and treatments, including the application of a mirrored coating to lens fronts.
What are the pros and cons of polarized sunglasses?
Polarized sunglasses block horizontally reflected light, which reduces glare when you are driving or on open water. The polarized coating applied to lenses can keep you from being able to see backlit screens. Consider whether you want to be able to wear your new sunglasses while using a smartphone outdoors.
Do mirrored and polarized sunglasses provide UV protection?
Mirroring and polarization treatments are applied to the surface of lenses. The underlying lens materials provide UV protection. Plano lenses made by most leading brands and prescription lenses from Safety Gear Pro provide 100% UV protection regardless of customization options. Mirror lenses limit brightness, while polarized lenses filter out glare.
Can I get lenses with mirror or polarized finish in any frames?
You can choose from a variety of lens tints, treatments and finishes when customizing sunglasses with prescription lenses. Most eyewear brands and frame styles also offer options for plano mirror lenses or lenses that are polarized. The darkest sunglasses lenses are mirrored and polarized to limit light transmission and glare.
Safety Gear Pro makes it easy to get any pair of prescription sunglasses with your choice of mirrored or polarized treatments. Pick your favorite pair of frames that is compatible with your prescription and customize lens options to manage brightness and glare.
---
Best Polarized Sunglasses
Bobster Ryval 2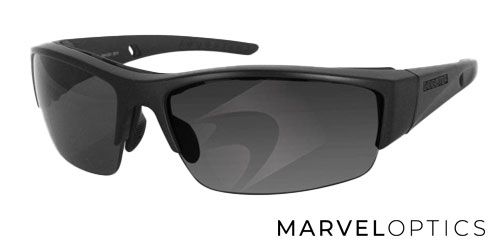 These sleek, modern frames have an adjustable nose piece and removable foam so you can achieve the perfect fit. The polarized lenses reduce glare and have an anti-fog coating to provide you with a clear field of vision in varying conditions. These high-performance sunglasses offer 100% protection from UV rays and feature impact resistance, too, so you can remain active and keep your eyes safe from harm. Bobster incorporates the latest technology into great-looking sunglasses for the ultimate in safety and style.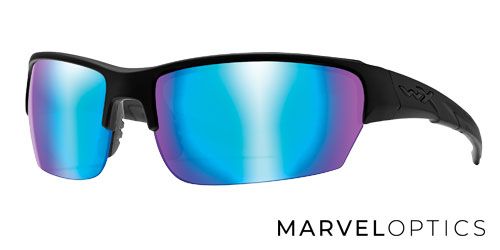 These stylish sunglasses look great and offer many benefits. Rated by the American National Standards Institute for impact protection, these polarized sunglasses are shatterproof, scratch-resistant and provide 100% UV protection. They give you clear vision in bright light so you can stay active in high-glare conditions. The comfortable, plastic wraparound frames showcase your style and protect your eyes for the best combination of fashion and function.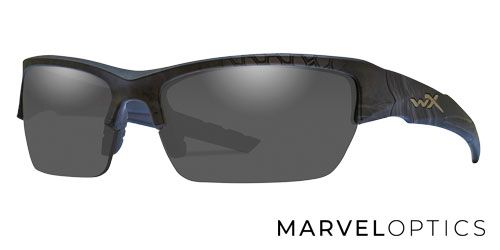 WileyX Valor polarized glasses feature lightweight, durable plastic frames that provide both comfort and protection. You can get a variety of lens types and switch them out to fit the current sun conditions. This option gives you the ultimate flexibility for many activities and adventures. Choose the frame color and pattern that fits your unique style. You will look great and get distortion-free clarity with UVA/UVB protection.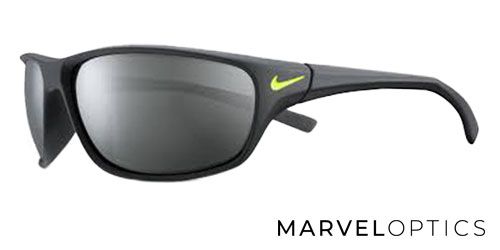 These sunglasses feature lightweight, sport-wrap frames with a slim fit profile. Maximum wide-angle coverage with polarized lenses for sharp visual acuity helps you perform at the top of your game. The lenses reduce glare and resist scratching, dust and fogging. UV protection safeguards your eyes from the dangers of the sun so that you can engage in outdoor pursuits safely. Nike upholds a quality standard for athletes and people with active lifestyles, so you get high-performance eyewear that is sleek, sporty and comfortable.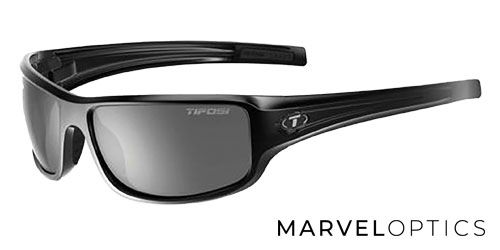 These lightweight, wraparound frames are ANSI rated for durable, long-lasting eye protection. Hydrophilic rubber nose pieces ensure a non-slip fit for your active endeavors. UV protection averts eye damage, and polarized lenses prevent color distortion and glare. Tifosi designs technologically advanced sunglasses to offer you the best eyewear for your activity.