How to find the measurements of your old frames
Most of the time the frame measurements are engraved on the inside of your eyeglass temples (arm pieces) or behind the nose bridge area.
For instance, these will be shown as:
The first number represent width of lens
Second represent lens width
Third one is Temple length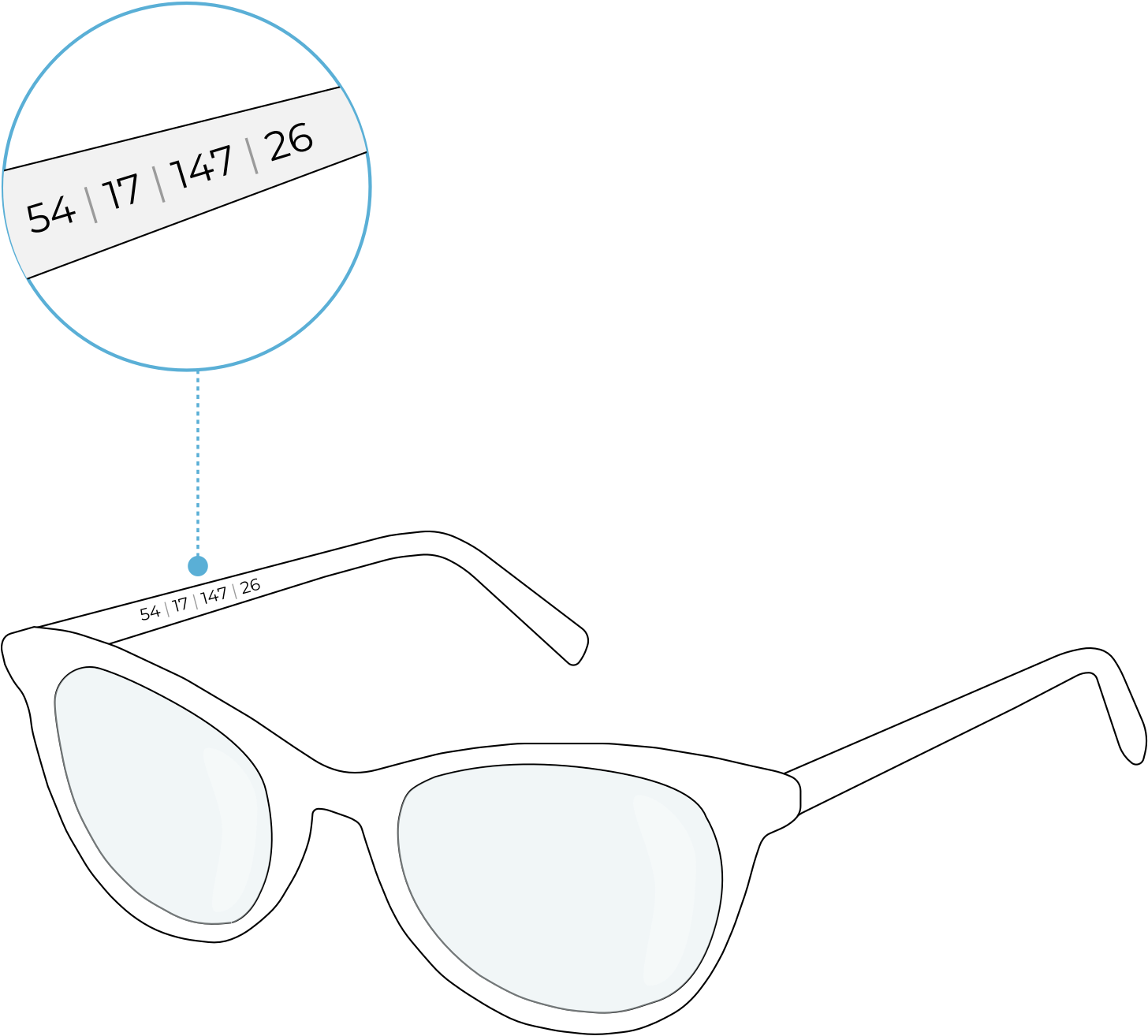 Lens Width


Lens width is the horizontal width of the frame's lens in millimeters. Usually, the eye size ranges from 40 mm to 60 mm
Lens height


It is the vertical height of an eyeglasses lens which is measured from the tip to the bottom of the lens aperture of the frame. The B measurement is important for bi-focal lenses or progressive lenses.
Bridge Size


Bridge size is the distance between the two lenses in millimeters and typically ranges from 14 mm to 24 mm.
Temple length


Temple length is measured along the length of the temple from one end to the other and also includes the bend.
Your temple length can fall between 120 mm and 150 mm.
In case you already have an eyeglass frame, you can refer to its frame size. These measurements don't have to be exact but can vary from your existing frame size as follows:
Lens Width: within 2 mm | Bridge size: within 1 mm | Temple size: within 5 mm
| Fit | Eyeglasses | Sunglasses |
| --- | --- | --- |
| Small | 50mm and below | 55mm and below |
| Medium | 51mm–54mm | 56mm–64mm |
| Large | 55mm and above | 65mm and above |
Each individual has different facial features and require different frame measurements. Moreover, frames vary by their shapes and sizes.
Read our Guide on How To Pick Eyeglasses For Your Face Shape to Learn more
Check Out our Most Popular Categories of Glasses