If you spend a lot of time outside, you need a good pair of sunglasses to keep your eyes safe from ultraviolet radiation, which the sun emits all the time. However, you're not sure what the best kind of sunglasses is. You hear people debating the benefits of Prizm vs polarized lenses, and you don't know how to pick between them.

Here's what you need to know about the different kinds of protective sunglasses: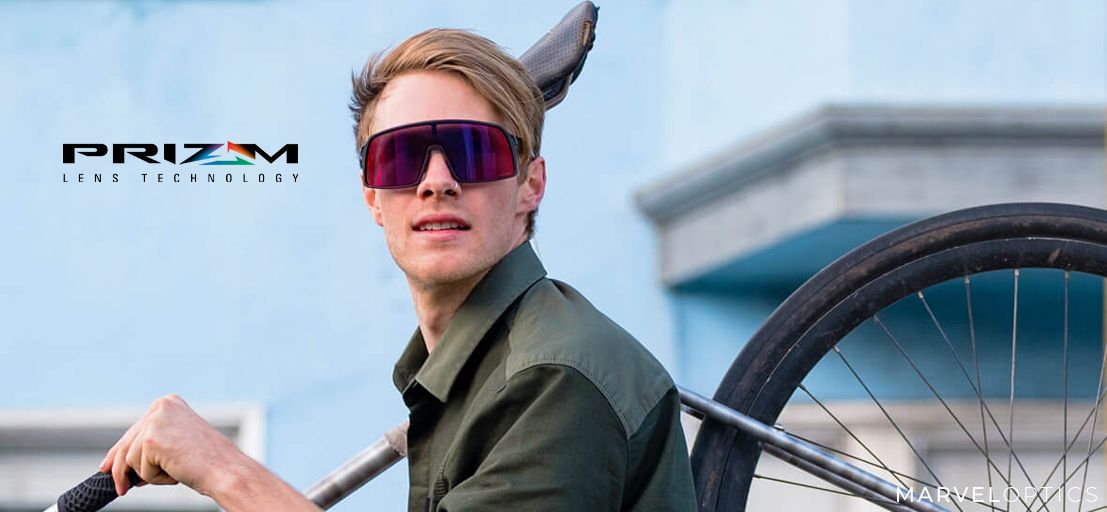 Exploring Polarized Lenses
1. What Are Polarized Lenses?
If you've been conducting lots of Google searches for "polarized meaning," polarized lenses are the ones that reduce your eyes' exposure to reflected light. They prevent glare, or light that bounces off smooth surfaces, from reaching your eyes. Not all sunglasses are polarized; some simply have dark shades that make the world seem darker without addressing the extra UV radiation that glare causes.
2. How Do Polarized Lenses Work?
Polarized lenses are covered with a chemical that adjusts how light passes through your lenses. Because of the shape of the molecules inside this chemical, any light that approaches your lenses horizontally can't make it to your eyes. On the other hand, light that travels vertically passes through the lenses, meaning that you can still safely drive or play sports. Because of the coating's structure, polarized lenses effectively stop reflected horizontal light from cars or bodies of water but can't stop the vertical power of direct sunlight.
3. What Are the Benefits of Polarized Lenses?
Polarized lenses reduce your exposure to reflected UV light, allowing you to stay outside for longer without hurting your eyes. These lenses also decrease your need to squint to see well, leading to fewer headaches and less eye strain. Finally, polarized lenses give you better visibility, allowing you to drive more safely and make better decisions about where to swim, walk, or ski when wearing them.
4. What Material Are Polarized Lenses Made From?
Depending on the manufacturer, polarized lenses are made of polycarbonate plastics or shatter-resistant glass. These lenses are coated in a chemical compound that limits how much light can pass through. To keep the coated lenses secure, the frames are made of metal or polycarbonate.
5. Do Polarized Lenses Provide UV Protection?
Polarized lenses provide UV protection from horizontal UV radiation. Their chemical coatings block any UV radiation that approaches you from reflected surfaces such as metal, glass, or water. However, polarized lenses do not provide UV protection from vertical UV radiation, so if you're looking directly at a powerful source of UV light such as the sun or a floodlamp, you need better protection.
6. When Should You Use Polarized Sunglasses?
Use polarized sunglasses whenever you're in an area with a lot of glare. Driving on the highway on a sunny day, swimming in your local pool, and boating on a river are all situations when you should wear polarized lenses. Never use polarized glasses when you're walking or driving at night because they can limit your night vision, causing you to crash into obstacles. Also, it's sometimes hard to look at your phone and other liquid crystal display screens with polarized lenses, so consider removing them before checking your email or social media.
7. Can You Get Polarized Prescription Glasses?
If you wear prescription glasses, you don't need to worry about switching to contacts or wearing two pairs of glasses for polarized protection. Most manufacturers allow you to submit your prescription when you order sunglasses and then send you polarized lenses that correct your vision. Polarized lenses work for both single focal and multi-focal prescriptions, so even if you have serious vision problems, you can order prescription sunglasses.

Exploring Prizm Lenses
1. Are All Oakley Prizm Lenses Polarized?
On the other side of the Prizm vs polarized debate, Prizm lenses support your color vision on sunny days. Not all Oakley Prizm lenses are polarized because the main focus of these lenses is to enhance your color vision rather than to protect your eyes from glare. If you want to experience both features, choose between Oakley's Prizm Polarized and HD Polarized glasses.
2. What Are the Benefits of Oakley Prizm Lenses?
Oakley Prizm lenses allow you to experience the real colors of your surroundings without hurting your eyes. When you're on a road trip, enjoy the vivid green of summer leaves with Prizm's color-enhancing capabilities. When you're scanning the beach for seashells, Prizm lenses help you spot small variations in color that clue you in to valuable finds. Unlike regular sunglasses, you don't need to sacrifice the beauty of your environment for UV radiation protection.
3. How Do Oakley Prizm Lenses Work?
Oakley Prizm lenses allow you to see color better by selecting certain color wavelengths to increase while reducing your exposure to other forms of light. Instead of just blocking light, Prizm technology amplifies your reception of the wavelengths that define your perception of color. This process increases the contrast between different surfaces and keeps your vision from seeming faded or gray-tinged.
4. What Are Oakley Prizm Lenses Made Of?
Oakley Prizm lenses are made of plutonite, which is a kind of polycarbonate made only by Oakley. Manufacturers mix each lens's plutonite with a dye that handles the light selection process. They also coat each lens in materials that prevent scratches, fog, and smudges. For more specialized protection, you can choose Oakley sunglasses that have iridium coatings, which are made of metal oxide and optimize your eyes for extreme light exposure.
5. Do Prizm Lenses Have UV Protection?
Prizm lenses offer UV protection even if they are not polarized. They handle UV light differently from other kinds of sunglasses, which simply stop radiation from entering your lenses. Still, the new process that Prizm lenses rely on keeps UV light from damaging your eyes and causing cancer and other diseases.
6. Can You Get Prizm Prescription Lenses?
You can easily buy Prizm prescription lenses for your sunglasses. When you place your order, choose the style you want. Then, pick whether you have single-vision lenses, bifocals, or trifocals. Choose what kind of lenses and protections you want, and enter your prescription details. When your Prizm sunglasses arrive, they're tailored to your vision problems and help you see without contacts or your regular glasses.
7. When Should You Use Prizm Sunglasses?
Prizm sunglasses are perfect for every occasion when you're exposed to sunlight. For your daily use, choose Prizm Everyday, which comes with UV radiation protection and increases your ability to see bright colors. These lenses are perfect for driving to work and running in your neighborhood. They're also customizable, allowing you to pick a frame that fits your aesthetic.

You associate sunglasses with the summer, but snow is just as reflective as still water. Choose Prizm Snow lenses for days at the ski slopes or for sunny snow days at home. These lenses help you identify obstacles in the snow and evaluate whether the upcoming slope is well-packed or loose. They're available in black, rose, jade, pink, and sapphire styles based on the kind of light you're usually exposed to and your sense of style.
Sometimes, you need protection from the sun, but you're moving too quickly for glasses to stay on your face. For protection during your soccer match, basketball game, marathon, or surfing expedition, choose Prizm MX goggles. Available in a variety of styles, these goggles perform all the color-enhancing functions of Prizm glasses with the added durability and security of goggles.

Your eyes need protection from harmful UV radiation no matter whether you're taking a casual stroll on the beach or tearing down a ski slope. Try out the different kinds of specialized Prizm lenses until you find the one that matches your favorite outdoor sports.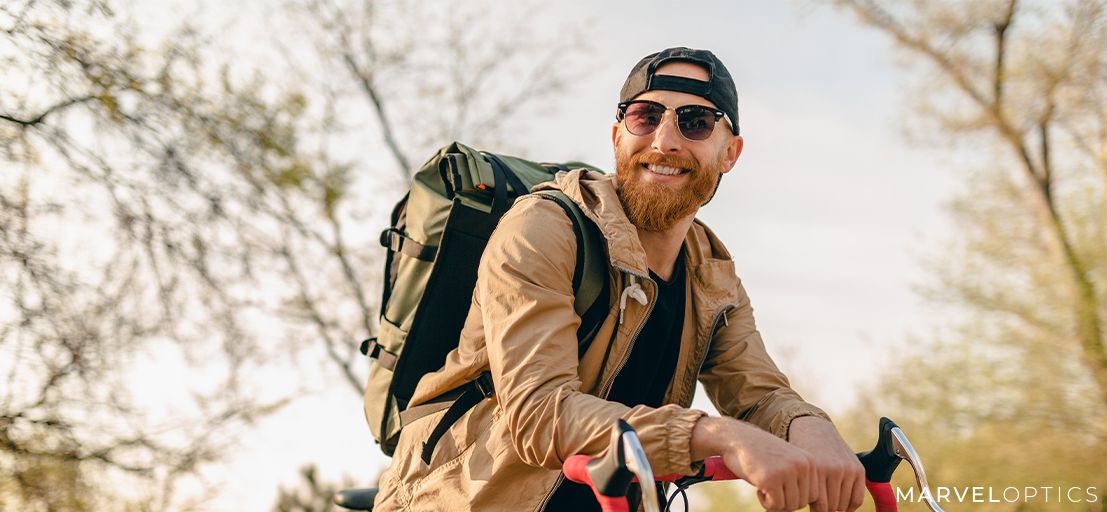 FAQs
Why Should You Buy Protective Lenses?
Buying sunglasses that have UV protection keeps your eyes safe from overexposure to UV rays. If you regularly get too much light in your eyes, you could develop eye diseases such as cataracts and cancer. While it's still unsafe to stare at the sun, protective lenses block out harmful reflected rays and reduce your chances of disease.
How Long Do Sunglasses With UV Protection Last?
The lifespan of your sunglasses' UV protection depends on how frequently you wear them. If you wear sunglasses for more than two hours a day, the protection tends to last for two years. Less frequent use means your lenses can last longer, though. When in doubt, consult with your eye doctor or glasses provider.
How Do You Care for Protective Sunglasses?
Use eyeglass cleaner and a microfiber cloth or single-use eyeglass wipes to remove smudges from your lenses. Never use your shirt or shorts to clean your glasses. For arm replacements or bridge adjustments, ask your eye doctor or glasses manufacturer for help so that you don't further damage your glasses.
Where Do You Store Protective Sunglasses?
Avoid storing your sunglasses in the sunlight so that the UV protective coating doesn't wear out too quickly, and keep your glasses in a case that snaps shut when you're not wearing them. Make sure that the case is big enough for your frame, which tends to be larger than a regular pair of prescription glasses.
Are Protective Sunglasses Comfortable?
Protective sunglasses' coatings are so thin that there is no noticeable difference in weight between polarized or Prizm sunglasses and normal ones. Because protective glasses block more UV rays than regular ones, they tend to be more comfortable if you're near the water or around lots of cars on a sunny day.
When you're debating the benefits of Prizm vs polarized lenses, turn to MarvelOptics' collection of sunglasses for the best protective eyewear.
---
Best Polarized Sunglasses
Bobster Ryval 2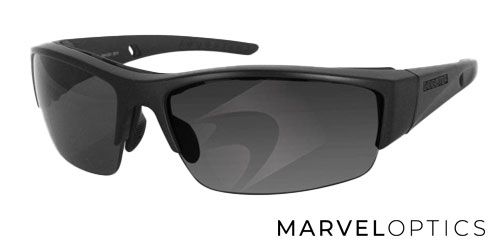 These sleek, modern frames have an adjustable nose piece and removable foam so you can achieve the perfect fit. The polarized lenses reduce glare and have an anti-fog coating to provide you with a clear field of vision in varying conditions. These high-performance sunglasses offer 100% protection from UV rays and feature impact resistance, too, so you can remain active and keep your eyes safe from harm. Bobster incorporates the latest technology into great-looking sunglasses for the ultimate in safety and style.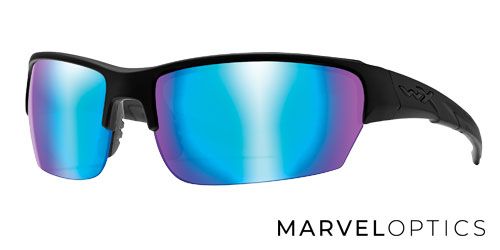 These stylish sunglasses look great and offer many benefits. Rated by the American National Standards Institute for impact protection, these polarized sunglasses are shatterproof, scratch-resistant and provide 100% UV protection. They give you clear vision in bright light so you can stay active in high-glare conditions. The comfortable, plastic wraparound frames showcase your style and protect your eyes for the best combination of fashion and function.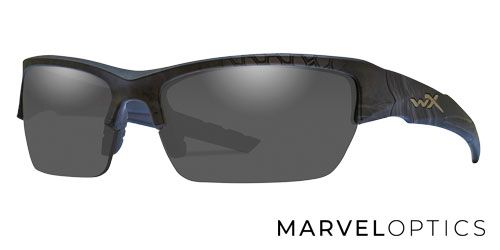 WileyX Valor polarized glasses feature lightweight, durable plastic frames that provide both comfort and protection. You can get a variety of lens types and switch them out to fit the current sun conditions. This option gives you the ultimate flexibility for many activities and adventures. Choose the frame color and pattern that fits your unique style. You will look great and get distortion-free clarity with UVA/UVB protection.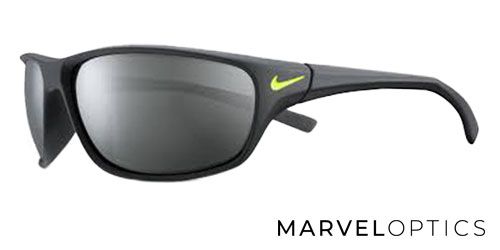 These sunglasses feature lightweight, sport-wrap frames with a slim fit profile. Maximum wide-angle coverage with polarized lenses for sharp visual acuity helps you perform at the top of your game. The lenses reduce glare and resist scratching, dust and fogging. UV protection safeguards your eyes from the dangers of the sun so that you can engage in outdoor pursuits safely. Nike upholds a quality standard for athletes and people with active lifestyles, so you get high-performance eyewear that is sleek, sporty and comfortable.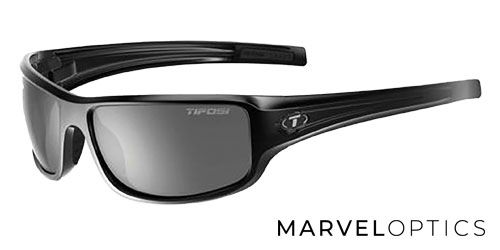 These lightweight, wraparound frames are ANSI rated for durable, long-lasting eye protection. Hydrophilic rubber nose pieces ensure a non-slip fit for your active endeavors. UV protection averts eye damage, and polarized lenses prevent color distortion and glare. Tifosi designs technologically advanced sunglasses to offer you the best eyewear for your activity.