Protect your eyes and enjoy comfortable views with the latest prescription safety eyewear. If you need to pick up a pair of safety glasses for work, or you're planning to take on a project that involves flying debris, find out how to buy the best pair of safety glasses to fit your needs. Stay safe on the job or around your home as you take on a DIY project or enjoy your favorite hobby.

What To Look For in Safety Glasses
At their most basic, safety glasses should be safe. Most safety eyewear are designed to comply with one or more certification standards. In most cases, you'll need to choose certified safety eyewear for your workplace eye protection.
Other features aren't required, but are very useful to look for in safety glasses. Look for a pair that offers these features for a comfortable experience as you work or enjoy your hobby:
Comfortable, durable frames
Prescription lenses
Lens tints
Lens coatings
Stylish designs
These features help you go from a basic pair of functional safety glasses to comfortable eyewear you love to wear whenever you're on the job site or enjoying your hobby.
Frame Technology
Most of the features that set quality safety eyewear apart are in the lenses, so it's easy to overlook frame technology. The frames are key to keeping your eyewear comfortable, safe and stylish.
Look for frames that comfortably fit your face. The arm length and frame width vary and should be matched to your face shape. This helps keep them on and keep you comfortable.
Frames should also be durable enough to handle your work environment. Just like the lenses, look for frames that are shatter-resistant and can be dropped without becoming excessively damaged.
Consider prescription safety goggles for a more flexible design. Goggles come with adjustable straps and can be secured to your face even as you participate in sports or other fast-paced tasks.
What Is ANSI?
You'll encounter many safety glasses that are ANSI approved. ANSI stands for the American National Standards Institute. It oversees standards and assesses safety eyewear to ensure it remains in line with those standards.
Your employer may require you to purchase ANSI or OSHA approved eyewear. While ANSI approval doesn't ensure workplace safety standards are enforced, the voluntary standards it sets are still useful for comparing the quality and safety of eyewear.
Lens Technology
The most important feature in prescription safety glasses is the right set of lenses. The lenses are what offer prescription vision, impact protection, UV protection and other key features. Here are some main features to look for in dependable lenses:
High impact rating
UV protection
Tinting, if working outdoors
Prescription
Anti-fog coating
Anti-scratch coating
Lenses can be tinted in a number of shades and colors. Some, like blue or yellow, are actually designed to improve low-light vision in outdoor use. Others, like gray, brown or black, shield your eyes from harsh reflections and direct sun exposure.
Anti-fog and anti-scratch coatings are essential for durable eyewear. The side shields that are common on safety glasses can promote fogging, particularly on goggles or if you're working while wearing your glasses. An anti-fog coating reduces the risk of fog affecting your vision.
Anti-scratch coating keeps your eyewear investment safe if you store them without a case or drop them. Scratches also affect your vision and can compromise the durability of your lenses.
Common Safety Standards
The two most common safety standards for eyewear are provided by OSHA and ANSI. OSHA safety standards are designed primarily for workplace safety. These safety glasses can be used for other tasks, but the safety standards help ensure construction workers and other professionals avoid workplace injuries.
ANSI approval is voluntary for eye and face protection. These standards not only set criteria for physical requirements, but require certain levels of coverage and impact resistance. The voluntary standards set by ANSI can be adopted by OSHA and required for workplace compliance, so ANSI certified safety glasses are approved for use in workplaces, according to OSHA.

Order Prescription Glasses Today
Whether you're preparing to start a new job or looking to stay safe during your favorite hobby, it's time to pick up prescription safety glasses. Shop for safety glasses today at Marvel Optics to enjoy great deals on durable, ANSI-certified prescription glasses.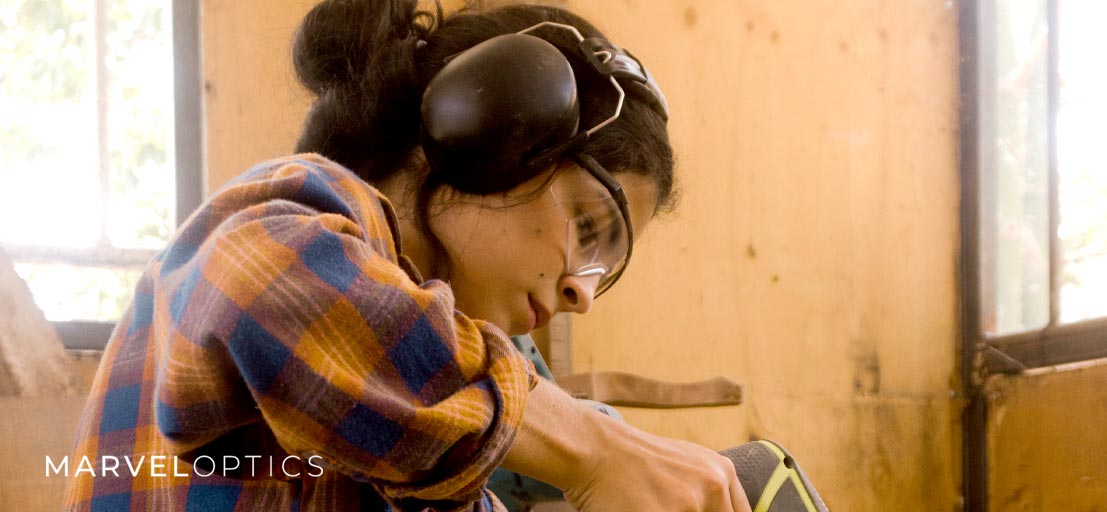 FAQs
Is It Possible To Get Prescription Safety Glasses?
Most safety glasses sold in stores don't come with prescription lenses. If you wish to keep your eyes safe without wearing contacts or going without your prescription, then order prescription safety glasses online. Most frame styles and lens shades can support prescriptions in addition to durable, certified protection.
Are Safety Prescription Glasses Worth It?
Safety lenses are critical to keeping your eyes safe while working in hazardous areas. If your safety glasses don't have prescription lenses, then you'll need to wear your glasses underneath, wear contacts or attempt to work with blurry vision. Safety glasses with prescription lenses are surprisingly affordable, making them a worthwhile investment.
Are Safety Glasses Necessary?
If you aren't prepared for a hazardous project, then you may increase the risk of injury. Safety glasses not only shield your eyes from flying projectiles, but also reduce the impact and offer a shatterproof design. If you're wearing standard glasses or sunglasses and a projectile hits them, they may shatter and cause further injury.
When Should You Wear Safety Glasses?
Wear safety glasses if you're working on a task that involves flying debris or other eye-related hazards. You should also wear them if you're working near such tasks. For example, if someone near you is mowing the lawn, grinding metal parts, cutting boards or performing other tasks that emit debris, it's best to wear certified safety glasses.
What Lenses Do Safety Glasses Have?
Shatter-resistant lenses are typically made of polycarbonate. This durable material is far less likely to shatter, is lightweight and can be coated with a scratch-resistant coating to extend the lifetime of clear views. Polycarbonate can be used for prescription lenses and made into a variety of shapes to fit your chosen frames.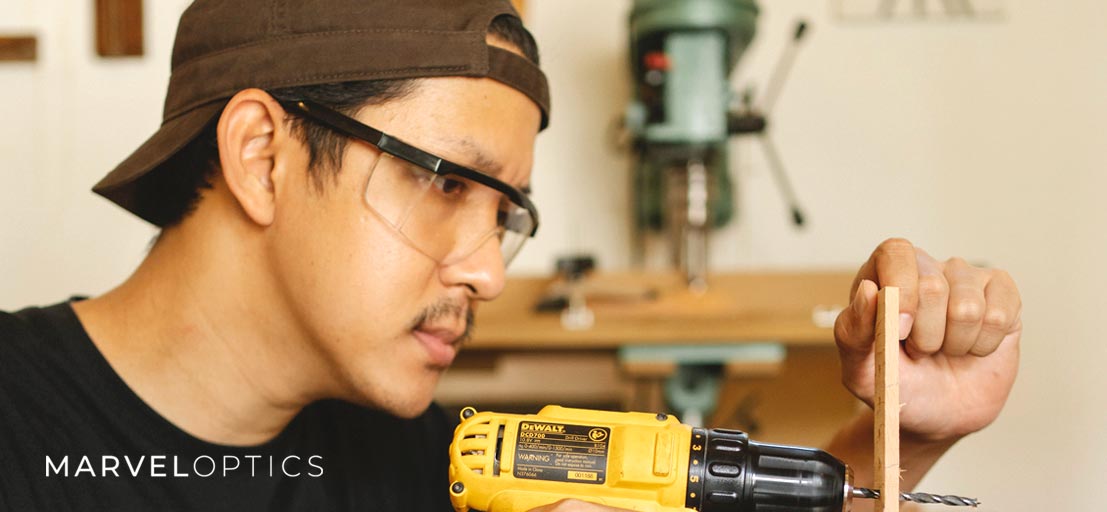 ---
Best OnGuard Safety Glasses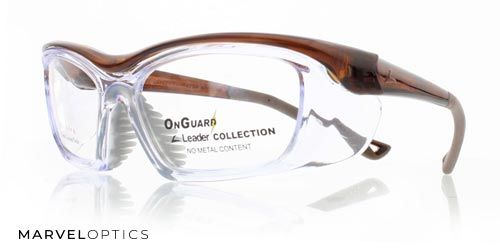 One of the more important factors to focus on when it comes to selecting appropriate safety goggles for work is durability. When your main concern is centered around protecting your face in the event of a sudden blow, you want to find glasses that are constructed to withstand whatever impacts come along. The Onguard OG220S is a great fit for this need. Stay safe no matter what surprises are in store with glasses that are designed to keep you shielded from harm.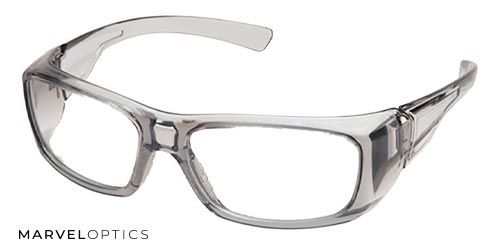 Perhaps the best way to find On Guard prescription safety glasses that work for your line of work is by reviewing options that are meant for your industry. If you work in the field of construction, industrial manufacturing, or engineering, then you'll want to find goggles that are built for the pressures of these industries. The OnGuard Basic 160s provides a simple and straightforward design that delivers when it comes to total protection in high-risk fields.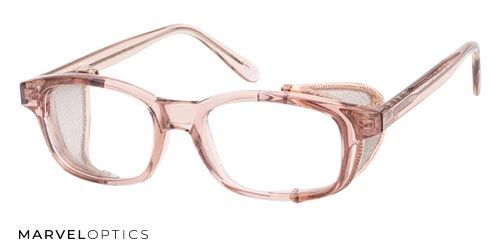 The circumstances of your job are going to be unique to the type of work you do. This means that you may want to review safety glasses that offer additional features. For some, this might mean anti-reflective lenses, others will benefit from glass that has been coated to be resistant to scratches. Whether you want enhanced UV protection or better visibility when in foggy weather conditions, the OnGuard OG078 boasts a number of attributes that can prove invaluable in a variety of specific circumstances.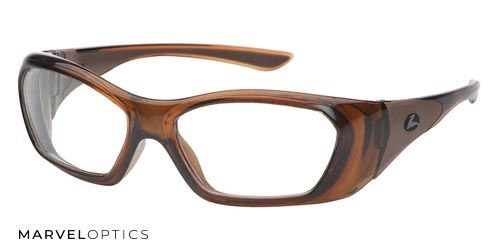 Featuring thermoplastic polyurethane frames, the OnGuard OG210S is meant to deliver protection in an array of scenarios. Whether you're dealing with the typical risks of a day at work or you happen to be in a field where conditions can turn extreme fast, this is a pair of glasses worth your attention. The OnGuard OG210S are also some of the On Guard eyeglasses that meet the standards of ANSI and received the designation of Z87.1.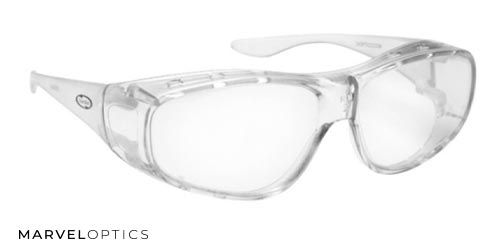 Industrial environments require gear that is able to withstand whatever daily operations may have in store. The OnGuard Guardian is ideal for such spaces, featuring polycarbonate lenses that boast excellent UV protection. The glasses have been approved by both OSHA and ANSI, meaning you're sure to feel safe with this option. What's more, the design makes the Guardian incredibly comfortable and easy to wear for long durations of time.