Whether you are shopping for prescription glasses frames, sunglasses or any other type of glasses, it can be helpful to familiarize yourself with some of the terminology first. There are so many options that it can be difficult to find the right pair for you. Typically, eyeglass frames are categorized by type, material and shape. The following information will help you to understand all your options.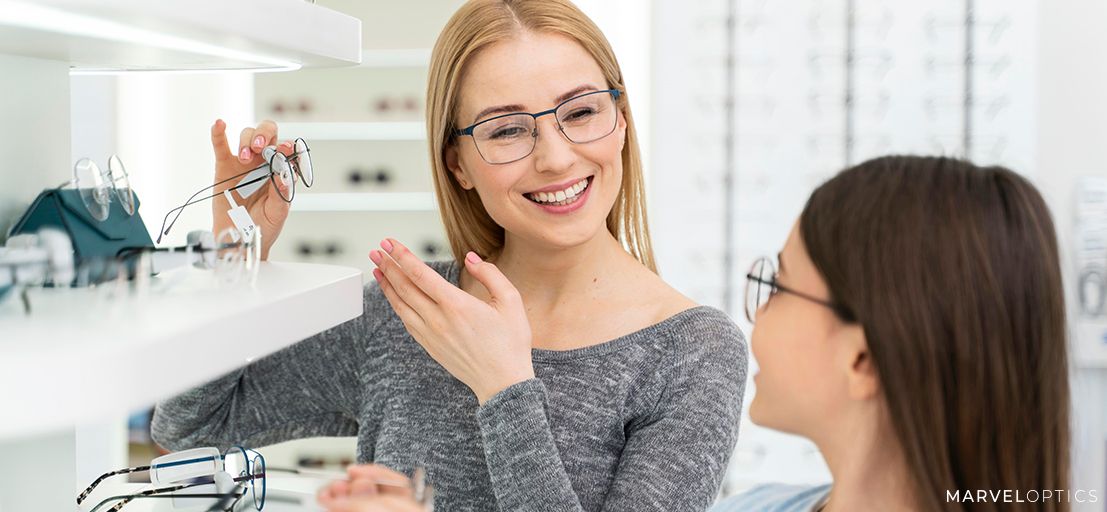 Frame Types
Choosing the right pair of glasses for your needs can be enjoyable when you know what you are looking for. The first way to categorize frames is by their type. This describes how the frames interact with the lenses. There are five types: full-rimmed, rimless, semi-rimless, low bridge and wire.
Full-Rimmed Frames
As the name suggests, full-rimmed glasses have rims around the full circumference of the lenses. This makes them sturdier than some other styles (although most modern eyeglasses are reasonably durable).
Due to the full rim, these glasses can typically accept a broader variety of lens types. So, if you prefer progressives or multi-focal lenses, you may be better served by full-rimmed frames.
You can find full-rimmed glasses in all material types including acetate, plastic, titanium and more. They also tend to be available in the widest range of colors and shapes. Whether you want a bright and bold look or an elegant and timeless style, this type of frame can serve your needs.
Rimless Frames
For a more subtle look, you may prefer rimless frames. They have no rims around the lenses. Instead, the temples and the nose bridge connect directly to the lenses themselves. This means there is less material in front of your face.
People like this low-profile style for its minimalism. There tend to be fewer shape options, but you can find a few options for materials and colors. Additionally, some rimless frames cannot accept every type of lens. So, if you need something other than single vision lenses, make sure to check the product info to ensure it can accept your lenses.

Semi-Rimless Frames
These frames are between full-rimmed and rimless. It can describe any frames that have part of the lens edge exposed; however, the most common design is a frame rim over the top of the lens with the bottom exposed.
This style tends to combine the benefits of the two above types. They are a little bolder and have some added personality. However, they are still relatively lightweight and low-profile like rimless glasses.
You can usually find a lot of material and color options for semi-rimless frames. Plus, they often accept a wider range of lens types.
Low Bridge Frames
This type of frames is designed with a larger and/or lower bridge. The purpose is to be more comfortable for people with lower nose bridges.
Low bridge frames can be full-rimmed, rimless or semi-rimless. Although, it is common to find more full-rimmed glasses with this feature.
If you have a lower nose bridge, it can be worthwhile to look for a low bridge style. These tend to sit more securely and comfortably on the face.
Wire Frames
Finally, there are wire frames, a classic look that continues to be worn for its simplicity and timelessness. These frames can be either full-rimmed or semi-rimless with very narrow metal rims. Traditionally, this type of frames was only made with circular lenses. However, today, you can find wire frames with cat-eye, geometric and many other shape options.
These minimalist frames are only available in metal (hence the name). Thus, the material and color options are a little limited. Nonetheless, these can be stylish, elegant glasses. Plus, they can usually accommodate most types of lenses.

Frame Materials
Another key part of finding the right prescription glasses frames for you is selecting the right color and material. The material you choose will significantly affect the look of the frames and the colors available. There are a wide variety of materials, but the most common are plastic, acetate, wood texture, metal and titanium.
Plastic Eyeglass Frames
Plastic is a durable, economical and versatile material. It is also quite lightweight. So, you can enjoy comfortable glasses in almost any style, shape and color combination. Additionally, you can find every rim type (other than wire frames) available in plastic. You'll even find options with various textures and finishes including gloss, matte and more.
Not everyone likes the look and feel of plastic. However, it is the most common material option for frames because a lot of people can find something that they like. Bold-colored plastic glasses are particularly popular currently.
Acetate Eyeglass Frames
Acetate is a material that turns natural fibers into a type of plastic. In many ways, this material is very similar to plastic in terms of its glasses frame characteristics. However, they have some additional benefits. Acetate frames are even more durable and can hold complex textures better, making them ideal for simulating other materials such as wood.
Additionally, acetate is typically considered more environmentally friendly than standard, petroleum-based plastics. Many people choose this material if they want a more premium feel compared to injection-molded plastic but still want the benefits of plastic frames.

Wood Texture Eyeglass Frames
This frame material is designed to look like wood without the drawbacks of actual wood. Typically, this is achieved with acetate, but plastic may also be used. These glasses may be available in light, dark and black colors and designs replicating a variety of types of woods. Wood texture frames tend to be highly durable.
Many people like this material because it has a natural look to it. Wood texture can be ideal for a nice, elegant pair of frames that have a little extra depth compared to a solid color.
Metal Eyeglass Frames
Eyeglass frames can be made from a variety of metals. This is a particularly popular choice with rimless and semi-rimless frames. Wire frames are, of course, also made of metal. Metal frames can typically be made with thinner sections compared to plastic or acetate due to the strength of metal. Additionally, this is a common design to help keep the glasses lightweight and comfortable.
Eyeglass wearers may prefer the subtle elegance of metal frames. These can be great for professional settings, dressy outfits, casual styles and more.
Titanium Eyeglass Frames
Titanium is an especially popular metal for eyeglass frames. It offers an exceptional weight to strength ratio. So, titanium frames are light and comfortable while offering the durability and strength you expect from metal frames. This impressive metal is also corrosion-resistant and hypoallergenic.
Typically, titanium frames are a little more expensive than some other options. Nonetheless, they tend to last thanks to their durability. Plus, they are often available in very fashionable styles, making titanium frames a top choice among eyeglass wearers.

Frame Shapes
Finally, prescription glasses frames are categorized by shape. This is the shape of the lens and frames, primarily from the front. Typically, we recommend choosing a frame shape that suits the shape of your face. The following are the 11 major frame shapes.
Rectangle Glasses
Rectangle glasses are not truly rectangular. Like all eyeglasses, they have rounded lenses. Nonetheless, the lenses are much closer to a rectangle than any of the other frame shapes. They typically have an angular and slender appearance. Additionally, each lens is noticeably wider than it is tall.
This style is typically best for people with oval, round or heart-shaped faces. However, they can work on nearly every face type. People with very square or diamond-shaped faces may want to avoid rectangles. Men, women and kids can all find rectangle frames in a variety of colors, sizes and materials.
Oval Glasses
This style offers a relatively slender, modest look compared to some other options. Oval frames are noticeably rounder than rectangle glasses. However, like rectangle glasses, they also have lenses that are wider than they are tall. You can find oval glasses in a broad variety of materials, colors and sizes.
Oval glasses are very popular and can be used for a fashionable look or something a little more low-key and timeless. Typically, these work best for people with square, diamond or heart-shaped faces. They work less well for people with round or pear-shaped faces.
Round Glasses
As the name suggests, round glasses have a relatively circular lens shape. They vary slightly between true circles and slightly off-circular (typically the upper rim of the lens is slightly flatter). This is a classic, retro look that works especially well with wire frames. Several popular figures including John Lennon and Steve Jobs have sported round glasses.
You can find round glasses in a variety of materials and colors. However, they tend to work best as metal and wire frames. They tend to work best for people with square, diamond, heart-shaped and round faces. There are fewer round glasses than rectangle or oval. Nonetheless, we have a strong selection of options.
Square Glasses
Like rectangle glasses, square glasses provide a more angular style while still having rounded lenses. They are evocative of a retro, intellectual look. Many people like this shape because it is fairly timeless. You can make them work with a variety of outfits. Square glasses are available in all material options and a lot of colors.
This shape tends to work best for people with oval or round faces. They work less well for people with heart-shaped, square, diamond or pear-shaped faces. This shape has traditionally been more popular with men, but you can find many options for women as well.

Large Glasses
These glasses are a classic trapezoidal shape that has been popular since around the mid-20th century. They may go in and out of fashion, but they have made a big comeback in recent years thanks to geek chic and the popularity of retro styles.
You can find large glasses primarily made from plastic and acetate in a variety of colors and designs. There are also some metal glasses in this shape. They can work for almost all facial shapes, an element of their enduring popularity. However, they tend to work less well for people with smaller faces.
Horn Glasses
Traditionally, horn glasses were made from actual horn. However, today, the term refers to the recognizable shape. These glasses are full-rimmed with a relatively large upper section, especially at the temples. They offer a vintage look that has proven to be truly timeless. Ray-Ban Wayfarers are an example of this shape.
This shape looks best on people with oval or rectangular faces. However, they can work for just about everybody. You'll find these in a variety of colors. For material, plastic and acetate are the most commonly available options. However, you will occasionally find them made from natural materials including horn.
Browline Glasses
For a throwback style that is making a comeback, consider browline glasses. These evoke the fashions of the 50s and 60s. The style is intended to mimic the eyebrows on the face. They have bold upper rims, typically in brown, black or tortoiseshell with a metal bridge and lower rims. Ray-Ban Clubmasters are a classic example of the browline style.
These glasses have traditionally been available in only a few colors. Today, they are made with plastic or acetate and you can find a broader variety of colors. However, if you want the classic look, you'll want a neutral color. This is generally considered to be a very masculine style. It works well for oval, square, diamond and pear faces.
Aviator Glasses
Aviators offer one of the most popular shapes in glasses, especially for sunglasses. They were once primarily worn by pilots. However, today, they are used by men and women of all walks of life. Part of the reason for the popularity of the aviator shape is that it is very forgiving. People with all shapes of faces can wear these glasses, although they are especially well-suited for oval, round, square, pear and heart-shaped faces.
These glasses are most associated with metal, wire frames, the style of the original design. However, you can find some other materials as well.

Cat-Eye Glasses
Cat-eye glasses are known for their flair and boldness. They are very popular currently as a way to get a confident but playful look. Typically, cat-eye glasses are considered a feminine style. They have high and bold brows near the temples, creating a shape that is reminiscent of the shape of a cat's eyes (hence the name).
You'll find these primarily in plastic, acetate and metal. They are available in a lot of colors and designs. Many people love to wear these with bright, bold colors. They work best for square and diamond faces but are relatively forgiving for all face types.
Oversized Glasses
This shape is less about shape and more about size. They are frames that extend beyond the size of standard glasses. You can find oversized glasses in a variety of shapes and looks, but they all go big!
Extra-large frames can work for both men and women but are a little more popular with female wearers. They tend to work well on most faces, but people with oval faces may want to avoid them.
Geometric Glasses
This is another broad category of shapes. They are characterized by sharp angles and daring shapes. Again, like square and rectangle glasses, these usually have rounded corners. However, you can find a handful of geometric shapes that are more angular than any other options.
These glasses are available in all materials and a variety of colors. They have an avant-garde look that makes a statement. Everyone, regardless of face shape, can find a pair of geometric glasses that will work for them. People with more angular faces may want to stay away from the most dramatic geometric shapes. Heart-shaped faces tend to sport geometric glasses very well.

Order Your New Eyeglass Frames Today
With the above information, you are ready to find the prescription glasses frames that are perfect for your face. Marvel Optics has a huge selection of glasses to choose from. Order your glasses frames online today.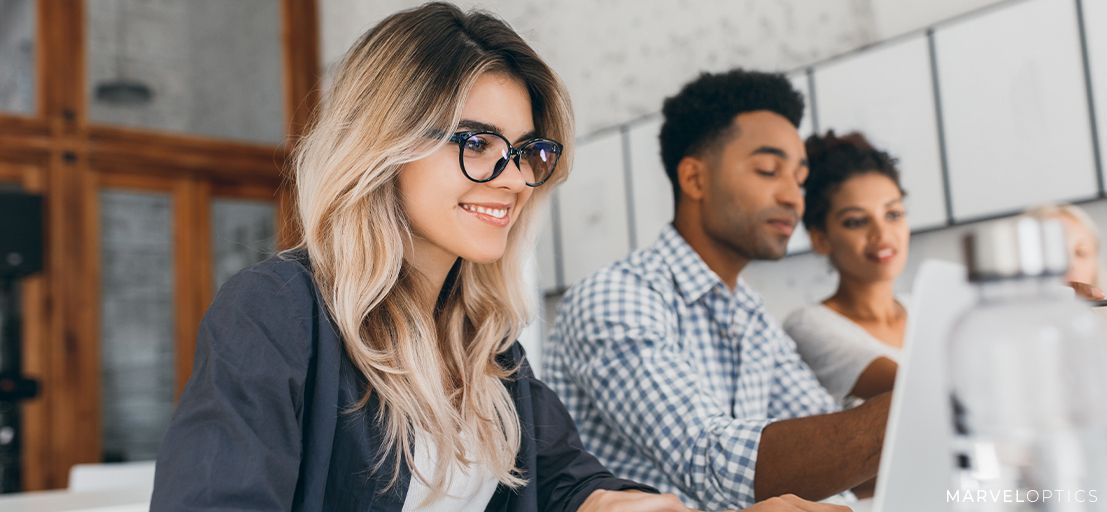 FAQs
Where Can I Order Glasses Frames Online?
You can order your prescription and non-prescription glasses from Marvel Optics. We have a selection of designer and value brands to suit every budget and taste. Our catalog includes all the above types, materials and shapes. So, you can find the perfect pair for your needs.
How Do I Order Glasses With My Prescription?
On the Marvel Optics website, select a pair of frames that you like. Then, select the "Prescription Lens" option on the product page. Next, select "Customize Lens." The final step of the lens customization process will let you enter or upload your prescription details.
Which Eyeglasses Look the Best?
Can Any Frames Be Used for Prescription Glasses?
The majority of both sunglasses and eyeglasses on Marvel Optics can be used as prescription glasses. However, not all glasses can have all lens types. To confirm that a pair of eyeglass frames will work for you, check the "Lens Type Available" heading on the product page.
What Are the Best Eyeglass Brands?
Marvel Optics has a wide variety of brands for every need. Some of the most popular brands include WileyX, Tifosi, Hudson Optical and Nike. All the brands in our catalog make good-quality products at different price points. So, you can be confident that you'll find a good pair of glasses that fit your budget.
---
Best Prescription Glasses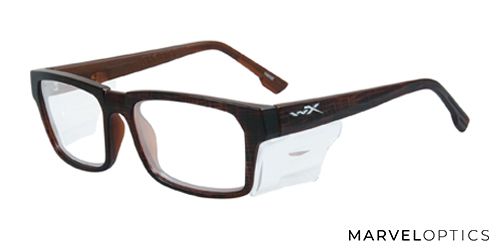 The WileyX WorkSight series of frames includes prescription-ready safety glasses. The Profile style has rectangular frames with full rims. Triloid frames and polycarbonate lenses meet the American National Standards Institute Z87.1-2010 high velocity and mass impact requirements and U.S. federal Occupational Safety and Health Administration 1910.133(b)(1)(1) standards. These glasses come with a fold-over case, removable side shields and a drawstring storage pouch.
Profile frames may be available in several color choices such as Gloss Brown Demi, Gloss Green Demi, Matte Hickory Brown, and Matte Black. This eyewear can accommodate single vision, bifocal and progressive lenses. Check the frame size and dimensions to determine whether Wiley X Profile can provide the best fit for daily, occupational or activewear.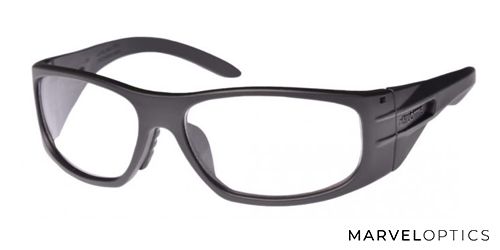 Another popular frame style ready for prescription lenses is ArmourX 6001. These plastic glasses with polycarbonate lenses meet ANSI Z87.1 safety standards. Large black rectangle frames wrap around the wearer's face. While these glasses are compatible with single vision, bifocal or progressive lenses, the base curve may not be the best choice for high Rx lenses.
The 6001 style frames from ArmourX are suitable for on-the-job or activewear. A lightweight frame design is paired with lenses treated to resist dust, fog, reflections and scratches. When fitted with clear or tinted lenses, this eyewear provides protection from ultraviolet rays. This style is popular because it is comfortable and stylish enough to wear inside and outside while doing a wide range of activities.
Shellshore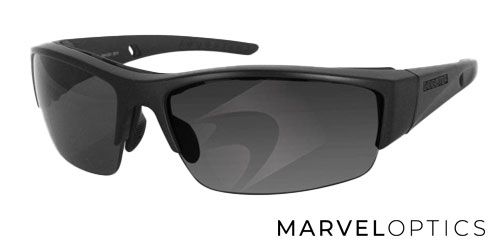 A double bridge distinguishes Shellshore by Marvel Optics apart from other metal rectangular frames. This small feature draws attention upward toward the browline, which can be helpful for balancing the features of a round, oval, triangle or diamond-shaped face and adding an element of style. These full-rim glasses come in a small size and accommodate single vision lenses.
Rectangle-shaped frames with a double bridge are ideal for oval and oblong face shapes. Check the measurements of these frames to determine whether Shellshore is the right prescription glasses style for you. These frames may be available in colors such as blue, gunmetal or jet black.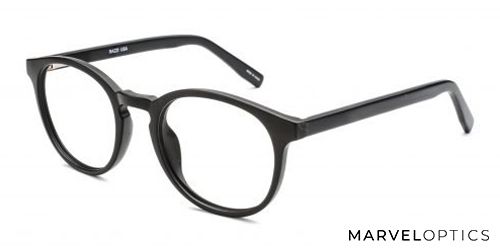 Brave frames by M-Line have on-trend vintage styling at an affordable price. These round acetate full-rim glasses have spring hinges. Some versions combine black frame fronts and colored temples. Single vision, bifocal and progressive lenses can all be fitted into these frames, as can high Rx prescriptions. An anti-scratch coating maintains optical clarity for comfortable wear and value.
Check the dimensions of Brave frames to determine whether this style is the best choice for your face. Men and women can both sport this retro style. Choose from several shades such as matte black with navy temples, matte black with red temples and matte black. You can also customize this style with clear or tinted lenses.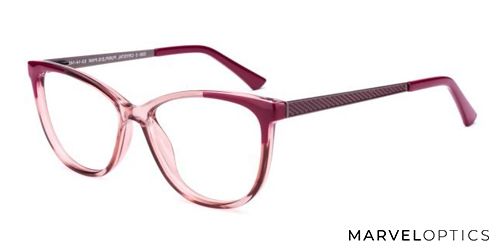 One of the most popular prescription frame styles for women is Katelyn by Marvel Optics. These cat-eye full-rim frames are another vintage style updated for modern wear. Plastic frame fronts and temples feature textural details for a unique look. The best online prescription glasses for women are compatible with single vision, bifocal, progressive lenses and high Rx prescriptions.
If you have an oval or pear-shaped face, you may want to consider Katelyn frames. These glasses can be fitted with clear or tinted lenses with an anti-scratch coating for vision correction or sun protection. These glasses come in a medium size. Check the dimensions of this eyewear to determine whether it will provide the best fit. Marvel Optics makes more prescription-ready styles for women.