Men's prescription sunglasses are a desirable and necessary part of any man's accessory wardrobe because being able to see in the bright sunshine is always in style. Shades made for the male physique are designed differently than ones made for females or genderless options. Continue reading for the answers to five of the most common questions about which Rx sunnies brands are the best for men and how to choose the best pair.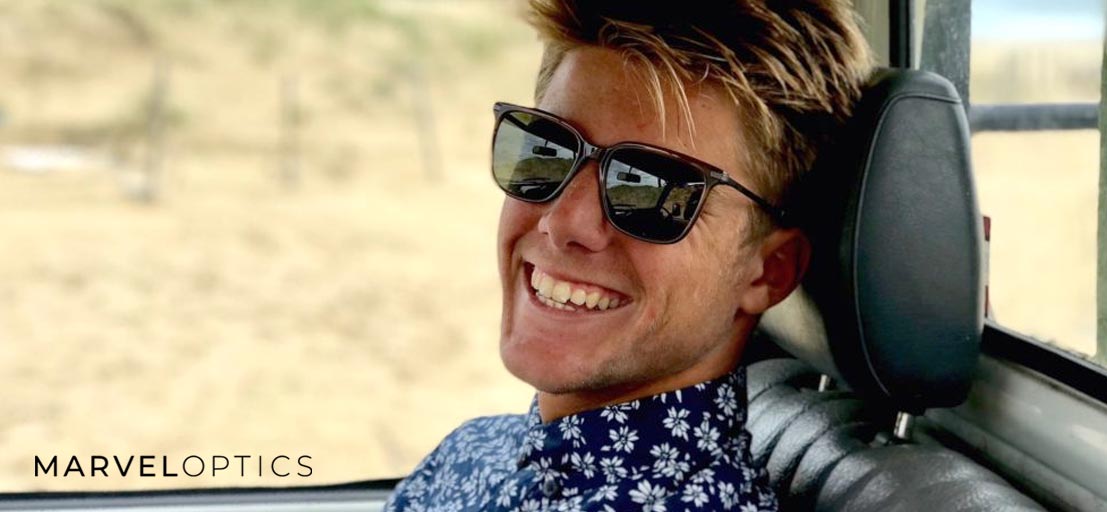 1. How Do You Get Men's Prescription Sunglasses?
When you need a new pair of glasses, whether they're sunglasses or a regular pair, you'll need to have a qualified eye examination from a licensed optometrist or ophthalmologist. They will take you through a battery of routine tests to determine your overall eye health, potentially identifying any underlying conditions if you are having concerns and diagnose your prescription and update it as needed. After finishing the exam, you're ready to select a great pair of glasses or sunglasses.
2. What Design Features and Specifications Should You Look For?
Make sure the frames you desire are designated as prescription. This way, you know they will be sturdy enough to handle the weight of prescription lenses and are strong enough to keep them stable and supported.
Now it's time to try on the prescription sunglasses frames to determine the best fit for your facial structure and head size. Note that some shapes are better suited to certain body types and sizes than others, but what matters most is how you feel when you wear them – and that they don't fall off if they're too big, even if they are on-trend.
Next, discuss your selection with the eyewear technician to find out whether they are suitable for your prescription strength, as some lenses may be too thick or too heavy for certain frames. Some lenses can be minimized to reduce their thickness, but not all have that option, so be sure to inquire before you make the purchase.
Finally, choose any extras you may want in your lenses, such as a preferred lens tint and any finishes such as scratch-coating or anti-reflective coating, as available. This is the stage where you will select bifocals, single vision or a multi-focal option based on your unique vision needs.
3. What Are the Best Brands Available?
The marketplace is flooded with sunglasses that are specifically designed with prescription lenses in mind. It can be difficult to discern which are the best options available amongst the multitudes.
Here are some high-quality mens prescription sunglasses brands and models from which to choose. Take note, many of these have built-in polarized lenses, high-percentage UV ray blocking, anti-glare attributes and are ready to accept a prescription as they are.





4. What Are the Benefits of Purchasing Prescription Sunglasses?
If you are considering buying sunglasses and you need corrective lenses to see, you should consider prescription sunglasses as part of your eyecare arsenal. With prescription sunglasses, you don't have to put in contact lenses if you're uncomfortable wearing them just to be able to wear sunglasses.
Wearing only your current prescription glasses means you will squint more and hasten the look of aging via fine lines and wrinkles around your eyes. Too much squinting can lend itself to stress and strain on your eyes and lead to preventable headaches. The sun's damaging rays will directly reach your eyes and exacerbate conditions such as macular degeneration and cataracts.
Choosing prescription sunglasses gives you a measure of safety when moving throughout your day or participating in activities in the bright sunlight. The sun's strong rays can limit your vision and it may take a few moments to readjust when the light changes. If you are driving or working near a potentially unsafe area, prescription sunglasses may save you those few precious seconds where you don't need to adjust your vision to stay safe.
5. Who Should You Contact?
When you're ready to purchase prescription sunglasses for men, contact Marvel Optics. Our team of professionals will help answer all of your questions and walk you through the process. Our staff of experts will fit you with the best prescription sunglasses just for your distinctive persona.

We have a large selection, so you will surely find exactly what you're looking for. Get stylish looks and obtain excellent sun protection all rolled into a classy pair of prescription frames designed specifically for men. You'll be glad you came to us.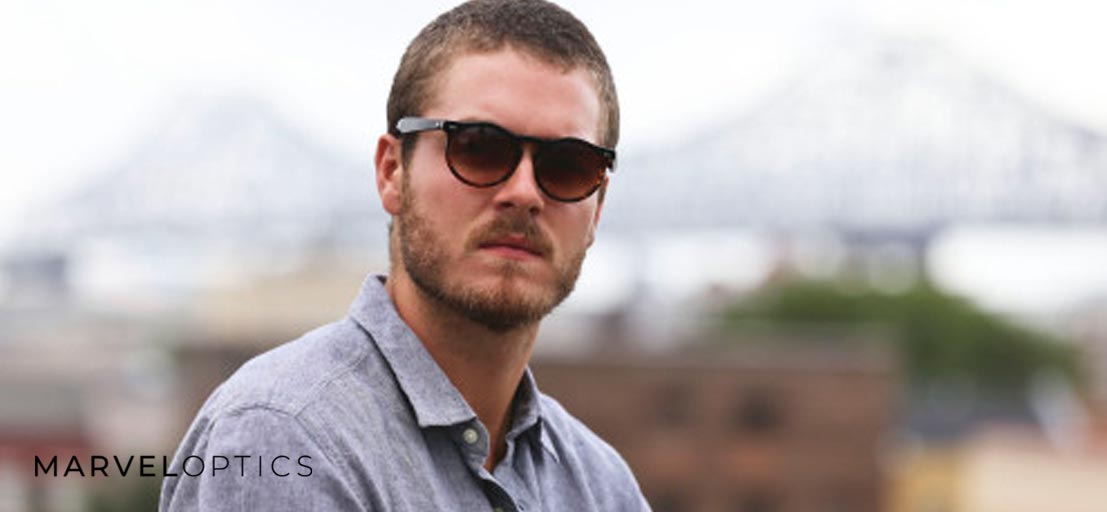 ---
Best Polarized Sunglasses
Bobster Ryval 2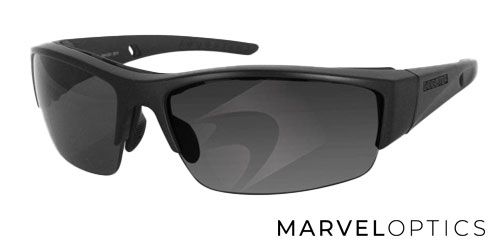 These sleek, modern frames have an adjustable nose piece and removable foam so you can achieve the perfect fit. The polarized lenses reduce glare and have an anti-fog coating to provide you with a clear field of vision in varying conditions. These high-performance sunglasses offer 100% protection from UV rays and feature impact resistance, too, so you can remain active and keep your eyes safe from harm. Bobster incorporates the latest technology into great-looking sunglasses for the ultimate in safety and style.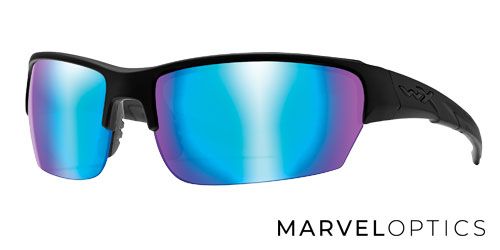 These stylish sunglasses look great and offer many benefits. Rated by the American National Standards Institute for impact protection, these polarized sunglasses are shatterproof, scratch-resistant and provide 100% UV protection. They give you clear vision in bright light so you can stay active in high-glare conditions. The comfortable, plastic wraparound frames showcase your style and protect your eyes for the best combination of fashion and function.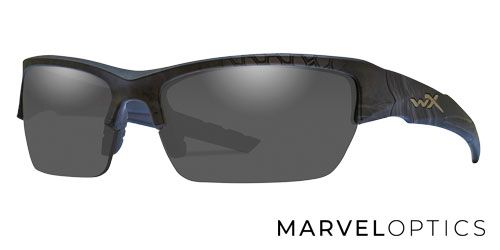 WileyX Valor polarized glasses feature lightweight, durable plastic frames that provide both comfort and protection. You can get a variety of lens types and switch them out to fit the current sun conditions. This option gives you the ultimate flexibility for many activities and adventures. Choose the frame color and pattern that fits your unique style. You will look great and get distortion-free clarity with UVA/UVB protection.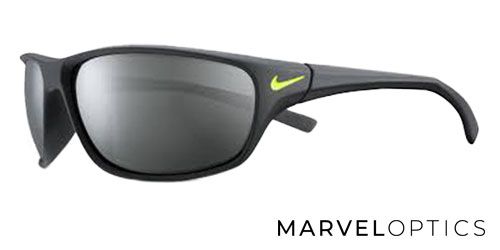 These sunglasses feature lightweight, sport-wrap frames with a slim fit profile. Maximum wide-angle coverage with polarized lenses for sharp visual acuity helps you perform at the top of your game. The lenses reduce glare and resist scratching, dust and fogging. UV protection safeguards your eyes from the dangers of the sun so that you can engage in outdoor pursuits safely. Nike upholds a quality standard for athletes and people with active lifestyles, so you get high-performance eyewear that is sleek, sporty and comfortable.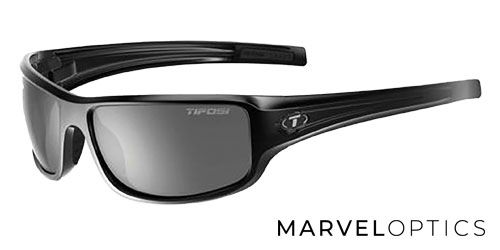 These lightweight, wraparound frames are ANSI rated for durable, long-lasting eye protection. Hydrophilic rubber nose pieces ensure a non-slip fit for your active endeavors. UV protection averts eye damage, and polarized lenses prevent color distortion and glare. Tifosi designs technologically advanced sunglasses to offer you the best eyewear for your activity.