The eyewear company Wiley X makes technologically advanced safety glasses and sunglasses. Every pair of Wiley X glasses meets high mass impact and high velocity impact eye safety standards published by the American National Standards Institute. Some styles also meet United States federal Occupational Safety and Health Administration regulations for personal protective equipment in working environments or ballistic safety standards set by the military. Find out about how Wiley X optical technology optimizes all of the brand's frame designs and lens treatments.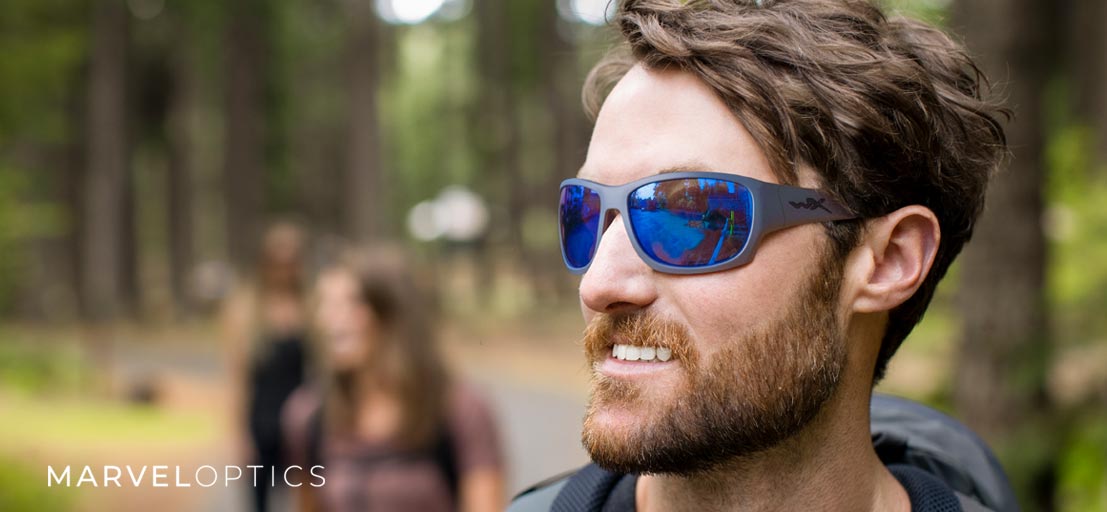 Total Eye Protection
Wiley X technology provides more complete eye protection than safety eyewear and sunglasses made by many other brands. Every pair of Wiley X frames and lenses is ANSI-rated, which can make it easier to decide on your favorite style of protective glasses or goggles. Several styles of spectacles and goggles by Wiley X meet the environmental, optical and V0 Ballistic Impact requirements of the U.S. Military standard MIL-PRF-32432 A and are included on the Program Executive Office Soldier Authorized Protective Eyewear List.
ANSI High-Velocity Impact and VO Ballistic Protection
All Wiley X frames and lenses meet ANSI high velocity impact standards. Spectacles must withstand the impact of a steel ball that has a diameter of one-quarter inch and is traveling at 150 feet per second, while goggles are tested with the same size of projectile moving at 250 fps. The tests for V0 Ballistic Protection involve .15 caliber projectiles traveling between 640 fps and 725 fps for glasses and .22 caliber projectiles traveling up to 590 fps for goggles.
ANSI High Mass Impact Protection
Wiley X frames and lenses are also rated for high mass impact. This test involves dropping a 1.1 pound steel spike from a height of 50 inches on eyewear placed on an artificial head form. Glasses and goggles that meet this standard can protect wearers from unexpected blunt force impact from falling objects. You can order ANSI-rated prescription lenses for Wiley X frames to correct your vision and protect your eyes.
ASTM F803 Standards
Some Wiley X eyewear meets the ASTM F803 Standard Specification for Eye Protectors for Selected Sports. The youth Force Sport series includes styles that meet this standard, such as the Wiley X Crush, Fierce, Flash, Gamer and Victory. The test for the ASTM F803 standard requires that frames and lenses withstand the impact of projectiles that measure between 1.5 inches and 2.5 inches traveling at speeds in excess of 135 fps.
Precision Clarity
The primary foci of Wiley X lens technology are precision and clarity. Wiley X uses proprietary Selenite™ shatter-resistant polycarbonate plastic to make non-prescription lenses. The brand's T-Shell scratch-resistant lens coating can also help to preserve visual acuity over time. Most Wiley X frames can be customized with ANSI-rated prescription lenses that have fog- and scratch-resistant lens coatings. Wiley X eyewear with non-prescription or prescription lenses offers wearers optimal clarity.
ANSI Clarity Standards
Lenses for Wiley X frames are ANSI-rated for clarity in addition to eye protection. Whether you select safety glasses with clear lenses or sunglasses with standard Selenite™  or polarized Captivate™ or Filter 8™ lenses, you can expect clear and crisp visuals in Wiley X eyewear. You may prefer one type of polarization over the other for Wiley X sunglasses. Captivate™ polarized lenses enhance color contrast and detail and meet ANSI Z87.1 and EN. 166 safety standards. Wiley X Filter 8™ polarized lenses are also ANSI-rated.
Impact Resistant
Every pair of Wiley X eyewear satisfies ANSI standards for impact resistance at minimum. Some styles meet other international standards or U.S. occupational or ballistic eye protection requirements. You can find safety glasses by Wiley X that satisfy the U.S. federal OSHA 1910.133(b)(1)(1) safety requirements. Eyewear that meets military ballistic safety standards can provide the highest level of impact resistance. Check the safety ratings of any style of Wiley X goggles or glasses.
Captivate™ Polarized
The polarized Captivate™ lenses by Wiley X feature patented optical technology. These lenses have an oleophobic coating that reduces the adherence of dirt, dust, oil and water to lenses and allows for easy cleaning. These lenses have a Bayer 7 rating for abrasion or scratch resistance and are ANSI Z87.1-rated for eye protection and clarity. Choose from a variety of tint colors and finishes such as Blue Mirror, Bronze Mirror, Green Mirror, Polarized Gray and Polarized Platinum Flash.
Filter 8™ Polarized
Filter 8™ is another type of proprietary polarization from Wiley X. These lenses consist of a total of eight layers that include two Slick™ hydrophobic coatings, two Selenite™ polycarbonate lenses, two T-Shell scratch-resistant layers and one layer of Violet 4™ anti-reflective coating. The Filter 8™ lenses in sunglasses made by Wiley X provides wearers with 100% polarization and 100% UV protection. These glare-reducing lenses are also ANSI-rated for impact protection and provide high levels of visual clarity.
LA™ Light Adjusting Lenses
Wiley X also offers lenses that change color based on the presence of UV rays. Photochromic lenses are ideal for safety glasses that are worn indoors and outdoors. The rate of reactivity varies based on the temperature. Photochromic prescription lenses for Wiley X frames make it possible to wear a single pair of eyewear as safety glasses and sunglasses. Lenses that lighten and darken in tint may eliminate the need for more than one pair of prescription eyewear.
Removable Facial Cavity Seals
Wiley X goggles and some safety glasses in the Climate Control series feature removable facial cavity seals. These comfortable foam seals meet ANSI Z87.1 standards for eye protection from fine particulate such as dust, debris and pollen. Facial cavity seals also reduce peripheral exposure to visible and UV light by sealing the area around wearers' eyes. These seals also protect against injuries caused by impact and irritation from wind exposure when wearing Wiley X eyewear while riding a bicycle or motorcycle.
Dynamic Vent System
Some Wiley X spectacles and goggles feature a Dynamic Ventilation System. This design allows air to flow through both sides of frames to prevent fogging. The system clicks open on Wiley X frames equipped with this feature, including spectacles that are compatible with facial cavity seals and goggles in the Climate Control series.
Changeable Lenses
Some Wiley X frame styles feature interchangeable lens technology. Wearers can easily and quickly switch out the lenses in a single pair of frames. Some of the most popular styles that have changeable lenses include the Wiley X Detection, Guard Advanced, Nash, Rebel, Rogue, Romer 3, Saber Advanced and Valor frames. Some of these styles are ANSI-rated while others meet MIL-PRF-32432 ballistic safety standards. Some Wiley X frames that support interchangeable lenses accommodate a prescription insert.
Removable Side Shields
Frame styles in the WorkSight series of Wiley X safety glasses feature removable side shields for lateral eye protection. Safety glasses styles such as the Wiley X Axis, Contour, Epic, Fusion, Judge, Serenity and Virtue come with removable side shields. Install side shields by inserting clips into temples and sliding to lock. Remove shields by sliding these components away from lenses. You can also order permanent Wiley X side shields.
FAQs
How can I buy Wiley X glasses?
Browse our inventory by brand or search for a style of Wiley X frames. When you find a pair of glasses you like, check to see whether the frame size will fit your face. If you require prescription lenses, you can customize corrective lenses and choose from colors and finishes.
Do I need ANSI-rated eyewear?
Wear eyewear that meets ANSI basic or high-mass and high-velocity impact standards during activities that pose any risk of eye injury. These standards account for impact in addition to fine particles and splash hazards. You should select safety glasses based on the hazards to which your eyes will be exposed.
Are Wiley X frames compatible with prescription lenses?
Many Wiley X frames are prescription-ready. Some styles may specify a limited range of compatible prescription measurements. Wiley X lens technology is only available for non-prescription safety glasses and sunglasses. You can order clear prescription lenses or choose from a standard selection of sunglasses tints and polarized or mirrored finishes.
Should I get Wiley X Captivate or Filter 8 polarized sunglasses?
Captivate polarization technology by Wiley X filters out ambiguous light to improve color definition and detail. Filter 8 polarized lenses have eight layers to provide 100% polarization and 100% ultraviolet light protection. Choose your favorite lens tint or lenses that provide the best glare reduction, color accuracy or visual acuity.
Which Wiley X styles have side shields?
Frames in the Wiley X WorkSight series come with removable side shields. These clear side shields provide wearers with more lateral protection from impact and other eye safety hazards. Most WorkSight frames come with a pair of replaceable side shields and a storage bag. Permanent side shields are also available.
Wiley X glasses are comfortable, durable and protective eyewear. Choose from frames for active wear, ballistic or occupational eye protection. Most Wiley X eyewear meets ANSI high-mass and high-velocity impact standards. Several styles meet occupational safety or ballistic military requirements. Protect your eyes with innovative Wiley X optical technology.