Computer glasses are ideal for folks that spend long hours in front of computer screens. This includes desktops, laptops, and smart wireless devices. These special-purpose spectacles optimize your eyesight when looking at digital screens. They also reduce glare, which is one of the leading causes of eyestrain. Computer glasses increase contrast and even protect your eyes from blue light emitting from computer screens.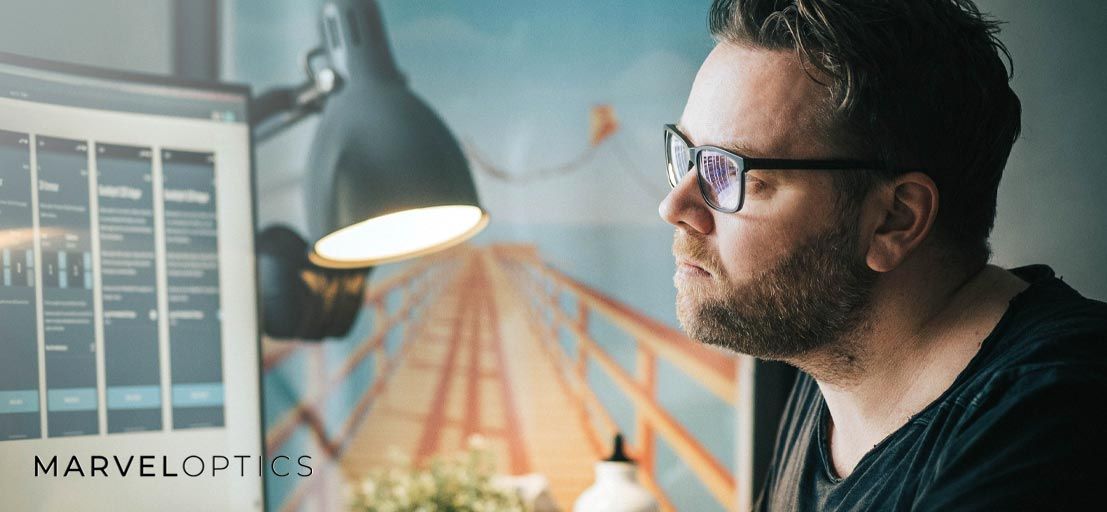 Whether for work or browsing the web, computer screen glasses help you, and yours avoid vision problems. According to the Vision Council, over 59 percent of adults in the U.S. are experiencing eye strain due to prolonged use of digital devices. The following are the main symptoms associated with digital eye strain:
Dry or red eyes
Blurred vision
Migraines and headaches
Strained, overused eyes that force you to squint.
Back pain, neck pain, and general fatigue.
Binocular vision syndrome – the inability to align the eyes properly. This creates additional eyestrain, blurriness, and double-vision.

Computer eyewear alleviates digital eyestrain by maximizing what you see through the lenses. These specially-designed glasses also relax the eye muscles while realigning your visual perception. MarvelOptics.com is an industry leader in glasses for computer use. Let's take a "look" at five of the best computer glasses .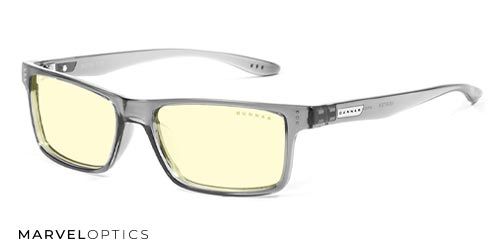 Gunnar Vertex offers wide-format lenses for high-definition, panoramic views. Its signature pin hinge design ensures optimal durability and longevity. The curved nose also rests secure even weight distribution and less pressure on the bridges.
These computer glasses defend your eyes from harmful blue light and 100% UV light. With high-quality polycarbonate lenses and tint options available, Gunnar Vertex remains at the top of the computer eyewear industry. MarvelOptics.com offers frame-only options with vibrant smoke or black frame colors. Enjoy optical protection with durable frames and lenses that shield your eyes when driving, gaming, reading, or playing golf. Perfect for wearers with high RX prescriptions and one of the top sellers in the computer eyewear realm.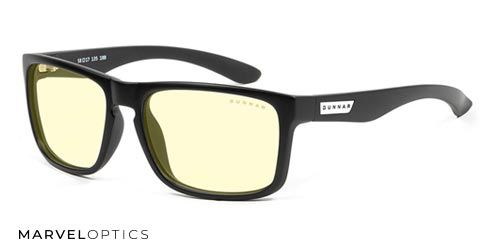 Gunnar Optiks specializes in protective eyeglasses for wearers of all ages. As a global leader in eyewear, Gunnar Intercept also takes a top spot in the best computer glasses list. With their wide format lenses and panoramic viewing, these computer spectacles feature anti-reflective boating on the front and back surfaces. Here are some reasons why Gunnar Intercept ranks high among the best computer glasses:
Scratch-resistant lenses made from hard-coated silicone.
Rigid lens mounts, durable hinges, and long-lasting comfort and fit.
100% UV rays and 65% Blue Light protection.
These glasses are designed to reduce eye strain and protect your vision while working on computers.
Available in progressive and standard computer glasses.
Perfect for computer reading, gaming, or work.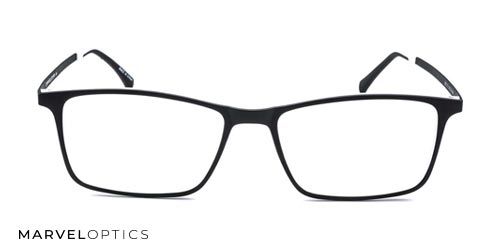 Vineland computer glasses are available for prescription or non-prescription lenses. They are ideal for men and women that spend long hours in front of computers at work or at home. These spectacles are incredibly lightweight yet durable and robust. They feature Beta Titanium temples and a full-rim frame.
If looking for computer glasses that are functional and stylish at the same time, this brand is it. Your purchase at Marvel Optics comes with a convenient carrying case and cleaning cloth to keep your computer eyewear lenses dust and particle-free.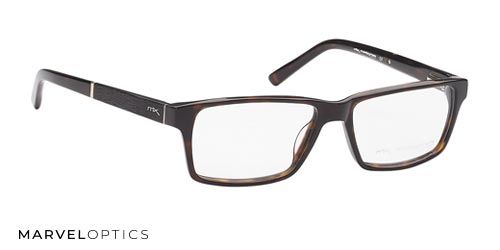 Smith Center by M-Line is the perfect computer eyewear for busy women. These full-rim, rectangular-shaped spectacles feature acetate frames. With medium size specifications and spring hinges, these computer glasses are perfect for ladies with heart, oval, or round faces.
The wood-finished frames add a touch of casual elegance with superb computer glare and blue light protection. The shiny black color and designs accentuate your facial features and are lightweight for active lifestyles. Here are some more benefits of the Smith optical line:
Shiny black or Shiny demi colored frames available for your convenience.
These computer glasses can be fitted with a range of lenses: single vision, bifocal, or progressive (no line).
Comes with a convenient cleaning cloth and case for work and travel.
Lightweight, handcrafted frames made from custom acetate for optimal comfort and optical protection.
Protects your eyes from harmful light emitting from computer screens and smart devices.
Easy to clean and maintain with slip-free designs.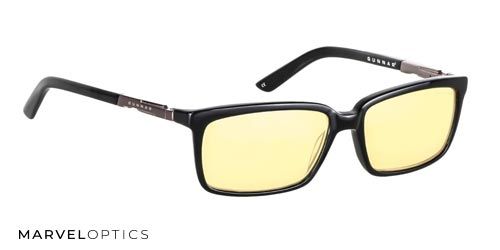 Gunnar Haus glasses feature a unique one-piece front construction that is incredibly lightweight and mobile. These spectacles feature anti-reflective coatings on the front and back of the lens. The hard-coated lens is also scratch-resistant and designed to protect your eyes from harmful blue light and 100% UV light.
With multi-layered acetates and perfect weight distribution, these glasses are perfect for adults and youth alike. Enjoy reading, gaming, golf, or reading with stylish full-rim metal and acetate frames. Gunnar Haus is ideal for high-RX wearers and continues to receive great reviews and industry ratings.