Wiley X is a leading brand of safety eyewear for industrial applications. Every pair of glasses and goggles that this brand makes meets the American National Standards Institute Z87.1+ standard for high-mass and high-velocity impact. Find out more about the features that set Wiley X safety glasses apart and make this eyewear a frequent sight in the industrial sector.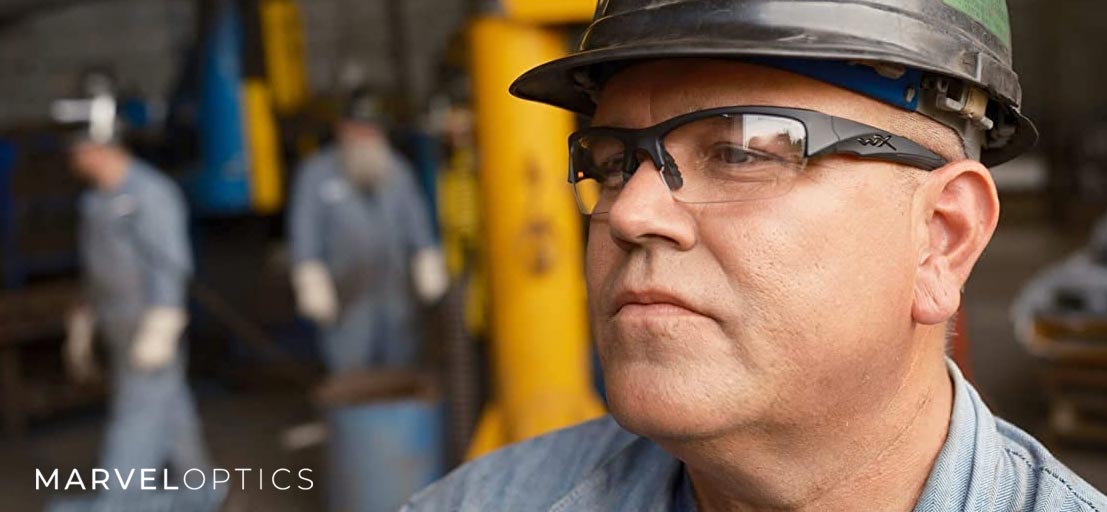 Safety Glasses Features
This leading brand of safety eyewear only makes glasses and goggles that meet or exceed the ANSI Z87.1+ standard. Many frames styles are also designed to have customizable safety features.
ANSI Z87.1 Safety Rated
The entire product line of this best-selling brand meets the ANSI Z87.1+ standard. This means every style of protective glasses and goggles made by this brand can provide a higher level of impact protection than competing brands of eyewear that only have the basic ANSI Z87 rating.
High-Wrap Frames
Most frames designed by this brand are wrap-around styles that have high base curves. For example, the Boss, Gravity and Valor frames all have eight-base curves. It is notable that the Boss and Gravity safety frames are compatible with prescription rims that can accommodate a wider range of lens powers or strengths than many frames with similar base curves.
Removable Facial Cavity Seal
Most of the styles of safety eyewear in the Climate Control series come with removable facial seals. These seals reduce peripheral light transmission and can also protect against other hazards. The ANSI Z87.1 standard extends to dust, small particles, liquid splashes and droplets that may be present in industrial applications.
Expanded Rim System
The expanded rim or Rx rim system makes several styles of safety frames available to a wider range of prescription wearers. Check the range of prescription measurements that are compatible with your favorite style of frames and select an option that comes with an expanded rim if you need this feature.
Removable or Permanent Side Shields
Many styles of safety frames by this brand are compatible with side shields. A number of the frame styles in the WorkSight collection come with removable shields. These styles are also compatible with permanent side shields that stay in place to provide a guaranteed level of lateral impact protection at all times.
Shatterproof Lenses and Frames
Shatter-resistant Selenite™ is the material of choice for plano lenses by this brand. A proprietary polycarbonate plastic can provide a high level of eye protection. Marvel Optics also offers prescription lenses with a comparable safety rating to provide the specified level of impact protection for safety frames with ratings ranging from ANSI Z87.1+ up to military specifications for ballistic eye protection.
ANSI High-Velocity Impact Protection
Every frame made by this brand has passed high-velocity impact testing for the ANSI Z87.1+ standard. This testing involves striking safety frames with a steel ball with a diameter of one-quarter of an inch moving at 150 feet per second when testing spectacles or 250 fps for goggles.
Certain styles of glasses and goggles meet U.S. military ballistic eye protection standards and are included on the Program Executive Office Soldier Authorized Protective Eyewear List. Ballistic-rated styles that are suitable for industrial applications include the WX Gravity and WX Valor.
ANSI High-Mass Impact Protection
High-mass testing involves dropping a steel spike that weighs in at just over 1 pound on eyewear placed on an artificial head form from a height of 50 inches. This type of testing can be particularly useful for protecting against accidental drops in industrial environments. Many of the safety frames feature foam or rubber temples in addition to other features such as removable facial seals and side shields.
The ANSI Z87.1+ rating accounts for both high-velocity and high-mass impact testing. ANSI standards also account for protection against other hazards that are commonplace in industrial applications, such as small particles, dust, droplets, splashes or radiation. The styles that provide the most protection against a wider range of hazards are those that feature removable facial seals and side shields or permanent features.
Designed for Workers' Needs
Comfortable frame design can make wearers more likely to benefit from safety features, as workers are more inclined to wear eyewear that doesn't irritate. Glasses and goggles by this brand are known for striking a good balance between eye protection, eyewear durability and performance for prolonged occupational wear in industrial environments.
Protection
Eye protection is a top priority for safety eyewear. While many frame styles are stylish enough to wear all day on the job, you can count on any pair of frames by this brand to protect your eyes against high-mass and high-velocity impact when fitted with either plano or prescription lenses that also meet standards for the ANSI Z87.1+ safety rating.
Durability
One of the main reasons why this brand has such a good reputation is that their carefully designed frames and lenses can last for years. Incidents involving direct impact are the main reason to replace safety eyewear. Frames may not be able to continue to provide the same level of protection after eyewear suffers any damage caused by impact.
Performance
These glasses and goggles are included on the PEO Soldier APEL list for the U.S. military and worn in many industrial workplaces because of their solid reputation for performance under pressure. This trusted brand tests and guarantees the level of protection provided by every authentic product.
Control the Elements
Workers in industrial environments can be exposed to a variety of elemental factors. In addition to answering the need for ANSI Z87.1+ rated protection against exposure to hazards in the form of fine particles or liquids, many safety frames also have anti-fogging and anti-slip features. Marvel Optics makes it easy to order safety eyewear that has all of the features you need to protect your eyes and see clearly.
Removable Facial Cavity™ Seals
The Climate Control eyewear collection features several styles that come with removable facial seals. This is the case with the popular WX Boss and WX Gravity glasses. Other styles in this series that feature removable seals include the Airrage, Brick, WX Breach and WX Enzo.
These seals work together with the temples on safety frames to shield wearers' eyes from exposure to fine dust, liquid hazards and other airborne irritants. In addition to installing or removing the facial seal that comes with a pair of frames in this series, it is also possible to replace a worn facial seal with a new seal designed to fit a particular model.
Utilize Airflow
A number of glasses and goggles in the Active Lifestyle and Climate Control collections feature Dynamic Ventilation systems. These systems feature side vents to admit air flow to clear condensation and fogging that can also be closed to provide protection alongside facial seals.
While ventilation features can promote comfort during prolonged occupational applications and preserve visual acuity by preventing fog buildup, these features can also pose a risk of exposing the eyes to hazards. Workers in industrial environments should always check the vent status and close vents to stop airflow around eye safety hazards.
Precise Prescription
The availability of Rx Rims for frames is one of the most notable features of this brand. Many wrap-around frames that have relatively high base curves can be prone to distortion when fitted with strong prescription lenses. An RX rim extends the range of prescription powers for compatible frames.
Several styles of safety frames that are suitable for industrial applications offer the option of a prescription rim. Make sure your prescription falls within the range for your preferred style of safety eyewear and check to see which frame colors or options include the Rx Rim option.
Popular Wiley X Safety Glasses Styles
Here are a few best-selling styles by this popular brand that are suitable for industrial applications. These styles are all ANSI Z87.1+ rated for high-mass and high-velocity impact or better. Check the size and dimensions of frames as well as any specifications for prescription strength to select the right safety eyewear for any work environment.
The WX Boss glasses from the Climate Control collection feature a removable facial cavity seal. This seal enables this safety eyewear to provide ANSI Z87.1+-rated protection from fine particulate, liquid and peripheral light in addition to high-mass and high-velocity impact, which can be desirable features for industrial occupational wear.
Boss frames feature wide temples that function as integrated side shields. The Rx Rim System available in a selected style of these matte black frames also makes the WX Boss a good choice for high Rx prescription glasses. These medium to large matte black frames are also available with a choice of clear, Grey Silver Flash, or grey tinted lenses.
Gravity frames look like sport sunglasses but provide ballistic-level eye protection. These rectangular, full-rim glasses with a masculine design come in a large frame size. A prescription rim is available on Marvel Optics when you select the prescription lens option. Prescription-ready Gravity frames are available in Black Crystal and Matte Black frame colors, with a choice of clear lenses or Smoke Grey lenses that allow 15% light transmission.
A removable facial cavity seal also recommends this style for industrial environments. The wide lenses of WX Gravity glasses provide more protection against lateral impact and peripheral light than the goggle-inspired Boss spectacles. Combined prescription measurements cannot exceed +/-6.00 for Gravity frames.
Valor frames are a semi-rimmed alternative to full-rim glasses styles. Valor frames are ballistic rated and meet requirements for the ANSI Z87.1+ standard. The design of Valor frames does not allow for the Rx rim available for the Boss and Gravity styles. As such, prescription measurements cannot exceed -3.00/+2.00 and these frames can only accommodate a pupillary distance measurement of 64 millimeters or more.
If you do not require vision correction, you can order WX Valor frames with more than one set of lenses. Polarized or standard Smoke Grey lenses allow for 15% visible light transmission, as do polarized Crimson Mirror lenses. Light Rust Lenses for low light allow for 53% light transmission, while clear lenses allow for 90% light transmission. Prescription lenses are not interchangeable.

FAQs
Where can I buy safety eyewear?
Compare the features of protective glasses and goggles at Marvel Optics. Choose from spectacles and goggles that are rated for high mass and velocity impact or ballistic-rated styles. The fact that all frames and lenses made by this brand have the ANSI Z87.1+ rating can simplify the decision process.
What are some important eye safety features?
Glasses and goggles that have an ANSI Z87.1+ impact protection rating can protect against impact and other hazards. A number of glasses and goggles by this brand also feature removable facial seals. Several styles in the WorkSite occupational eye safety series offer options for permanent or removable side shields.
Can I get ballistic-rated frames and lenses?
Specified styles of glasses and goggles meet MIL-SPEC or similar standards for ballistic protection. During testing, glasses frames are exposed to .15 caliber projectiles traveling at speeds between 640 feet per second and 725 fps, while ballistic-rated goggles are tested with .22 caliber projectiles traveling at up to 590 fps.
How often should I replace safety eyewear?
You should always replace safety eyewear after direct impact. Frames and lenses may not provide the stated level of protection after an incident. If Selenite™ lenses become damaged, it may be possible to replace these proprietary shatter-resistant plastic lenses with prescription or plano lenses that have the same safety rating.
How does this brand compare with other safety eyewear?
A veteran-founded brand naturally makes some of the most durable, protective and affordable safety eyewear. As an optical market leader, this brand offers a full line of glasses and goggles that have ANSI Z87.1+ ratings for high-mass and high-velocity impact, in addition to a selection of ballistic-rated styles.
Marvel Optics carries a large selection of ANSI-rated safety eyewear rated to protect wearers' eyes from impact and other hazards that are commonly present in industrial applications. A wide selection of Wiley X safety glasses offer a range of industrial safety-related features, such as removable facial seals, side shields or interchangeable lenses.