Prescription sunglasses are a must for proper eye health. While this eyewear is stylish and trendy, they protect your eyes from harmful UV sun rays. They also block high-energy visible (HEV) blue light, which stems from computers and smart devices. They even reduce your chances of getting cataracts, while slowing macular degeneration and other eye impairments and optical issues.
MarvelOptics.com is your source for prescription sunglasses online at cost-affordable rates. With glasses starting as low as $5.95, you will find a choice selection of eyewear in all the latest fashions and styles. These include but are not limited to:
Aviator/Pilot – a go-to classic with a simple, distinct teardrop shape and metal frame for men.
Butterfly – oversized prescription sunglasses with unique butterfly shape, excellent eye protection, and facial coverage.
Cat Eye – an old-school classic with retro designs that are perfect for women.
Geometric – oversized octagonal lenses that can be fitted with tints and color of your choice – blue, red, green, and much more.
Round/Oval – a popular seller for years – round/oval prescription sunglasses are designed to make both a fashion and visual statement.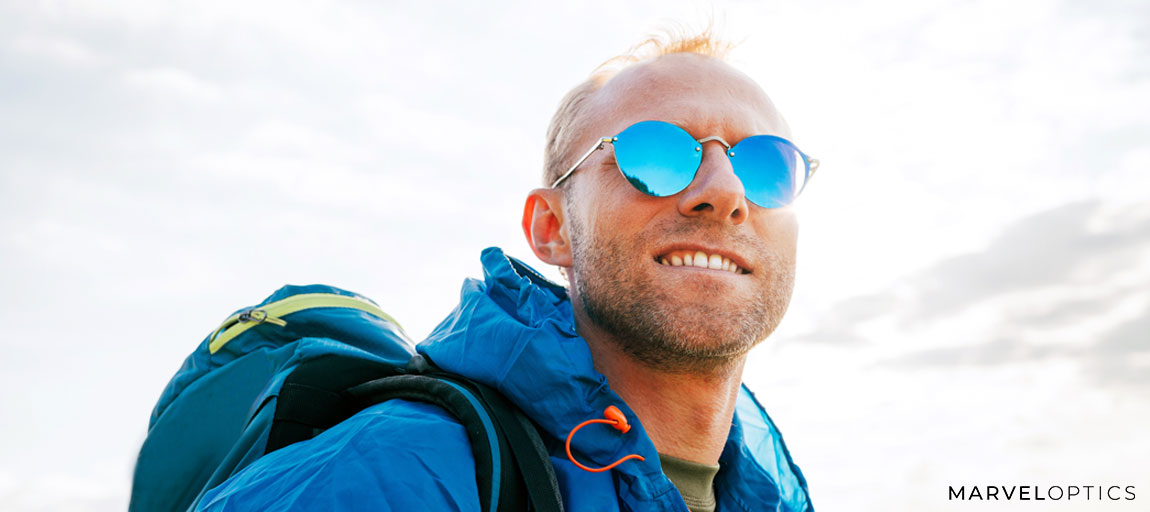 You will also find polarized prescription sunglasses at MarvelOptics.com. These spectacles are designed to reduce glare from surfaces like glass, water, and snow. This keeps your vision in focus without the need for squinting when looking at bright light. Sunglasses even protect your eyes from projectiles, dust, pollen, and particles from gusty winds.
Let's take a look at the top 5 prescription sunglasses that are bringing in stellar customer reviews and excellent industry ratings this year.
WileyX Saint
WileyX Saint is the cornerstone of fashionable, trendy prescription sunglasses at Marvel Optics. These spectacles offer 100% UV protection with an ANSI rating for high-impact projectiles. With its sleek, flexible wrap-around frame and half-rim, these sunglasses are visually aesthetic and ideal for outdoor activities.
WileyX Saint is a popular eyewear brand that is synonymous with optical value and optimal comfort. These glasses let you change the lenses per environmental conditions. They also feature an unparalleled field of vision that ensures peripheral performance for all types of outdoor sports. This brand is a must-have for wearers that want UV-ray protection but want to look stylish all year-long.
WileyX Twisted
Wiley X Twisted is another favorite among prescription sunglasses wearers. These spectacles offer superb protection against harmful UV rays and weather elements. With its lightweight design and shatterproof Selenite polycarbonate lenses, these robust sunglasses meet ANSI Z87.1-2010 High-Velocity and High Mass Impact Standards. They also meet OSHA 1910.133(b)(1)(1) Standards for outdoor optical performance. Here are some more advantages of buying WileyX Twisted prescription sunglasses at MarvelOptics.com:
100% UV protection, lightweight design, and manufactured to withstand projecticles and inclement weather.
Distortion-free clarity plastic glasses with anti-scratch T-Shell lens coatings.
High RX ready sunglasses with full rim and trendy rectangular design.
Ideal for baseball, jogging, driving, hiking, running, tennis, and other outdoor sports and activities.
Polarized smoke grey lenses and your glasses come with a convenient zippered case, leash cord with rubber temple grips, and a microfiber cleaning cloth.
Liberty Sport Torque 1
Liberty Sport Torque 1 features maximum eye protection with a signature 8-base wrap-around design. These sunglasses have a padded cushion that shields your eyes from gusty winds, dusts, and other particles. With a distinct, unique look, these spectacles are perfect for motorcycling, sky diving, and other outdoor activities.
This fashionable prescription eyewear is available with a single vision, bifocal, and progressive lenses. Enjoy the crisp black and blue frame color as you ride the wind on your motorbike. The Torque 1 has polycarbonate lenses with a cool rectangular frame and full-rim design. From mountain biking to hiking, the Torque 1 gives you the "liberty" you need to enjoy all outdoor activities and simultaneously protect your vision.
Liberty Sport Biker
The Liberty Sport Biker prescription sunglasses are perfect for those that love outdoor adventures. With its sleek curvature that contours the face, these glasses are designed to protect your eyesight at all times. They also shield your eyes from harmful UV rays, dust, wind, and flying particles.
From mountain biking to off-road driving, you will love these trendy riding motorcycle sunglasses at every turn. They feature a cool black, grey frame color with the full-rim design and rubber temples. Marvel Optics is proud to carry these stylish, high-performing RX sunglasses that continue to receive great reviews.
The Liberty Sport Biker has polycarbonate lenses and perfect for men and women that love active lifestyles.
Mount Vernon
Mount Vernon takes the famous Aviator-style sunglasses to new heights with stylish frames. These RX spectacles feature polarized lenses for optical protection and guaranteed performance. You get a full rim with a metal hinge, along with a convenient cleaning cloth and carrying case.
Mount Vernon prescription sunglasses feature durable metal frames. They also showcase a full-rim design that is perfect for heart, pear, round, and square faces. If looking for cost-affordable prescription sunglasses that protect your eyes and keep you looking great, this brand will not disappoint.