For most people who buy prescription eyeglasses online form Marvel Optics, the prescription for both the eyes is largely the same. There are only minor differences that don't matter a lot and can be easily adjusted with prescription glasses. However, there are some people suffer from a condition called Amblyopia or lazy eye. Lazy eye can be an innate condition or can develop in early ages due to many reasons. It is a condition that prevents the eye or vision in one eye to develop as it should. In rare cases, the problem can also affect both the eyes.
Due to the immense level of difference between the prescriptions of both the eyes, eyeglasses are often unable to improve the vision. However, a lot of research has been conducted in this aspect and there are many solutions that can help you see better with eyeglasses. Still, if you want to buy eyeglasses online for your child with lazy eye, you should first understand the basics of the problem and how you can help your child see better with glasses.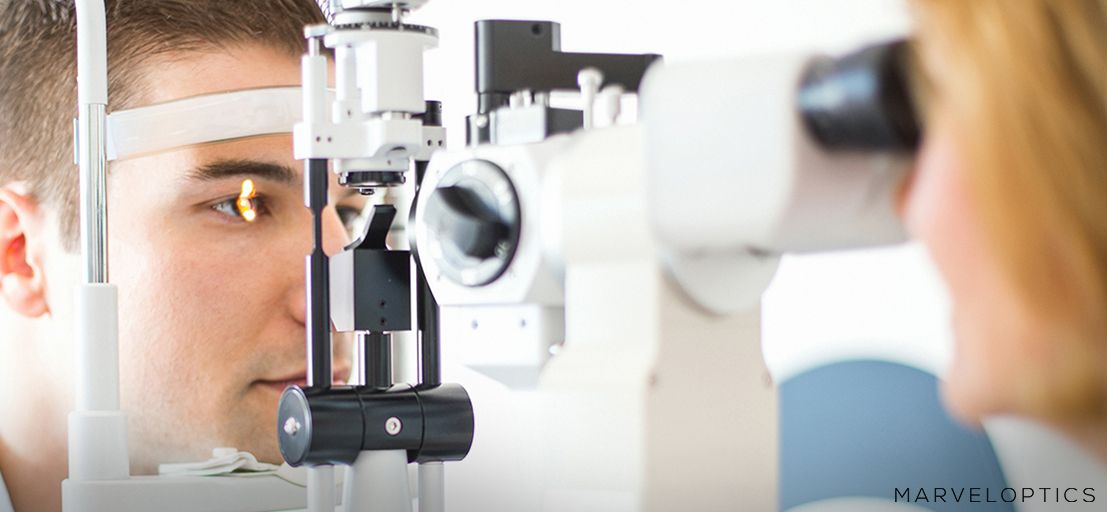 Lead Causes of the Problem
As we mentioned, lazy eye can be a problem your child is born with. It is very important for a parent to keep a diligent eye on the child's eye movement when he/she is only a few months old. If the eyes wander a lot, it may be a sign of lazy eye. Your child might have a lazy eye problem due to any of the following underlying reasons.
Strabismus Amblyopia – It is caused by a muscle imbalance that hinders the ability of the eyes to move in a synchronized or aligned manner. It may be inherited or might be caused by an injury.
Anisometropic Amblyopia – It is a refractive error that is usually caused by short-sightedness or long-sightedness. It causes the light to change its direction as it enters the eye. The change is different for each eye.
Stimulus Deprivation Amblyopia – This is usually caused by a corneal disease or a scar on the cornea left by an injury. It is also common for children born with congenital cataract and Ptosis.
Treatment of Lazy Eye
Lazy eye treatment is possible but most of them work only if the problem is detected before the child is 6 years of age. Any kind of development is less likely to happen after that age. Depending on the type of lazy eye and the actual cause of the problem, there are two major approaches to cure the lazy eye.
There are two approaches to lazy eye treatment:
Treatment of the root cause
Making the affected eye work and develop
Treatment of Root Causes
Prescription Glasses – Prescription eyeglasses work best for children suffering from myopia or hypermetropia. A specialist will recommend regular checkup to gauge the effectiveness of the prescription on the eyes. Glasses have often proved highly effective in helping children get rid of the squint. Constant usage must be encouraged in order to ensure bigger change.
Surgery– Other underlying causes such as Cataract or Ptosis (droopy eye lid) must be surgically removed.
Developing Better Eye Function
There are several treatments designed to improve the function of the lazy eye so that it is kind of forced to work better. Some of these treatments include.
Occulation – In this treatment, the patch is placed over the working eye in order to make the lazy try harder to focus and work properly. The treatment must be continued for a long period of time in order to deliver results.
Exercises – There are a number of vision exercises that can improve the focus and function of the lazy eye.
Games – Block games or brightly colored video games such as Tetris have proven to be helpful in vision development.
However, in most cases, you will require your discount glasses to support the treatment. You can buy cheap eyeglasses for children from our online eyeglasses store.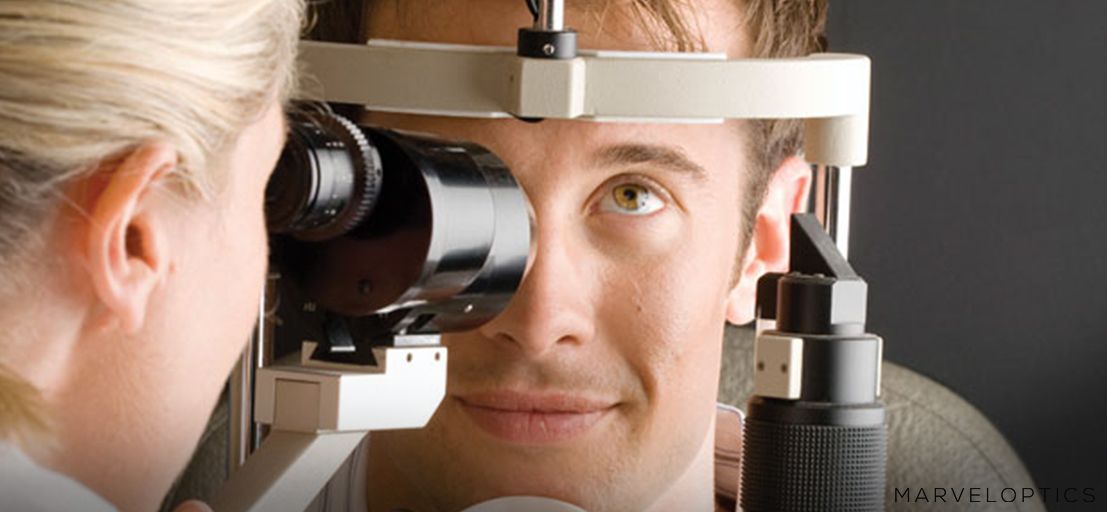 What Is a Lazy Eye?
A lazy eye, also known as amblyopia, occurs during early childhood development when nerve pathways between the eye and brain are not equally stimulated. The brain will favor one eye over the other, causing the lazy eye to seem "off" when compared to the dominant eye.
How Do You Develop a Lazy Eye?
Typically, a child in early development will develop amblyopia due to a visual experience that negatively impacts the nerve pathways. Still, there are instances where an adult can undergo a trauma to the eyes that causes amblyopia to manifest later in life.
Does Lazy Eye Affect Vision?
The vision of the eye impacted by amblyopia will usually be diminished in some capacity. Usually, the symptoms include blurred vision and difficulty with depth perception. Lazy eye surgery is one method of improving these symptoms and treating the condition. However, other treatments are available and effective.
How Common Is Lazy Eye?
According to recent statistics, about 1 in every 33 Americans has a lazy eye. Additionally, about 2% of all children in the country are born with the condition. Though somewhat common, it is much easier to treat nowadays than it once was through different surgical methods.
How Do You Know You Have a Lazy Eye?
The lazy eye medical term of amblyopia traces its origins back to Latin, where it roughly translated to "dull eye." As the terms suggest, an eye impacted with this condition will seem to wander a bit or lag when compared to the movements of the other eye. If you experience blurred vision in addition to a wandering eye, it likely means you've got amblyopia.
How Do I Get Rid of a Lazy Eye?
There are several ways to treat lazy eye. The most common is by wearing an eyepatch over the dominant eye to help the impacted nerve pathways get stronger. Medicated eye drops and surgery are also options, though you'll want to speak with your eye doctor to explore all possible solutions.
---
Best Prescription Glasses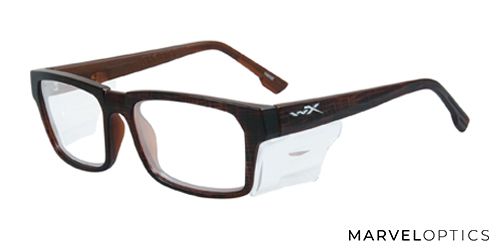 The WileyX WorkSight series of frames includes prescription-ready safety glasses. The Profile style has rectangular frames with full rims. Triloid frames and polycarbonate lenses meet the American National Standards Institute Z87.1-2010 high velocity and mass impact requirements and U.S. federal Occupational Safety and Health Administration 1910.133(b)(1)(1) standards. These glasses come with a fold-over case, removable side shields and a drawstring storage pouch.
Profile frames may be available in several color choices such as Gloss Brown Demi, Gloss Green Demi, Matte Hickory Brown, and Matte Black. This eyewear can accommodate single vision, bifocal and progressive lenses. Check the frame size and dimensions to determine whether Wiley X Profile can provide the best fit for daily, occupational or activewear.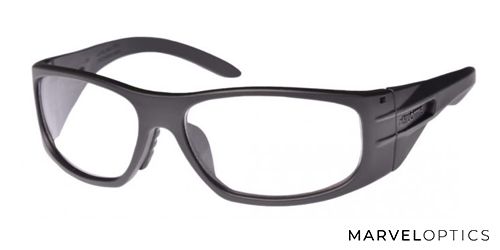 Another popular frame style ready for prescription lenses is ArmourX 6001. These plastic glasses with polycarbonate lenses meet ANSI Z87.1 safety standards. Large black rectangle frames wrap around the wearer's face. While these glasses are compatible with single vision, bifocal or progressive lenses, the base curve may not be the best choice for high Rx lenses.
The 6001 style frames from ArmourX are suitable for on-the-job or activewear. A lightweight frame design is paired with lenses treated to resist dust, fog, reflections and scratches. When fitted with clear or tinted lenses, this eyewear provides protection from ultraviolet rays. This style is popular because it is comfortable and stylish enough to wear inside and outside while doing a wide range of activities.
Shellshore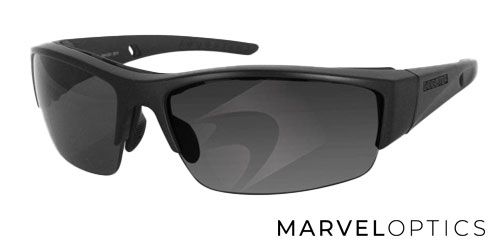 A double bridge distinguishes Shellshore by Marvel Optics apart from other metal rectangular frames. This small feature draws attention upward toward the browline, which can be helpful for balancing the features of a round, oval, triangle or diamond-shaped face and adding an element of style. These full-rim glasses come in a small size and accommodate single vision lenses.
Rectangle-shaped frames with a double bridge are ideal for oval and oblong face shapes. Check the measurements of these frames to determine whether Shellshore is the right safety prescription glasses style for you. These frames may be available in colors such as blue, gunmetal or jet black.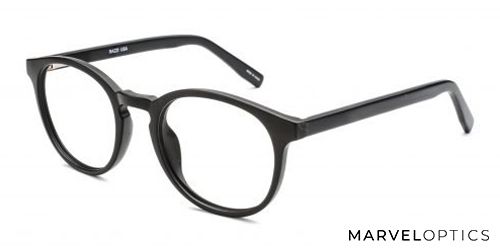 Brave frames by M-Line have on-trend vintage styling at an affordable price. These round acetate full-rim glasses have spring hinges. Some versions combine black frame fronts and colored temples. Single vision, bifocal and progressive lenses can all be fitted into these frames, as can high Rx prescriptions. An anti-scratch coating maintains optical clarity for comfortable wear and value.
Check the dimensions of Brave frames to determine whether this style is the best choice for your face. Men and women can both sport this retro style. Choose from several shades such as matte black with navy temples, matte black with red temples and matte black. You can also customize this style with clear or tinted lenses.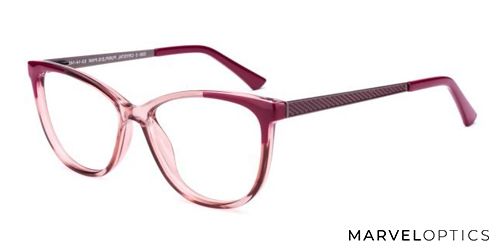 One of the most popular prescription frame styles for women is Katelyn by Marvel Optics. These cat-eye full-rim frames are another vintage style updated for modern wear. Plastic frame fronts and temples feature textural details for a unique look. The best online prescription glasses for women are compatible with single vision, bifocal, progressive lenses and high Rx prescriptions.
If you have an oval or pear-shaped face, you may want to consider Katelyn frames. These glasses can be fitted with clear or tinted lenses with an anti-scratch coating for vision correction or sun protection. These glasses come in a medium size. Check the dimensions of this eyewear to determine whether it will provide the best fit. Marvel Optics makes more prescription-ready styles for women.