Many signs point to the fact your children might need glasses. Some kids will squint a lot or complain of headaches while trying to read. Others may cover one eye or tilt their heads as a way of temporarily correcting impaired vision. Whatever the reason, it is important to bring your little ones in for an eye exam right away to solve the issue. Since corrective eyewear is often the solution for most vision problems, you may have a few questions about how to find the right glasses for kids.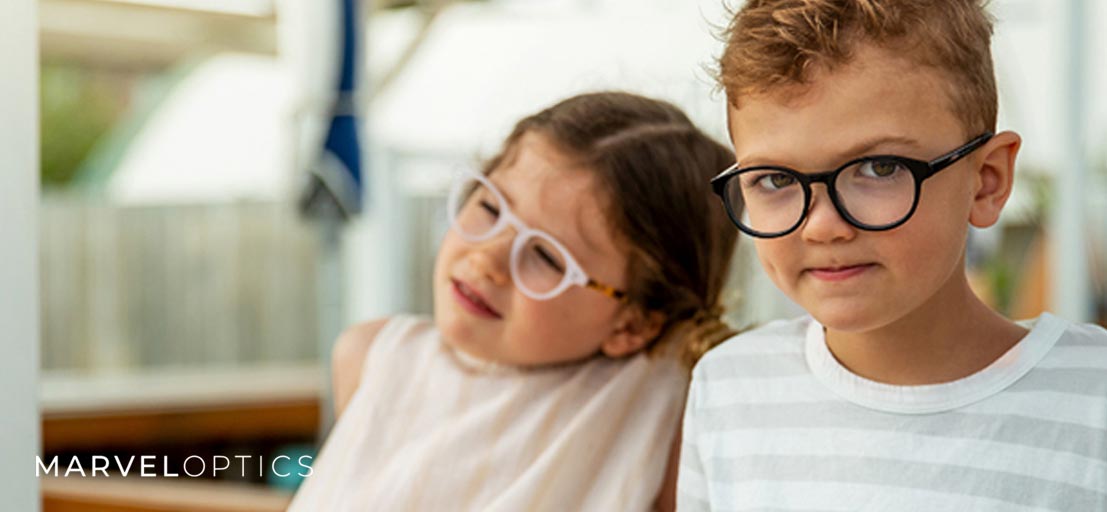 The fitting process is not complicated, but it can be useful to review a few points in advance. Consider these tips and help make the transition easier for you and your children.
The Size
The size of the glasses you select will make a big difference in how effective they are. If you select eyewear that is too loose, your child is more likely to lose them or break them while playing. To determine if the glasses are a good fit, check to see if the frames come in contact with your child's face. According to experts, the glasses should never touch your child's cheeks or eyelashes. If they do, you need a bigger size.
The Lenses
While there are many different types of lenses available for adults, most experts advise picking shatterproof options for children. Kids like to run, jump, tumble, and even fight, meaning the lenses need to be able to withstand whatever impacts occur. Polycarbonate lenses are usually the best fit for this purpose. Not only are polycarbonate options tough, the lightweight material is also effective at blocking UV rays and is resistant to scratches.
The Frames
When looking at frames for kids prescription glasses, there are a few areas to pay close attention to. The bridge is the part of the frame that sits over the nose. Since children tend to have smaller noses, many glasses made for kids are equipped with nose pads to keep the frames snugly in place. If you want to opt for a model without nose pads, you will need to find a pair that rests correctly on the nose. Should the bridge prove even a smidge too big, it can lead to the glasses slipping right off.
The temples are another area to focus on. The temples of the frames should rest comfortably on the ears. If the temples extend too far, it can cause the glasses to come off when the child leans back against a wall or rests his or her head on a pillow. To avoid this, some parents will select glasses with a strap instead of standard temples. However, be mindful that straps can prove awkward or uncomfortable for some children.
The Style
Though it does not play a big part in how the glasses function, looking at different styles can be useful when shopping for kids glasses. If your children love the way their glasses look, it increases the odds that they will wear them. Conversely, an unappealing style makes it more likely that your child will not wear the glasses out of fear of looking awkward or feeling embarrassed.

FAQs
Where Can I Find the Best Glasses for Kids?
Once you know how to select glasses that fit your child, it is time to look at your options. Peruse the selection of glasses for kids at Marvel Optics and discover a pair that will work for your child's needs.
How Long Does It Take Children To Adjust to New Glasses?
The length of time it takes for a child to adjust to new glasses will depend on factors like your child's age and his or her specific vision problems. However, experts state that it can take roughly 18 weeks for the average child to adjust.
Does Wearing Glasses Harm a Child's Vision?
No, wearing glasses will not have a negative impact on your child's ability to see. However, failing to address a child's vision problems can lead to long-term complications. When you notice an issue, it is time for an eye exam.
Can a Child's Eyesight Improve Over Time?
Some children only require glasses for temporary stretches of time. By going to an eye doctor once a year, you will be able to keep track of the status of your child's vision and whether corrective glasses are still needed.
How Can I Protect My Child's Glasses?
The best way to shield your child's glasses from harm is by purchasing a durable case. You must also ensure your child puts the glasses in the case when he or she is not wearing them. By doing this, you can significantly extend the lifespan of the eyewear.
Picking the right glasses for kids takes time. Review the variety of designs at Marvel Optics to find a fit that works best for your little ones.