Sight is vital to your child's performance in and out of the classroom. The inability to see clearly can compromise reading skills, coordination, and social engagement.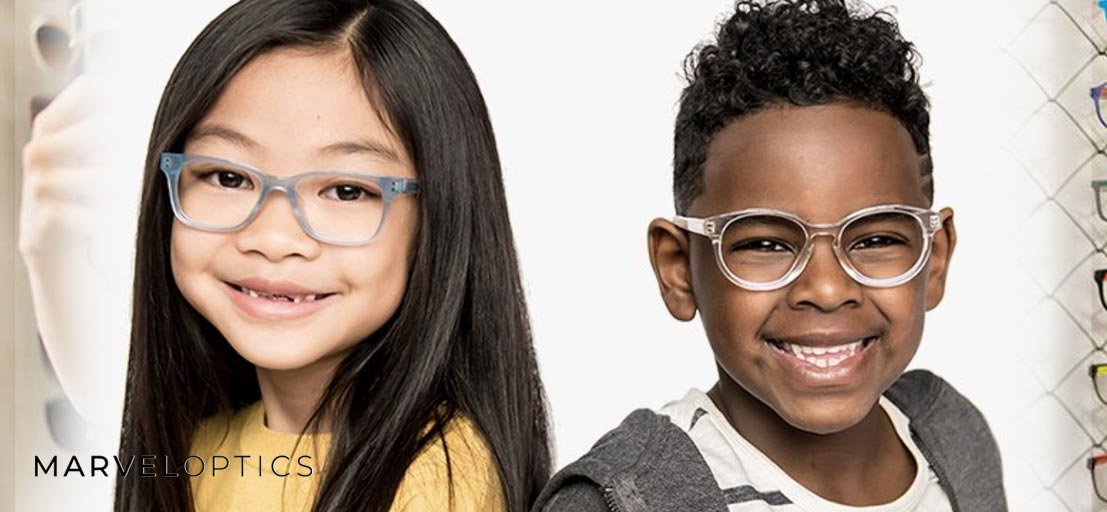 Parents must watch for the signs that their child's eyesight is inadequate. Children have nothing to compare their vision to, so it is impossible for them to tell you something is wrong, especially if they are younger. Glasses for kids might be necessary if your child is demonstrating one or more of five signs.
1. Sitting or Viewing Distance From Television or Other Devices
A significant indicator that your child might need kids prescription glasses is their viewing distance from the television or other devices. Sitting too close to devices or bending their head toward the pages of a book can indicate nearsightedness or myopia. Myopia is a condition where an individual sees clearer when things are up close as opposed to far away.
2. Squinting
Another sign you might need to buy glasses for kids is if your child is squinting. Squinting can result from a refractive error.
A refractive error affects how the eyes focus. It is possible that squinting temporarily improves the eye's ability to focus, helping bring clarity to an object.
3. Rubbing Eyes Excessively
When a child needs kids glasses but does not have them, it can lead to eyestrain or fatigue. Essentially, your child is overworking the eye muscles, causing discomfort.
To ease the discomfort, your child might rub their eyes excessively. Many vision problems can cause eyestrain, including conditions like allergic conjunctivitis.
4. Covering One Eye or Tilting Their Head
Have you ever noticed your little one covering one eye or tilting their head while trying to focus? They may be angling their head to increase clarity.
The head tilt and covering of a single eye can indicate misalignment or amblyopia — lazy eye. Amblyopia is among the most common conditions in children.
5. Complaining of Eye Pain or Headaches
Children with vision problems often overcompensate by exerting pressure on the eyes to improve blurry vision. Overcompensation can cause pain and headaches.
The underlying cause needs a diagnosis. Your child should see an eye doctor immediately if they complain of frequent headaches. While headaches might mean nothing severe, they can indicate vision issues.
Glasses for kids are not a fashion trend. Kids with vision issues need help to ensure they can progress and function alongside their peers. If you have noticed any of the above signs, schedule an appointment with an optometrist. Also, check out the collection of children's glasses at Marvel Optics to find a style that's right for your little one.

FAQs
1. Why are glasses important for kids?
Glasses are not crucial for all children, only those with a visual impairment. Wearing glasses for the right child removes any disadvantage brought on by vision problems. For example, without glasses, a student might not see class lessons clearly; they may also suffer from reading issues and setbacks. Glasses ensure children progress and function appropriately.
2. What do you need to consider when buying glasses for your child?
There are several things you should consider when buying your child's glasses. First, you want to acknowledge the materials of the frames and lenses. Most children's glasses have metal or plastic frames and polycarbonate lenses. You also want to ensure the frames come with a warranty in case they get damaged during play.
3. What type of glasses should your child wear?
Children can be reckless with their glasses. They do not yet understand the responsibility they have for the frames. Therefore, you want to purchase glass made from polycarbonate materials. Polycarbonate is more durable than standard lenses and is more impact-resistant, limiting any risks of eye injuries. Trivex is another durable and impact-resistant material.
4. What is considered normal vision for children?
Standard vision for children develops with age. For children under three or four years of age, a reading of 20/40 is normal. Children between four and five should have 20/30 vision. Finally, all school-age children should have 20/20 vision. Anything other than 20/20 for school-age children might mean prescriptive lenses are necessary.
5. At what age are glasses appropriate for children?
There is no designated age for when a child should wear glasses. Most children's eyesight is fully developed at eight, but they typically have their first eye appointment before that. A child may need glasses as young as a few months. However, healthcare professionals specializing in children's eye care, say kids become near or farsighted between six and 12 years of age.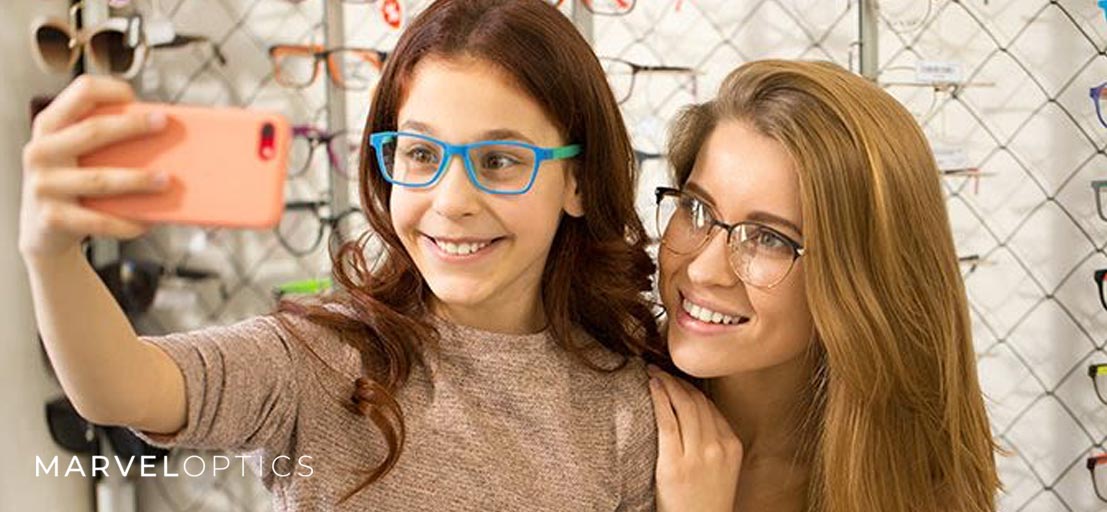 ---
Best Prescription Glasses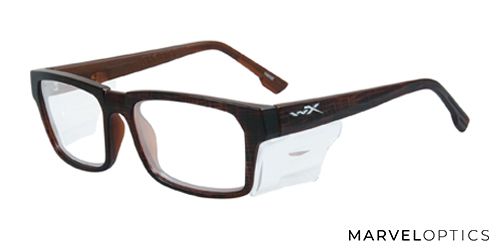 The WileyX WorkSight series of frames includes prescription-ready safety glasses. The Profile style has rectangular frames with full rims. Triloid frames and polycarbonate lenses meet the American National Standards Institute Z87.1-2010 high velocity and mass impact requirements and U.S. federal Occupational Safety and Health Administration 1910.133(b)(1)(1) standards. These glasses come with a fold-over case, removable side shields and a drawstring storage pouch.
Profile frames may be available in several color choices such as Gloss Brown Demi, Gloss Green Demi, Matte Hickory Brown, and Matte Black. This eyewear can accommodate single vision, bifocal and progressive lenses. Check the frame size and dimensions to determine whether Wiley X Profile can provide the best fit for daily, occupational or activewear.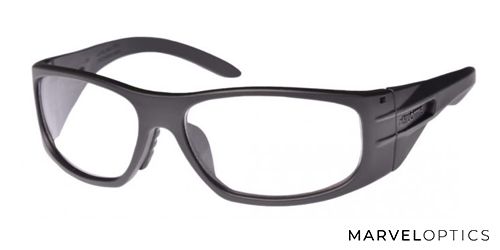 Another popular frame style ready for prescription lenses is ArmourX 6001. These plastic glasses with polycarbonate lenses meet ANSI Z87.1 safety standards. Large black rectangle frames wrap around the wearer's face. While these glasses are compatible with single vision, bifocal or progressive lenses, the base curve may not be the best choice for high Rx lenses.
The 6001 style frames from ArmourX are suitable for on-the-job or activewear. A lightweight frame design is paired with lenses treated to resist dust, fog, reflections and scratches. When fitted with clear or tinted lenses, this eyewear provides protection from ultraviolet rays. This style is popular because it is comfortable and stylish enough to wear inside and outside while doing a wide range of activities.
Shellshore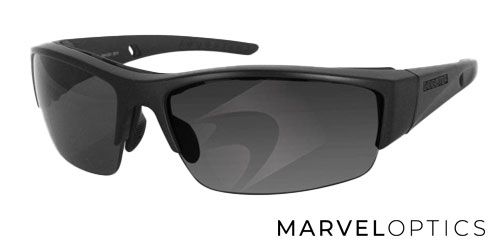 A double bridge distinguishes Shellshore by Marvel Optics apart from other metal rectangular frames. This small feature draws attention upward toward the browline, which can be helpful for balancing the features of a round, oval, triangle or diamond-shaped face and adding an element of style. These full-rim glasses come in a small size and accommodate single vision lenses.
Rectangle-shaped frames with a double bridge are ideal for oval and oblong face shapes. Check the measurements of these frames to determine whether Shellshore is the right safety prescription glasses style for you. These frames may be available in colors such as blue, gunmetal or jet black.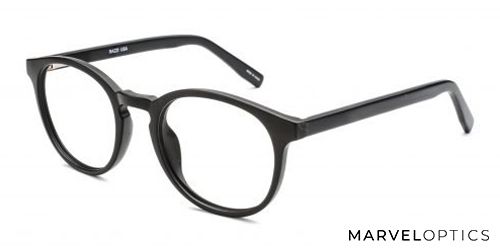 Brave frames by M-Line have on-trend vintage styling at an affordable price. These round acetate full-rim glasses have spring hinges. Some versions combine black frame fronts and colored temples. Single vision, bifocal and progressive lenses can all be fitted into these frames, as can high Rx prescriptions. An anti-scratch coating maintains optical clarity for comfortable wear and value.
Check the dimensions of Brave frames to determine whether this style is the best choice for your face. Men and women can both sport this retro style. Choose from several shades such as matte black with navy temples, matte black with red temples and matte black. You can also customize this style with clear or tinted lenses.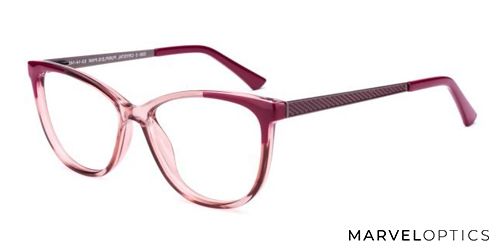 One of the most popular prescription frame styles for women is Katelyn by Marvel Optics. These cat-eye full-rim frames are another vintage style updated for modern wear. Plastic frame fronts and temples feature textural details for a unique look. The best online prescription glasses for women are compatible with single vision, bifocal, progressive lenses and high Rx prescriptions.
If you have an oval or pear-shaped face, you may want to consider Katelyn frames. These glasses can be fitted with clear or tinted lenses with an anti-scratch coating for vision correction or sun protection. These glasses come in a medium size. Check the dimensions of this eyewear to determine whether it will provide the best fit. Marvel Optics makes more prescription-ready styles for women.