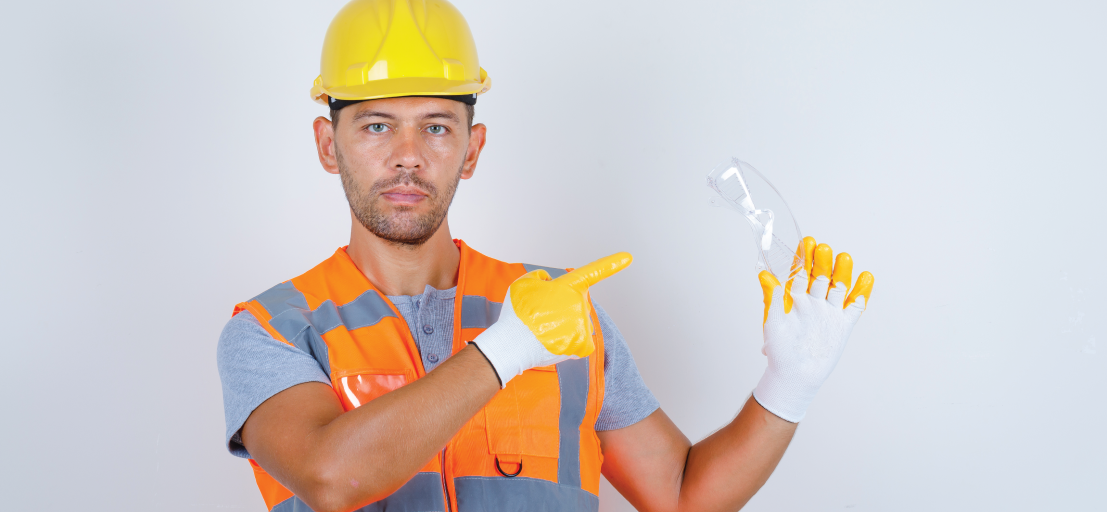 How To Guide
Staying safe while on the job is all about following the correct guidelines. For many, this means wearing appropriate gear. Prescription safety glasses are an essential piece of workplace gear, shielding the eyes from everything from sudden impacts to hazardous particles. Naturally, selecting the right eyewear is not always as straightforward a process as you'd like. In order to pick glasses that exceed your expectations and meet the specific hazards of your industry, you need to think over a few preliminary points. Taking extra time during your search can make all the difference in your overall satisfaction. Give yourself a moment to review these tips on how to select the right eyeglasses for your safety. By covering a few points in advance, you'll easily find a pair that will shield your eyes from harm.
The Job at Hand
The first step to selecting appropriate glasses for the workplace is to consider the type of work you do. The job you have will play a huge part in the selection process. Specifically, you want to stay mindful of what the regulations are in your industry. For example, people who work in manufacturing and similar industrial fields often need to wear glasses that have gone through rigorous testing by the American National Standards Institute. Before making any assumptions, see what your job requires in terms of gear.

The Risks of the Workplace
While your job might have specific standards when it comes to the type of prescription safety eyeglasses deemed suitable for the workplace, you will also need to consider a few points on your own. Specifically, it can be beneficial to think about the unique risks of your job. If you work in a lab that processes various chemicals, for example, you will want to be sure that the glasses you select for safety are crafted to protect the eyes from fumes and similar irritants. Specificity is key when it comes to picking glasses that actually help to keep you safe.
From welding to building to processing, plenty of tasks can pose a threat to your eyes. When picking out your glasses, be sure to consider your own daily activities. Every job around the workplace is different. You might be more likely to encounter impact risks than your coworkers. Keeping this in mind will help immensely when it comes to making your selection.

The Certifications
As mentioned, many glasses are rated and tested by the American National Standards Institute in order to ensure the eyewear meets industry standards. When you're looking for the right glasses for your own safety needs, it can be beneficial to pay attention to the ANSI rating. When you are shopping around for ANSI z87 1 safety glasses, be sure to look for the sign of approval from the organization. This guarantees the eyewear has been tested for quality and will withstand sudden impacts and other commonplace threats you're likely to encounter.

The Options
Glasses these days boast a number of options for consumers to think over. In order to maximize the effectiveness of the safety eyewear you purchase, you should take time to think about the treatments that you can have applied to the lenses. For some, a simple colored tint on glasses is enough to improve overall clarity. Polarization is another popular option, as it reduces the overall glare caused when light reflects off surfaces like glass or water. Consider the conditions of your job in order to find the right treatments.
Some consumers also find that fashion plays a bit of a part in the selection process. While it should not be what dictates your entire search, you will find that taking the appearance of the eyewear into consideration can make a big difference when it comes to how you feel about the option. When glasses look great and feel comfortable, you are more likely to wear them. If you feel self-conscious while wearing the goggles, it might prevent you from putting them on when they are required.

The Prescription
When you rely on glasses to see, you absolutely want to take your prescription into consideration while selecting goggles for the workplace. These days, there are far more options than there used to be when it comes to prescription eyewear. Unfortunately, there are still a handful of frames that cannot be fitted with prescription lenses. Before making any assumptions, you might find it is a better idea to review which of the frames can be fitted with prescription lenses so you don't get your hopes up for the wrong pair.

FAQs
How Can I Find the Perfect Prescription Safety Glasses?
Selecting the right prescription safety glasses is a very easy process. Simply take a look at the various options available at Marvel Optics to get an idea for what's out there. Once you've found the right pair, place your order and improve your safety in the workplace.
Do Safety Glasses Hurt Your Vision?
The biggest risk safety glasses pose is when a person decides not to wear them. As long as the glasses fit properly and have the correct prescription, there is no need to be concerned over any potential damage to your eyesight.
What Does ANSI Mean on Safety Eyewear?
When searching for eyewear, it is important to look for designations that guarantee the quality of the product. A certification of ANSI z87.1 means that the glasses have been approved by the American National Standards Institute and will protect the wearer to the fullest extent required.
What Is the Most Important Feature of Safety Glasses?
When looking at your options with safety glasses, durability is the most important factor to focus on. As long as the glasses are strong and able to withstand the sudden blows and other risks of your workplace, you can rest assured that the eyewear will protect you from any potential threats.
How Should Safety Glasses Fit?
Safety glasses should be comfortable without being too loose or too tight. If you need to wear your glasses for long hours while at work, the last thing you want is for the eyewear to dig into your facial skin or cause you any irritation.
Staying safe on the job is no small task. You want to dedicate as much time as possible to finding glasses that will actually reflect the risks of your industry. Review the options available for prescription safety glasses at Marvel Optics and find a pair that you feel great about in no time.