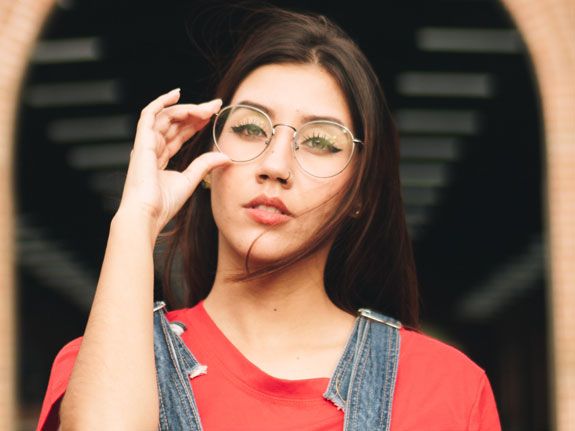 Guidelines for Measuring Your Face for Eyeglasses
Eyeglasses give you clear vision, but they are also a testament to your own unique style and flair. However, when they don't fit right, they can be a nuisance and, quite literally, a pain. Glasses that are too big constantly slip, while ones that are too tight can give you a headache or pinch the bridge of your nose. When you purchase prescription glasses online, you want to make sure that the pair you receive fits your face as well as your personality. To do this, you need to know a few important measurements before you choose your glasses. We're providing this simple guide with three easy steps to ensure a good fit.
1. Measuring the Bridge of Your Nose
The bridge measurement determines the distance between the two lenses. If your glasses slip down your nose all the time, the bridge size is too large for your nose. Conversely, glasses that pinch your nose have a bridge that is too small. You need to know what your bridge size is so that your new glasses will be comfortable!
Determine Your Bridge Width and Position
For this step, you can use either a mirror or a photo. Using a profile view of your face, examine where your bridge is located. If it's situated above your pupils, you need glasses that are between 19 millimeters and 21 millimeters. If the bridge is located below the pupils, you should look for a bridge size between 16 millimeters and 18 millimeters.
Next, look at your face from the front to narrow down the range of bridge sizes appropriate for your face. If your eyes are set farther apart, your bridge size is wide. You need to adjust your glasses' bridge size accordingly. If the space between your eyes is narrow, then adjust your size toward the smaller end of the range based on positioning.
Fine-Tune Measurements According to Frame Thickness
When you order glasses online, you can opt for thick-framed, wire-framed or anywhere in between. Since the bridge size is based on the distance between the lenses, the frame size you choose has an impact on the bridge size you need. If you go for a thicker frame, adjust the bridge size up by a millimeter or more, depending on how thick they are.
Choose Glasses With the Right Bridge Position
The final choice you'll have to make is determining which frames have a bridge position that matches your own. Frames that have a brow-level bridge are great for those who have a high bridge. Conversely, for people with low bridges, you'll want to choose a frame that sits lower than the brow.

2. Measuring the Width Between Your Temples
The second step in getting the perfect pair of eyeglasses online is to measure how wide your face is between your temples. You'll need a mirror, a ruler and some simple math skills to get the right measurements.
Measure Your Face From Temple to Temple
Looking into a mirror, use a ruler to measure the distance between your temples. Place the ruler horizontally, just below the eyes. Make sure you record your measurements in millimeters!
Determine the Total Width of Your Glasses
You are going to use your temple-to-temple measurement to determine the right glasses width for your face. The width of the glasses includes the bridge size plus the lens and frame widths. Ideally, you should choose eyeglasses with a width that is as close as possible to your temple measurement.

3. Determining Temple Length and Face Shape
When ordering prescription glasses online, you need to make sure that your glasses fit the length of your temple so that you get the right-sized arm. Knowing your face shape helps you determine a style that works best for you.
Get the Correct Arm Size
The arms of the glasses are the two pieces that rest over your ears and hold the glasses on your face. You can use your temple width to figure out the right-sized arm. If you have a wider temple measurement, choose frames with arms 145 millimeters or more in length. For those with smaller temple widths, select glasses with a 135-140-millimeter arm.
Find Out Your Face Shape
Looking into a mirror, determine if your face shape is closest to that of a heart, square, circle or oval. If you have a square face shape, you may want to opt for glasses that have oval or circular frames. On the other hand, if your face is oval, round or heart-shaped, try choosing eyeglasses with a rectangular frame.

FAQs
Can I fill my prescription glasses online?
Yes! If you have a prescription from an optometrist, it's easy to order your glasses online. Marvel Optics has a wide selection of glasses to fit your needs. Once you find the frame you like, enter your prescription information, and we'll ship your new prescription glasses to you in just a few days.
Where can you get prescription glasses online?
Numerous outlets allow you to purchase prescription glasses online, but Marvel Optics is the number one choice. We have been providing customers with high-quality prescription glasses since 2009. We offer a 30-day guarantee on our entire selection. We want you to be completely satisfied.
Is it cheaper to buy glasses online?
Marvel Optics believes everyone has the right to clear vision, so we've made our prices affordable. You can purchase glasses from us for as low as $5.95. We also have free shipping for orders over $99. You can't beat these deals, and you get them right from the comfort of your home.
What is the best online eyeglasses store?
Marvel Optics provides the best online selection of prescription glasses. We offer a variety of stylish frames to match any budget. Our optical labs are located in the United States, and we test all of our lenses to ensure they meet the highest standards for quality and performance.
Who has the best deals on prescription glasses?
At Marvel Optics, we provide our customers with numerous options for affordable glasses every day! With prices as low as $5.95, it's easy to find choices that meet your needs at prices that can't be beaten. You can also check out our sales items for even better deals!
---
Best Prescription Glasses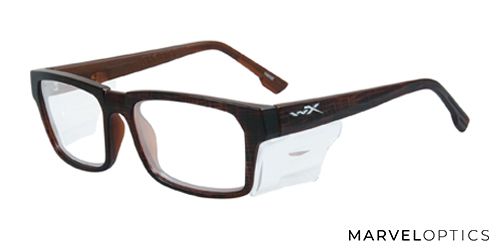 The WileyX WorkSight series of frames includes prescription-ready safety glasses. The Profile style has rectangular frames with full rims. Triloid frames and polycarbonate lenses meet the American National Standards Institute Z87.1-2010 high velocity and mass impact requirements and U.S. federal Occupational Safety and Health Administration 1910.133(b)(1)(1) standards. These glasses come with a fold-over case, removable side shields and a drawstring storage pouch.
Profile frames may be available in several color choices such as Gloss Brown Demi, Gloss Green Demi, Matte Hickory Brown, and Matte Black. This eyewear can accommodate single vision, bifocal and progressive lenses. Check the frame size and dimensions to determine whether Wiley X Profile can provide the best fit for daily, occupational or activewear.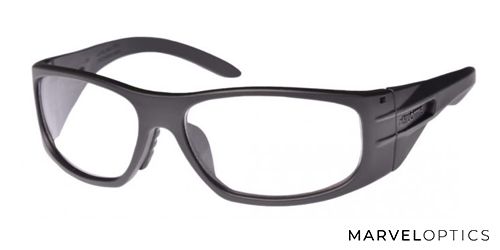 Another popular frame style ready for prescription lenses is ArmourX 6001. These plastic glasses with polycarbonate lenses meet ANSI Z87.1 safety standards. Large black rectangle frames wrap around the wearer's face. While these glasses are compatible with single vision, bifocal or progressive lenses, the base curve may not be the best choice for high Rx lenses.
The 6001 style frames from ArmourX are suitable for on-the-job or activewear. A lightweight frame design is paired with lenses treated to resist dust, fog, reflections and scratches. When fitted with clear or tinted lenses, this eyewear provides protection from ultraviolet rays. This style is popular because it is comfortable and stylish enough to wear inside and outside while doing a wide range of activities.
Shellshore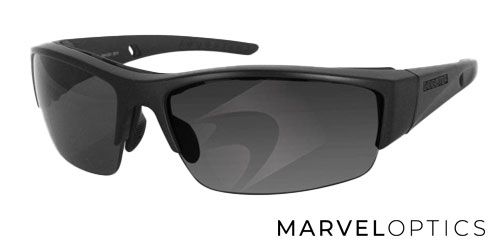 A double bridge distinguishes Shellshore by Marvel Optics apart from other metal rectangular frames. This small feature draws attention upward toward the browline, which can be helpful for balancing the features of a round, oval, triangle or diamond-shaped face and adding an element of style. These full-rim glasses come in a small size and accommodate single vision lenses.
Rectangle-shaped frames with a double bridge are ideal for oval and oblong face shapes. Check the measurements of these frames to determine whether Shellshore is the right prescription glasses style for you. These frames may be available in colors such as blue, gunmetal or jet black.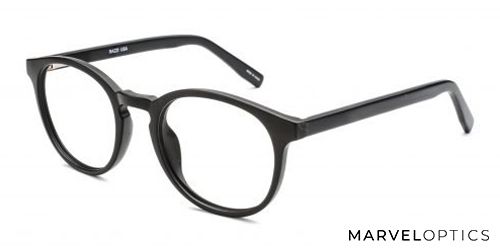 Brave frames by M-Line have on-trend vintage styling at an affordable price. These round acetate full-rim glasses have spring hinges. Some versions combine black frame fronts and colored temples. Single vision, bifocal and progressive lenses can all be fitted into these frames, as can high Rx prescriptions. An anti-scratch coating maintains optical clarity for comfortable wear and value.
Check the dimensions of Brave frames to determine whether this style is the best choice for your face. Men and women can both sport this retro style. Choose from several shades such as matte black with navy temples, matte black with red temples and matte black. You can also customize this style with clear or tinted lenses.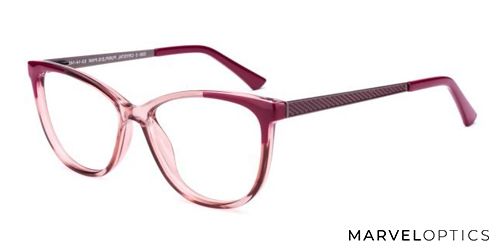 One of the most popular prescription frame styles for women is Katelyn by Marvel Optics. These cat-eye full-rim frames are another vintage style updated for modern wear. Plastic frame fronts and temples feature textural details for a unique look. The best online prescription glasses for women are compatible with single vision, bifocal, progressive lenses and high Rx prescriptions.
If you have an oval or pear-shaped face, you may want to consider Katelyn frames. These glasses can be fitted with clear or tinted lenses with an anti-scratch coating for vision correction or sun protection. These glasses come in a medium size. Check the dimensions of this eyewear to determine whether it will provide the best fit. Marvel Optics makes more prescription-ready styles for women.