Guess is one of the most iconic fashion brands in the world. Founded in 1981 in Los Angeles, it was first intended only to be a name for a fashion look book, but the idea soon evolved to include the founders' own original designs. Over 40 years later, the name is synonymous with style — so it's no surprise that Guess glasses are some of the most popular frames on the market. If you're thinking about investing in a pair of Guess sunglasses or Guess eyeglasses, consider this quick guide first. Finding the right pair of glasses can make all the difference, and when your glasses are Guess, you're on your way to icon status.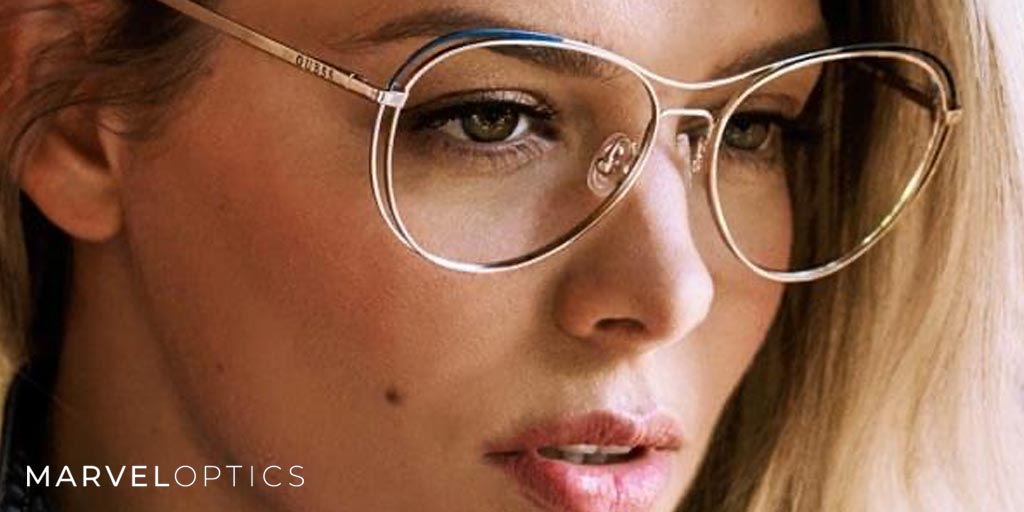 Guess Eyeglasses
There are many different Guess glasses to consider. Whether you're looking for a new pair of everyday eyeglasses or a unique pair of shades, you'll find what you're looking for at Guess. Just like the fashion company's clothes, Guess glasses are renowned for their fashion-forward designs and unique style, including many sleek and retro design options. One of the most distinctive features of the Guess eyewear brand, though, is the array of options that wearers can choose from. Browse various frame shapes, materials, and rim styles to find the pair that's perfect for your aesthetic.
Guess Sunglasses
The only thing cooler than a pair of Guess eyeglasses is a pair of Guess sunglasses. Guess sunglasses join the impeccable allure of shades with the elite appeal of Guess — and guess what? It's a winning combination. When you're looking for designer eyeglasses, no other brand matches the quality and appeal that a pair of Guess shades can hold. No other brand offers the unbeatable style and impenetrable protection that come with a pair of Guess sunglasses. Every pair of shades made by Guess comes with UV resistant lenses so that you never have to worry about damage from the sun's rays.
Available Glasses Shapes
The shape of the glasses you wear has a major effect on your appearance. Did you know that there are five different shapes of faces — diamond, square, oval, heart, and round? Furthermore, did you know that each of these is best suited to a different shape of glasses? It's true. Guess glasses come in many different options, including the following:
Cat eye
Butterfly
Aviator
Rectangular
Round
Oval
To determine which shape is the right one for your shape, look at some glasses or sunglasses that you already have, pick out a pair that you find to be flattering, and look for a pair of Guess eyeglasses that have a similar shape.
Materials to Choose From
Just as there are different shapes to consider, there are also several materials to choose from when you're shopping for a pair of Guess glasses. Some of the most popular options include the following:
Metal frames are often popular because they are durable and stylish, but titanium may be stronger and more lightweight. Finally, plastic frames are often the most affordable, and they can come in cool patterns and bright colors that many fashionistas love.
Options for Rim Design
Finally, you should choose a rim design that's suited to your style. Guess glasses come in a variety of rim designs. If you opt for full rim glasses, you'll enjoy the sturdiness and resistance to damage that these frames provide. Semi-rimless designs are often the first choice of those concerned with fashion, though. Completely rimless glasses are great because they don't distract from your face and your eyes. Carefully consider which style will be the most flattering when you're shopping for your next pair of Guess sunglasses or eyeglasses.