Eyewear for women differs from frames that are designed for men and unisex styles. Here are 10 helpful tips for selecting the right pair of womens prescription glasses for daily wear or non-prescription eyewear that blocks blue light or provides sun protection.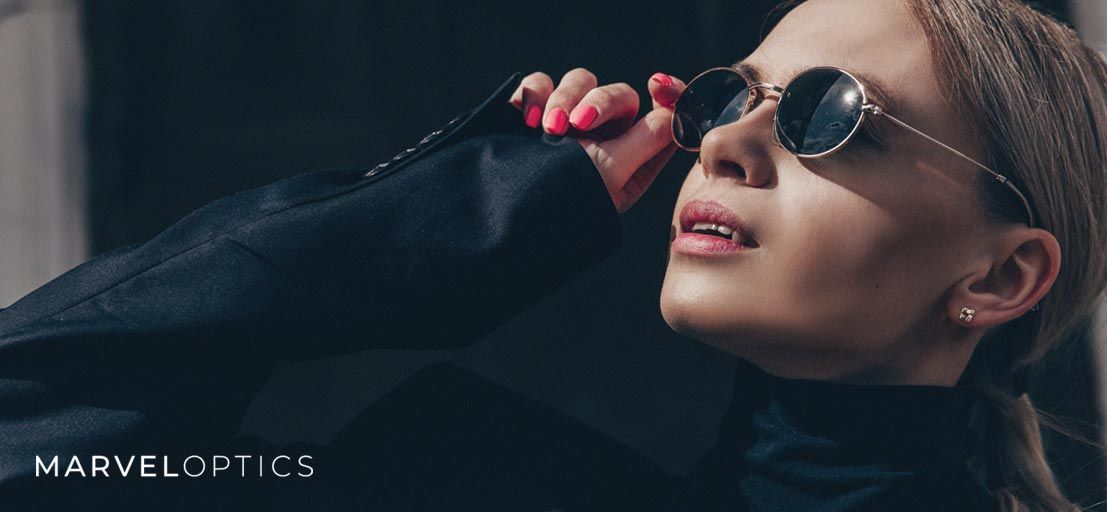 Check the Sizes of Frames
Every pair of frames comes in a specified size. It is always a good idea to check the available sizes of frames. Sizing may vary based on the brand of eyewear and whether glasses are designed to fit women, men or are a unisex style. Women's frames are often smaller than men's frames, and measurements are important for checking the fit of unisex eyewear.
Factor In Frame Dimensions
The dimensions of frames can be more helpful for determining whether a particular pair of glasses will provide a good fit. Some of the most important dimensions include frame width, lens width, bridge width, lens height and temple length. You can compare these measurements with your facial features or your current pair of glasses.
Get Eyewear That Fits Your Lifestyle
Choose frames that correspond to the activities during which you wear glasses. Eyeglasses for work or school may have casual, fashion or lifestyle frames. Sports glasses or sunglasses are designed to stay in place and protect your eyes during more intense activities. Safety glasses have even more durable frames and shatter-resistant lenses.
Protect Your Eyes From Any Hazards
If you spend time in environments that pose impact or other safety hazards, consider eyewear that meets the American National Standards Institute Z87.1 standard, federal Occupational Safety and Health Administration requirements or other relevant safety ratings. Safety glasses for women may be available with plastic or metal frames and a choice of clear or tinted shatter-resistant lenses.
Find Frames With a Flattering Shape
Glasses are more likely to flatter your face if the shape of frames and lenses contrasts with your face shape. Round faces are flattered by square or other angular frame shapes, while square faces benefit from the softening effect of curved frames. Balance out a heart-shaped face with frames that are wider at the bottom or choose frames with accentuated brow lines for diamond-shaped faces.

Choose the Right Womens Prescription Glasses
Any eyewear you choose should meet your vision requirements. Some prescription-ready styles can only accommodate lenses within a specified range of cylinder and sphere measurements. High Rx styles are compatible with more powerful lenses. Most half-rim or rimless frames do not support multifocal lenses.
Measure Your Pupillary Distance
The distance between the pupils of your eyes can be significant if you wear prescription glasses. Use a ruler to approximate the distance while standing before a mirror or have another person take this measurement. You can also put on your current glasses and use a washable felt tip marker to make a dot on each lens over an object situated at least 20 feet away. These dots should overlap into a single dot when you look through lenses. Measure the distance between the dots to determine your pupillary distance.
Assess the Features of Eyewear
Frames may have unique design features. In addition to the frame material, you might factor in specialized nose or temple pads, flexible temples or ventilated designs. Anti-fog designs and lenses coated to resist scratches may make a particular style of eyeglasses or sunglasses more or less desirable for different applications.
Decide On Neutral or Statement Frames
The frame color you choose can determine whether eyewear flatters your face. Determine whether your skin tone and hair color are cool or warm and choose neutral or accent frames that correspond to or accentuate this tone. Neutral cool frame colors include black, gray, silver and dark tortoise. For warm tones, beige, gold, off-white or light tortoise may be preferable. Some of the best accent frame colors for cool tones are blue, green, pink and purple, while warm tones can be set off by orange, peach, or red frames.
Customize Your Favorite Womens Glasses
Once you have found your favorite pair of glasses, check to see which frame colors are available. Non-prescription eyewear is available with plano lenses by the brand that makes frames. Prescription eyewear offers a choice of corrective lens types and finishes for eyeglasses or tinted lenses for sunglasses.

FAQs
How do I order glasses with prescription lenses?
Select a pair of prescription-ready frames sized to fit your face. Customize eyewear with a choice of single vision or multifocal lenses in your choice of finishes or tint colors for sunglasses. Based on frame design, some eyewear may only accommodate a limited range of prescription lens strengths or powers.
Are women's frames different than mens and unisex frames?
Women's frames tend to have smaller frame and lens widths than men's frames. Unisex frames may also be larger than frames designed specifically for women. Check frame size in addition to dimensions such as frame, lens and bridge width and temple length to find eyewear that provides a good fit.
Can I customize a pair of prescription sunglasses?
It is possible to customize most prescription-ready frames with a choice of lens finishes and tints. Choose from standard, gradient, mirrored, polarized or polarized mirror tint lenses. The shades that are available vary for each type of lens tinting, but prescription sunglasses can provide up to 100% ultraviolet light protection.
Which lens options are available for prescription eyewear?
Based on the design of frames, prescription eyewear may be available with a choice of single vision, multifocal or reading lenses. Premium digital lens surfacing or standard lenses are available for single vision and multifocal eyewear. Clear, blue-light blocking, tinted and light-adjusting lenses are also available for most prescription frames.
What is the most versatile style of frames?
Neutral metal or plastic frames that are black, gold, silver or gray can be worn with most outfits and dressed up or down. Womens prescription glasses that have colorful accent frames can match or contrast with clothing to make an eye-catching impression for special occasions or on a regular basis.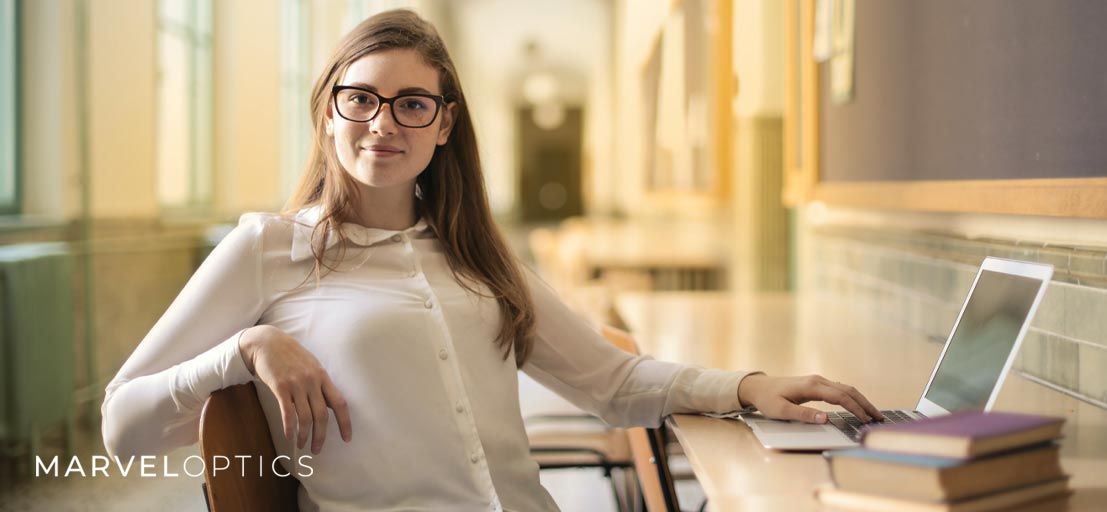 Best Women's Prescription Glasses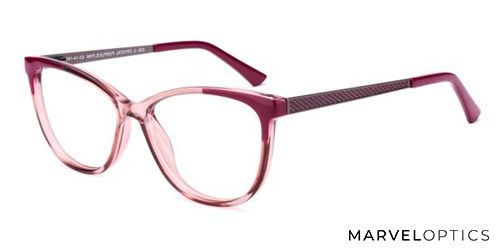 You don't need to sacrifice style when it comes to quality womens prescription safety glasses. The Katelyn is a model that was made to be as durable as it is appealing. The classic style of the frames are reminiscent of the vintage cat eyeglasses look. Available in bold colors, these are an ideal fit for any woman who wishes to show off her personality through her eyewear. The full-rim plastic frames are tough and will not break easily. If you're looking to be fashionable with your approach to eyewear, the Katelyn might be worth your while.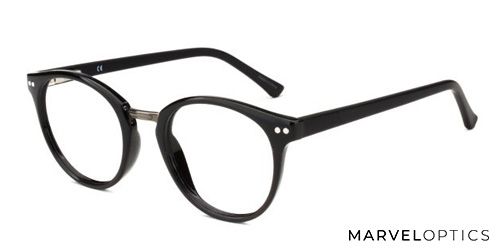 Not everyone wants a flashy or showy pair of glasses. Still, that doesn't mean you're looking for something bland. The Lividicious is designed to feature only a hint of color, allowing for an elegant look that appeals to the sensibilities of those who like to keep things simple. Featuring plastic frames, these glasses are a good fit if you tend to live an active lifestyle or enjoy engaging with physical activities like playing sports on a regular basis. The general look also makes them perfect for professional settings and intimate environments.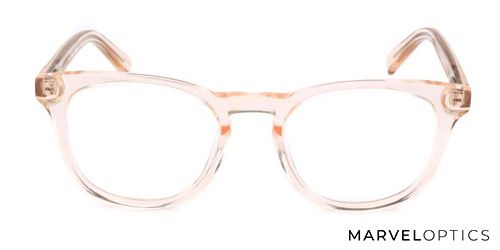 Working outdoors for long stretches of time can be an important factor to consider when selecting your new glasses. Temperature shifts can create problems with untreated lenses, allowing condensation to collect and obscuring your ability to see. The Wahiawa addresses this problem by featuring a design that is resistant to both high and low temperatures. The metal frames also make the Wahiawa a great pick for those who work in high-risk environments. The durability of the frames helps to reduce the odds of damage in the event of an impact.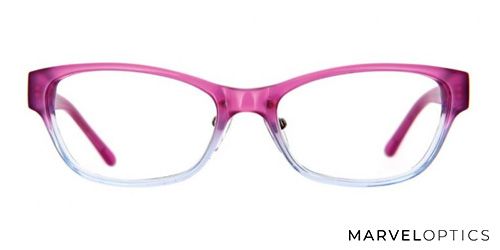 When you work in an industrial environment or any space with large, complicated equipment, you absolutely want to prioritize safety when selecting your eyewear. The Hudson DesignGard Series DG-10 has an ANSI Z87.1 designation. This means that the glasses have been tested in accordance with the strict standards of the American National Standards Institute. The lenses will not shatter in the event of a sudden impact and the frames will stay in shape regardless of how much of a daily beating they take. The lenses also feature anti-fog and scratch-resistant coating.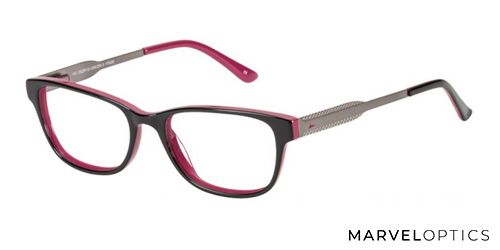 Another trusted option when it comes to safety is the OnGuard ELITE 619. The slick and modern design of the frames make them a perfect contemporary style for women and men alike. Available in several colors, the ELITE 619 also features i-Shield technology to offer frame style integrity and overall safety. If you're looking for womens prescription glasses for work, this model meets both ANSI Z87.1 and CSA Z94.3 standards. A versatile option that is perfect for work, play, hanging around the house, or engaging in your favorite physical activities.
---
Best Women's Prescription Sunglasses
1. ATP901 Petite Ann Taylor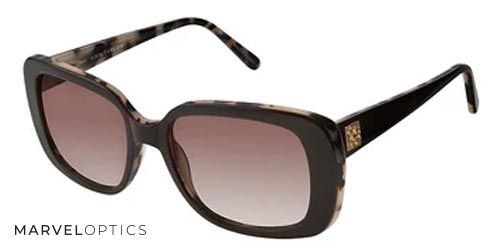 Ann Taylor eyewear is known for giving off a chic look whether you are at work or play. The frame is a plastic construction meant for small face shapes as the dimension for the lens area is just 49 mm wide by 42 mm high. The lenses can be ordered without a prescription or with a single vision lens. This classic design looks great on faces that are heart, diamond, pear or oval-shaped.
2. ATP900 Petite Ann Taylor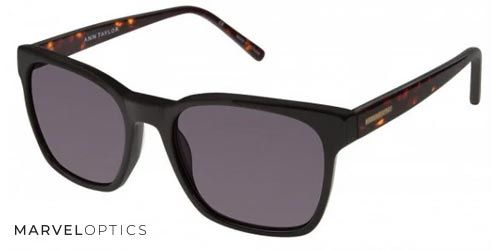 These plastic frames come in several shades, from a deep navy and black to a chic tortoise and teal. A stylish pair of sunglasses, this eyewear has anti-fog, anti-reflective and anti-scratch coatings to ensure you get the most practical use of your designer glasses. You can have the lens tailored to a single prescription, and petite faces in a variety of shapes will benefit from the timeless look of Ann Taylor accessories.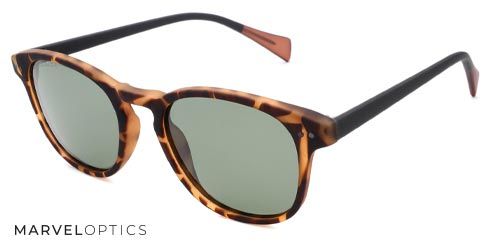 Change up your look with a pair of Reston sunglasses with matte blue, black or demi frames. This round frame design sports a full rim for large face shapes of round, heart, square or diamond. These rubber-finished frames have polarized lenses for the ultimate in protection, and lenses can support a single, bifocal or progressive prescription. The protective carrying case is included with each Reston polarized sunglasses purchase.
4. Tifosi Mira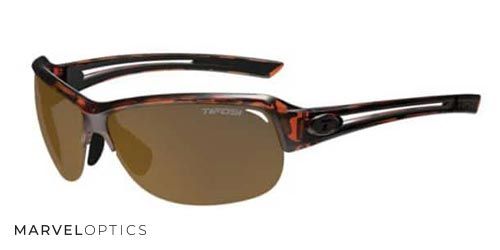 A sporty yet chic pair of sunglasses, you can order the Tifosi Mira pair in several different colors and either as a prescription or standard sunglasses. This look is good for activities like kayaking, cycling, gardening, gold, running or all-around eye protection. This is a larger pair of half-rim sunglasses with a frame width of 139 mm and a temple length of 123 mm. The frame wraps around the side of the head, making it a perfect choice for round, square or diamond-shaped faces.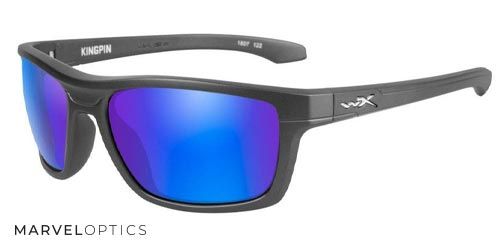 This is stylish pair of sunglasses can be customized with a prescription, but there is also the option to choose a preferred color from a selection of matte black or matte graphite. Depending on the selection, you can also increase the glam factor with polarized, colored mirror finishes. This is a lightweight option for medium-sized faces, but it is durable for activities like volleyball, golf, hiking, boating, tennis or other sports interests. This pair is ANSI certified for safety, protects the wearer during incidents with high mass and velocity impact.