Knowing how to fix glasses is an important skill to have if you wear them regularly. Though not all repairs are easy to do or can be done at home, there are a few tips, techniques, and quick-fixes you can do, at least until you can get them to a professional. The following is a complete guide to eyeglasses care and repair.

How To Fix Scratches on Your Lenses
Discovering a scratch on your prescription eyeglasses is annoying and frustrating, especially if the scratch is in the center of the lens or your field of vision. If you're looking for a solution, the best recommendation is "DDIY" — don't do it yourself. Prescription lenses should only be repaired by a professional because at-home methods usually end up making the problem much worse. If you absolutely must do it yourself, some people have found success using a paste made from baking soda and water (or toothpaste) and gently rubbing it over the scratch to buff it out. The results of this method are purely anecdotal, and the risks generally outweigh the possibility of saving a little money.


What To Do if Your Frames Break
In many cases, damage to the frame doesn't mean your glasses are permanently broken or that they even require a professional to repair them. Whether you need a quick-fix or a more long-term solution, here are some tips to repair your broken glasses yourself.
Bends:
For metal frames, wrap them with a soft cloth and use plastic-tipped pliers to gently bend them back in the correct position. For plastic frames, warm them for 30 seconds in warm water or steam, and gently use your thumbs to adjust them. The frames will be very fragile while they're warm, so use extreme caution not to bend them too hard.
Bridge:
A broken bridge can temporarily be glued together with super glue or hot glue, but will most likely need a professional to permanently fix it.
Arm:
Usually, a missing hinge screw is to blame if the arm falls off. You can find replacement screws and the appropriate screwdriver in any glasses repair kit.
Nose pads:
You can easily replace lost or broken nose pads with an eyeglasses repair kit, which includes both the parts and tools you need.
Temples:
Another name for the "arm" of your glasses, the temple is difficult to fix if it has broken in half. Before attempting to glue it, check to see if your glasses are under warranty, because gluing them may invalidate it.
Metal frames can be soldered or welded, but this is best left to a professional if possible. Plastic frames that are broken can be super-glued and reinforced by sewing them together. This requires a tiny drill bit, needle, and thread and should be done after gluing. Finally, rimless frames can be fixed with a fishing line and a lot of patience. There are tiny holes near the bridge where you thread the fishing line in and out and run it along the groove at the bottom of the lens. Once you tighten the line in place, tie it off and trim the loose ends.


What Parts You May Need for Repairs
It's helpful to know how to fix glasses when the repair is relatively minor. Most of the parts you will need for basic repair can be found in a repair kit. The kit will include screws, nuts, washers, and nose pads, along with the tools you will need. If you need to replace the temples, you can search for them online, noting the manufacturer, color, and size. Clear super glue is great to have on hand to repair cracks or breaks — look for a brand that has a micro-tip on the bottle, so you only dispense what you need. It is not recommended that you attempt to repair broken hinges or lenses; those need to be handled by a professional. Your optician can assist you or you can search for an online company that does optical replacements and repairs.
What Tools To Have on Hand for Emergency Fixes
Glasses repair kits are so inexpensive and easily obtainable, you can keep a repair kit in every place you spend a good deal of your time. You can keep a kit at home in a kitchen drawer, one in your desk at work, and one in the glove box of your car. Most kits include hinge screws and the screwdriver to use with them; bolts, nuts, washers, and rubber screw caps; extra nose pads, a curved tweezer, cleaning cloth, and spray. Not only are the kits great to have in an emergency, but you can also use them for regular care and maintenance of your glasses.
How To Prevent Damage
Preventing your glasses from damage is all about developing a practice of basic care. Create habits and routines for where you store them when not in use, when and how you clean them, and what tools you will use to maintain and repair them if needed.
How To Care for Your Glasses
Whether you wear prescription glasses, sunglasses, or both, following a few basic guidelines will help them last until you're ready to update your style or prescription:
Purchase high-quality frames from reputable optical retailers. Quality materials and service don't have to be expensive, and you shouldn't trust something as important as your eyesight to discount stores or unlicensed vendors.
Keep your glasses in a case when not in use. Most damages occur when you're not wearing them, so keeping them protected in a case is the single most important way to make them last.
Don't fall asleep while wearing your glasses. If you even think you might doze off, put your glasses in a case so you don't inadvertently bend or break them while you're asleep.
Clean your glasses regularly with a microfiber cloth and optician-approved cleaning spray. Dust particles left on the lenses can cause etching or scratches over time. Do not use paper products or household cleaners on your lenses, as they can do more damage than good.
If you play sports or do any other physically-demanding activities, invest in a pair of impact-resistant, durable glasses specifically for that purpose.
Take your glasses to be professionally adjusted at least once a year.
FAQs
Can I Use Glue to Repair My Broken Frames?
If your frames are plastic, you can glue a simple break quite easily. A clear "super glue" is usually the most effective. It should form a strong yet gentle bond, so it won't melt the plastic. Gorilla Glue makes a micro-precise super glue that works extremely well.
What Can I Do if I Lose the Little Screw on my Glasses?
You can purchase a glasses repair kit that includes temple screws for a few dollars, but if you need a quick-fix, you can try this hack. Insert a wooden toothpick into the hole of the missing screw as far as it will go and break it off as close to the edge of the hole as you can. Place a piece of clear tape over the hole until you can get a repair kit to replace the screw.
Are Some Types of Glasses More Durable Than Others?
Yes. The flexibility and strength of the frame material affect its durability. The more rigid the frame is, the easier it will snap if pressure is exerted against it. The most flexible frames are made from Flexon (a titanium alloy) and aluminum, and the strongest metals are titanium and stainless steel.
How Much Does it Cost to Professionally Repair Glasses?
Sometimes, you shouldn't attempt your own repairs and it's necessary to go to a professional who knows how to fix glasses. It depends on what needs fixing, but in general, most repairs fall somewhere between $10 and $55. Although it's possible to remove the anti-reflective coating on lenses if a scratch is on the coating itself, the majority of scratches or cracks in lenses warrant a replacement. The replacement cost varies according to your prescription.
What Features Should I Look for if I Need Durable Glasses?
In general, look for glasses with:
metal frames made from titanium or Flexon
acetate, rather than plastic — it's more a flexible material
spring hinges or hingeless frames
impact-resistant lenses if you play sports or need them for safety
Caution, care, and prevention are the best ways to ensure your glasses are always in good shape when you need them. For a huge selection of quality frames and outstanding service, visit Marvel Optics to find the right pair for you.
Best Computer Glasses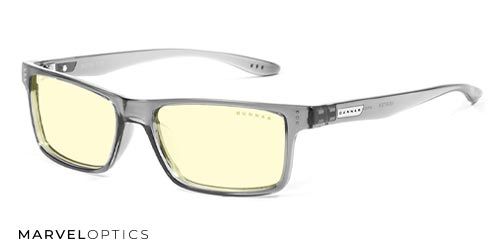 Gunnar Vertex offers wide-format lenses for high-definition, panoramic views. Its signature pin hinge design ensures optimal durability and longevity. The curved nose also rests secure even weight distribution and less pressure on the bridges.
These computer glasses defend your eyes from harmful blue light and 100% UV light. With high-quality polycarbonate lenses and tint options available, Gunnar Vertex remains at the top of the computer eyewear industry. MarvelOptics.com offers frame-only options with vibrant smoke or black frame colors. Enjoy optical protection with durable frames and lenses that shield your eyes when driving, gaming, reading, or playing golf. Perfect for wearers with high RX prescriptions and one of the top sellers in the computer eyewear realm.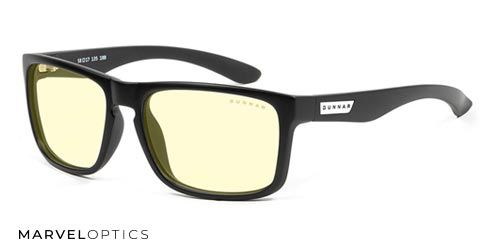 Gunnar Optiks specializes in protective eyeglasses for wearers of all ages. As a global leader in eyewear, Gunnar Intercept also takes a top spot in the best computer glasses of 2020 list. With their wide format lenses and panoramic viewing, these computer spectacles feature anti-reflective boating on the front and back surfaces. Here are some reasons why Gunnar Intercept ranks high among the best computer glasses:
Scratch-resistant lenses made from hard-coated silicone.
Rigid lens mounts, durable hinges, and long-lasting comfort and fit.
100% UV rays and 65% Blue Light protection.
These glasses are designed to reduce eye strain and protect your vision while working on computers.
Available in progressive and standard computer glasses.
Perfect for computer reading, gaming, or work.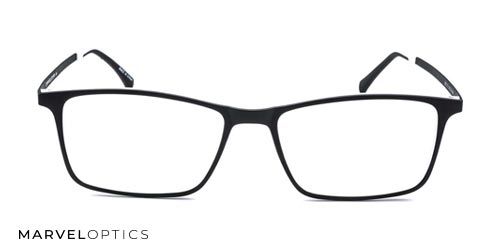 Vineland computer glasses are available for prescription or non-prescription lenses. They are ideal for men and women that spend long hours in front of computers at work or at home. These spectacles are incredibly lightweight yet durable and robust. They feature Beta Titanium temples and a full-rim frame.
If looking for computer glasses that are functional and stylish at the same time, this brand is it. Your purchase at Marvel Optics comes with a convenient carrying case and cleaning cloth to keep your computer eyewear lenses dust and particle-free.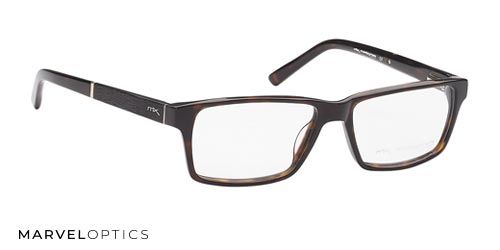 Smith Center by M-Line is the perfect computer eyewear for busy women. These full-rim, rectangular-shaped spectacles feature acetate frames. With medium size specifications and spring hinges, these computer glasses are perfect for ladies with heart, oval, or round faces.
The wood-finished frames add a touch of casual elegance with superb computer glare and blue light protection. The shiny black color and designs accentuate your facial features and are lightweight for active lifestyles. Here are some more benefits of the Smith optical line:
Shiny black or Shiny demi colored frames available for your convenience.
These computer glasses can be fitted with a range of lenses: single vision, bifocal, or progressive (no line).
Comes with a convenient cleaning cloth and case for work and travel.
Lightweight, handcrafted frames made from custom acetate for optimal comfort and optical protection.
Protects your eyes from harmful light emitting from computer screens and smart devices.
Easy to clean and maintain with slip-free designs.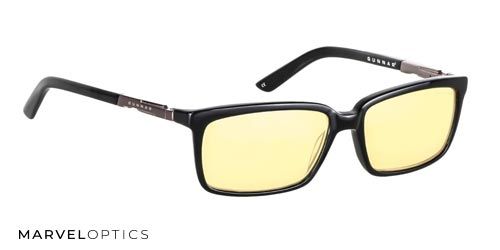 Gunnar Haus glasses feature a unique one-piece front construction that is incredibly lightweight and mobile. These spectacles feature anti-reflective coatings on the front and back of the lens. The hard-coated lens is also scratch-resistant and designed to protect your eyes from harmful blue light and 100% UV light.
With multi-layered acetates and perfect weight distribution, these glasses are perfect for adults and youth alike. Enjoy reading, gaming, golf, or reading with stylish full-rim metal and acetate frames. Gunnar Haus is ideal for high-RX wearers and continues to receive great reviews and industry ratings.