Marvel Optics features a fine line of stylish and affordable women's prescription sunglasses. With a myriad of colors, sizes, materials, and shapes, our glasses are perfect for women that want to look fashionable and trendy. From women's sports sunglasses to aviator sunglasses, we showcase a range of designs suited for any lifestyle. Enjoy high-quality sunglasses that protect your eyes from harmful UV rays and nagging sun glare. With prescription sunglasses starting as low as $24.95, you get clearer vision for work, play, and all outdoor social activities.
Why shop at Marvel Optics?
MarvelOptics.com gives you the eyewear styles you want without the hefty price tags. With our user-friendly search tools, customers can shop an array of women's sports sunglasses from top brands and sellers. Simply filter your results for prescription sunglasses, non-prescription sunglasses, and customized options. The latter includes tinting, polarization, full-rim, half-rim, and even rimless styles. At Marvel Optics, we continue to meet the needs of eyewear customers from across the country.
Discount Prescription Women's Sunglasses
Shopping for women's prescription sunglasses should not be hard. We ensure a hassle-free experience for new and returning customers. This includes our 100% money-back guarantee on all returns. Whether looking for women's sports sunglasses or women's aviator sunglasses, we feature an exquisite selection of eyewear designed with the highest standards in mind. Here are some of the top prescription sunglasses for women that want better visual acuity and stylish elements.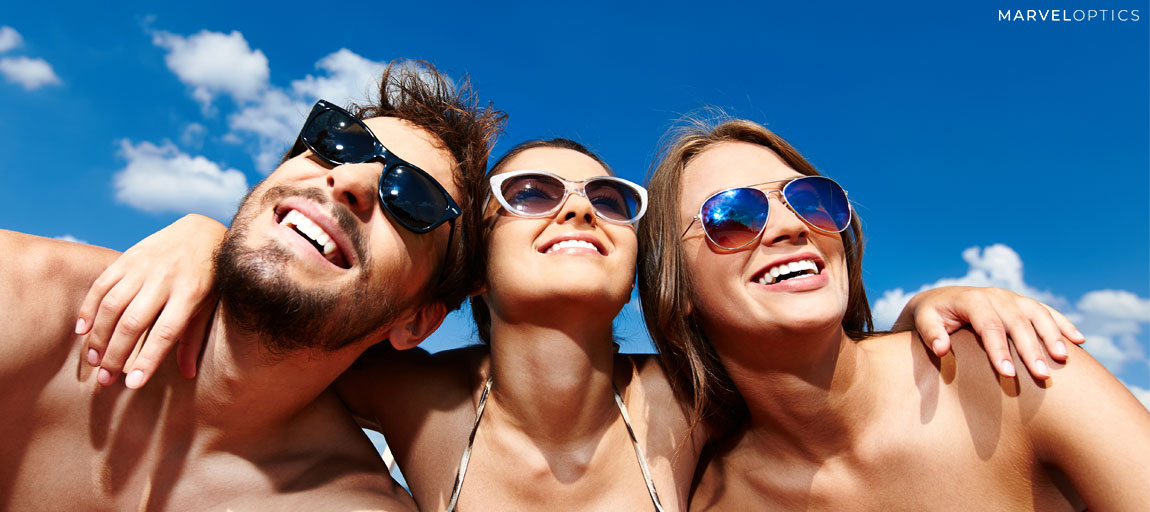 Edinburg
Edinburg prescription sunglasses are perfect for highly-fashionable women. These uniquely-designed cat eye sunglasses feature durable plastic frames. These full rim spectacles are available with single vision, bifocal, progressive and non-prescription lenses. Edinburg is guaranteed to accentuate your style and wardrobe. They continue to receive great reviews and truly complement all styles of clothing and face shapes.
Broadview
When it comes to women's prescription sunglasses, the Broadview brand is truly a cut above the rest. In fact, these Wayfarer shaped sunglasses are made of wood. They are ideal for outdoor sports, recreation, and spending time with family and friends at the park or beach. These prescription sunglasses feature High RX frames, wood frame materials, and full-rim designs. They are even available for folks that need non-prescription lenses. With excellent UV protection, anti-scratch, and anti-glare features, these glasses will meet all your vision needs within time and budget.
Redding
Tap into the current eyewear trends with Redding Cat Eye prescription sunglasses. These spectacles feature vibrant colors for that hip and cool look. The cat style frames are visually striking with optimal comfort guaranteed for wearers. Made by industry leader M-Line, these full-rim sunglasses have durable plastic frames and continue to soar in popularity.
Summerville
These semi-transparent patterned prescription sunglasses are highly fashionable. With a smooth blend of black and pink colors, the Cat Eye spectacles feature high-quality acetate/plastic frames. Whether for work, nature walks or having fun with your friends, these glasses will keep you looking cool and trendy all year long. Available for prescription and non-prescription lenses with great protection from harmful UV rays.
Marvel Optics is the best place to shop for quality women's glasses at amazing prices. We feature detailed product specifications to help you make an informed decision. Simply visit our women's eyewear online store or contact us today for more information.