When you order prescription eyeglasses online, you need to provide your prescription information. For a lot of people, trying to fully understand a prescription can be a little confusing. Fortunately, your prescription card may be simpler than it first appears. When you understand your details, you can more easily order a great new pair of prescription eyeglasses.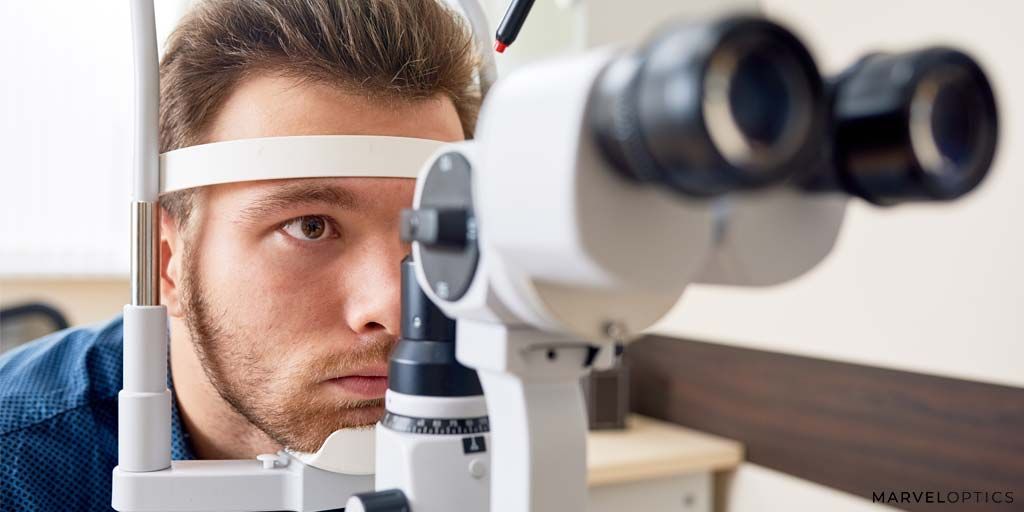 What Those Numbers Mean
The numbers on a prescription card represent diopters. This is a unit of measurement for the correction power of lenses. These numbers can be either negative or position. The former represents correction for nearsightedness (difficulty seeing far away) and the latter represents correction for farsightedness (difficulty seeing close by).
So, a prescription could be -3.75 meaning that the lens needs to provide three and three-quarter diopters of correction for nearsightedness. The greater the absolute value of the number, the stronger the prescription. So, -5 is a stronger prescription than +3 although they are correcting different types of vision problems.
Reading a Prescription Card
Prescription cards may include multiple numbers for different eyes and for astigmatism. Your prescription card likely has numbers listed as OS and OD. These are short for oculus sinister and oculus dexter. This is simply Latin for left eye and right eye respectively.
Many prescription cards also have sphere, cylinder and axis numbers. The sphere is the degree of nearsightedness or farsightedness as described in the previous section. The cylinder is the degree of astigmatism as measured in diopters. The axis is an angle between 0 and 180 degrees. It describes the orientation of the astigmatism.
So, your prescription card may have an OS of -1.5 x +2.00 x 90 and an OD of -2.00 x +1.75 x 100. This means that the left eye needs -1.5 diopters of correction for nearsightedness with two diopters of astigmatism at a 90-degree angle. The right eye has -2 diopters of nearsightedness with 1.75 diopters of astigmatism at a 100-degree angle.
Many prescription cards have this information laid out in a neat table. In some cases, they may have an "add" number which represents the corrective power of the bottom part of a multifocal lens. This will always be a positive number, even if there is no "+" sign. Occasionally, the card will have a prism number which is the compensation for eye alignment problems. However, this is uncommon.
Order Prescription Eyeglasses From Marvel Optics
Although eyeglass prescription cards can be intimidating to look at, they are simple once you understand the basics. Additionally, as a user, you only need to know what each box represents. Using Marvel Optics' interactive prescription card, you can easily enter your information when you are ordering new glasses.
Check out our selection of eyeglasses today. We have a diverse range of styles to choose from. Additionally, you can order any pair with your prescription. Marvel Optics is a better way to get prescription glasses.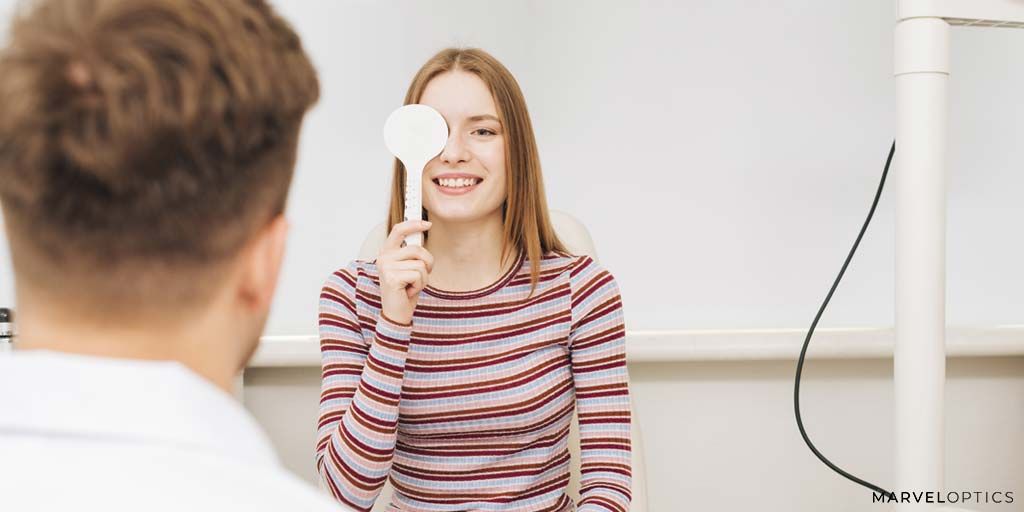 Eyeglass Prescription Frequently Asked Questions
How Important Is It To Have the Right Prescription?
Having the right prescription is very important. Not only will it enable you to see, but it will also reduce stress on your eyes. If you have an out-of-date or inaccurate prescription in your lenses, you may experience problems such as headaches and eyestrain. Make sure to order glasses with your current prescription.
How Often Should I Have My Prescription Updated?
As a rule of thumb, you should have your prescription checked and updated every two years. Additionally, you should pay attention to signs that you need new prescription eyeglasses. These include trouble seeing, squinting, double vision, headaches and damage to the lenses. If you are noticing that your glasses are ineffective, it is likely time for an update.
How Do I Enter My Prescription on Marvel Optics?
When you purchase prescription eyeglasses online from Marvel Optics, select the "prescription lens" option on the product page. As you customize your lenses, the final step is to enter, send or upload your prescription. The most popular method is using our interactive prescription card. This makes it easy to enter all the data from your prescription.
Can I Get Glasses With Different Corrective Effects?
Yes, you could select bifocal, multifocal or progressive lenses. Bifocal lenses have two areas of correction (typically for farsightedness and nearsightedness). Multifocal lenses may have two or more areas of correction. For example, they may include a lens section for medium-distance correction. Progressives are similar to multifocal lenses but they do not have clearly defined areas. Instead, the levels of correction blend together progressively.
Can I Have My Prescription in Sunglasses or Safety Glasses?
Yes, Marvel Optics has a section of sunglasses and safety glasses. Any frames you order from our catalog can be made with prescription lenses. Additionally, many of our lenses have options for sunglass tinting and/or ANSI-rated polycarbonate material. Our goal is to make ordering pairs of glasses that you love easier.
---
Best Prescription Glasses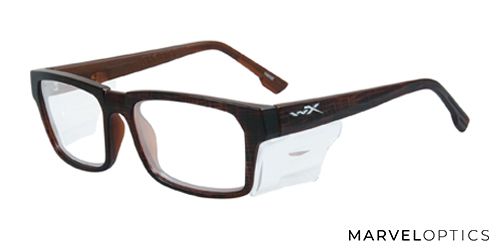 The WileyX WorkSight series of frames includes prescription-ready safety glasses. The Profile style has rectangular frames with full rims. Triloid frames and polycarbonate lenses meet the American National Standards Institute Z87.1-2010 high velocity and mass impact requirements and U.S. federal Occupational Safety and Health Administration 1910.133(b)(1)(1) standards. These glasses come with a fold-over case, removable side shields and a drawstring storage pouch.
Profile frames may be available in several color choices such as Gloss Brown Demi, Gloss Green Demi, Matte Hickory Brown, and Matte Black. This eyewear can accommodate single vision, bifocal and progressive lenses. Check the frame size and dimensions to determine whether Wiley X Profile can provide the best fit for daily, occupational or activewear.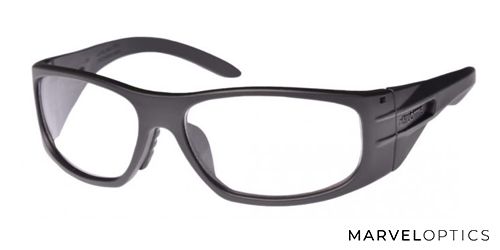 Another popular frame style ready for prescription lenses is ArmourX 6001. These plastic glasses with polycarbonate lenses meet ANSI Z87.1 safety standards. Large black rectangle frames wrap around the wearer's face. While these glasses are compatible with single vision, bifocal or progressive lenses, the base curve may not be the best choice for high Rx lenses.
The 6001 style frames from ArmourX are suitable for on-the-job or activewear. A lightweight frame design is paired with lenses treated to resist dust, fog, reflections and scratches. When fitted with clear or tinted lenses, this eyewear provides protection from ultraviolet rays. This style is popular because it is comfortable and stylish enough to wear inside and outside while doing a wide range of activities.
Shellshore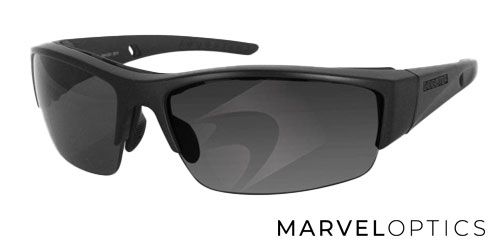 A double bridge distinguishes Shellshore by Marvel Optics apart from other metal rectangular frames. This small feature draws attention upward toward the browline, which can be helpful for balancing the features of a round, oval, triangle or diamond-shaped face and adding an element of style. These full-rim glasses come in a small size and accommodate single vision lenses.
Rectangle-shaped frames with a double bridge are ideal for oval and oblong face shapes. Check the measurements of these frames to determine whether Shellshore is the right safety prescription glasses style for you. These frames may be available in colors such as blue, gunmetal or jet black.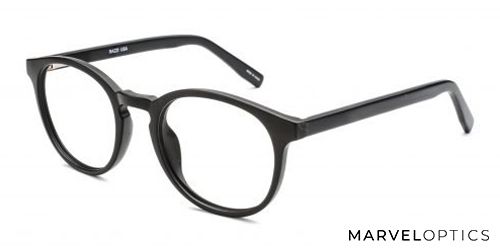 Brave frames by M-Line have on-trend vintage styling at an affordable price. These round acetate full-rim glasses have spring hinges. Some versions combine black frame fronts and colored temples. Single vision, bifocal and progressive lenses can all be fitted into these frames, as can high Rx prescriptions. An anti-scratch coating maintains optical clarity for comfortable wear and value.
Check the dimensions of Brave frames to determine whether this style is the best choice for your face. Men and women can both sport this retro style. Choose from several shades such as matte black with navy temples, matte black with red temples and matte black. You can also customize this style with clear or tinted lenses.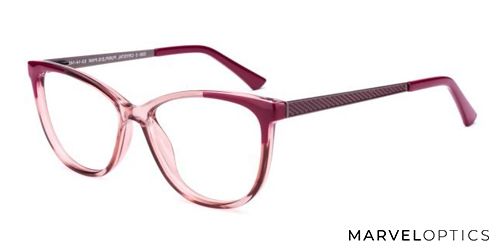 One of the most popular prescription frame styles for women is Katelyn by Marvel Optics. These cat-eye full-rim frames are another vintage style updated for modern wear. Plastic frame fronts and temples feature textural details for a unique look. The best online prescription glasses for women are compatible with single vision, bifocal, progressive lenses and high Rx prescriptions.
If you have an oval or pear-shaped face, you may want to consider Katelyn frames. These glasses can be fitted with clear or tinted lenses with an anti-scratch coating for vision correction or sun protection. These glasses come in a medium size. Check the dimensions of this eyewear to determine whether it will provide the best fit. Marvel Optics makes more prescription-ready styles for women.