Women's prescription glasses are cooler, sexier and more affordable than ever, thanks to the myriad of online eyewear shops with incredibly competitive pricing. In fact, prices are so low, you can probably afford to invest in several different pairs to put that all-important exclamation point on your own personal style.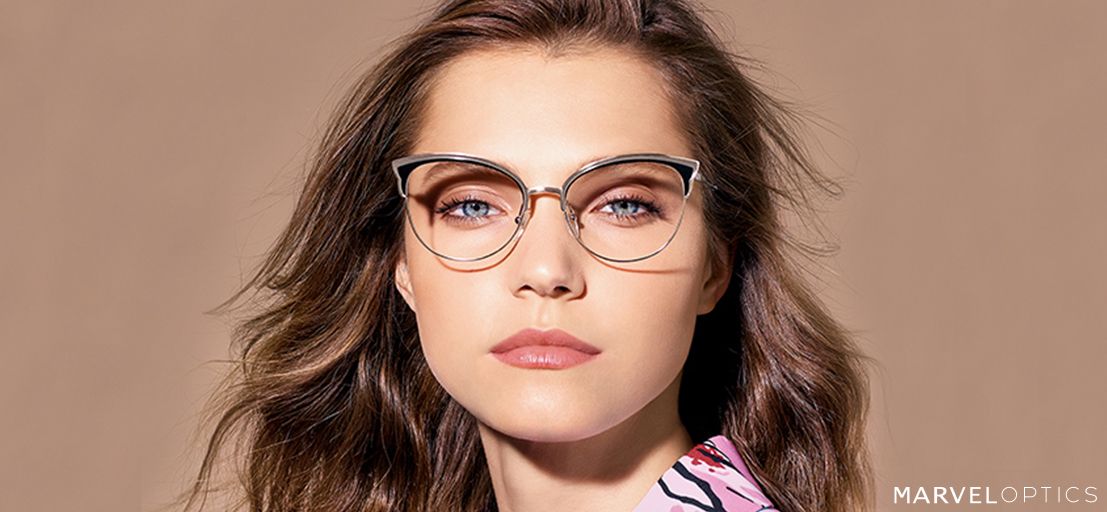 With the seemingly endless variety of shapes and materials available, there's a design out there that is sure to flatter your face and feel comfortable, all while correcting your vision with the latest technology in prescription lenses. The following list highlights six of the hottest styles women love right now: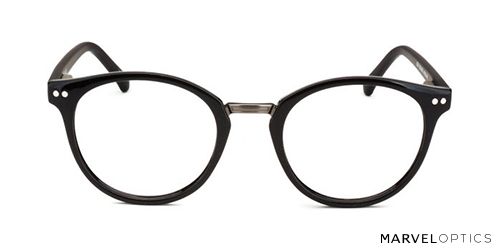 These round wayfarer frames are on-trend and classic at the same time — perfect if your look is a little retro mixed with cutting edge. The Shiny Blue and Shiny Black make a bold, creative statement while the tortoiseshell (Shiny Demi) has a more feminine, polished appeal. The frame size is relatively small and best suited for oval or round faces. They can accommodate any prescription and with its $30 price tag, the Lividicious offers you high style at a great bargain.
Nothing says "chic'' like cat-eye glasses. Worn by such wildly diverse style icons as Marilyn Monroe, Audrey Hepburn and Lady Gaga, cat-eyes prove that anyone can rock this look. The Katelyn comes in several translucent colors that have darker accents on the outer corners, designer temples and a slight texture to the frame. They are a bit larger than the Lividicious and classified as a medium-sized frame, so they look great on women with oval or pear-shaped faces. This style can fit any prescription from single-vision to progressive and are priced at $30 for the frames.
3.River Falls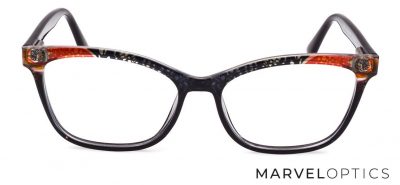 River Falls is a rectangular, semi-cat-eye frame with a unique design at the top of the frame front.  Each of the three color choices — Shiny Blue, Shiny Brown and Shiny Burgandy — features a Chinoiserie pattern that adds a bright pop of color to the tortoise and black frames. These beauties are perfectly suited for heart-shaped faces and are a steal at $27!
SHOP RIVER FALLS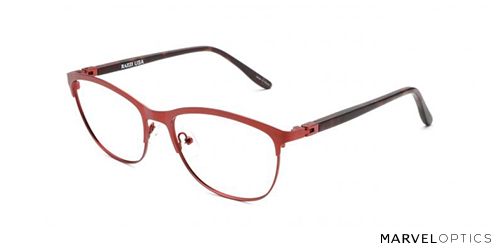 The Demof is sleek, modern and professional with a chic and studious flair. These lightweight women's prescription glasses feature a stainless steel frame, 180-degree-flex acetate temples and adjustable, silicone nose pads. They're so comfortable that you'll forget you're wearing them. Small and suited for oval or round faces, the Demof is available for $35 plus the cost of your prescription.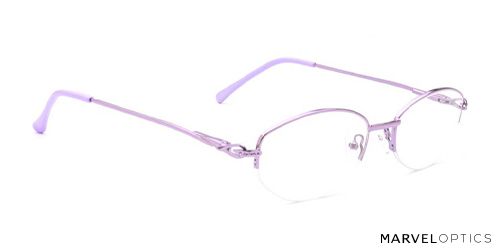 These classic, semi-rimless stainless steel frames come in Shiny Gold, Shiny Brown and Shiny Purple, and are so delicate and pretty, they're like jewelry for your face! Sized extra-small for oval and heart-shaped faces, the Batesville also offers silicone tips and nose pads, adding extra comfort to the already lightweight frame. Though they can be worn all day with any prescription, if you need readers, the Batesville would be a great choice at $15 each. At that price, you could get a pair in every color so you can leave one at work, one at home and one in the car
Closing out the top six, the Pennsylvania aviator-style metal frames have a cool, vintage vibe that makes them a fashion staple in any woman's wardrobe. These medium-sized frames are not just women's glasses either; they're unisex and recommended for round, oval, square, pear- or heart-shaped faces — in other words, they look great on absolutely everyone! They're the most expensive pair on this list, but at $75, they're still a pocket-friendly investment to correct your vision and up your style game.

FAQs about Women's prescription glasses
Do Any of These Styles Come in Sunglasses?
Yes! All of these styles are available as women's prescription sunglasses. When choosing your frames, you'll be led through a menu including lens options, one of which is sunglasses. Once you make that choice, you can then choose the type of tint and tint color you want.
Are Any of the Add-ons Worth the Price?
As options go, some are more desirable or necessary than others depending on how, when or why you wear glasses. Here are a few of the most helpful add-ons to consider:
Basic Package: includes anti-reflective, scratch-resistant coating
Premium Package: includes the basic package plus thinner lenses, UV protection and ANSI & impact-rating
Blue Light Coating: protects your eyes from computer glare
How Can I Tell What Shape My Face Is?
Round faces have equal proportions of forehead, chin and cheeks. Oval faces are slightly longer with equally proportioned foreheads and chins; square faces are similar to oval ones but have less-rounded chins. Pear-shaped faces are wider at the bottom than the top, and heart-shaped faces are wider at the top than the bottom.
What Do Those Numbers on My Glasses Mean?
The three numbers separated by hyphens (like 52-15-135) are measurements in millimeters. The first number is the width of the lenses, the second number is the distance between the lenses, and the third number is the length of the temple. These numbers are an important guide in determining the best fit for you.
Why Do My New Progressive Lenses Make Me Feel Dizzy?
If this is your first pair of progressive lenses, it will take a few days to a week for your eyes and brain to get used to them. If you haven't adjusted after a week or so of regular use, contact your optometrist to let them know.