If you're anything like my family, summer is an especially magical time. We cherish those long days in the sun, savoring every moment spent together. However, those same magical, long days in the sun can cause some major skin and eye damage if you're not well-equipped.  Sunscreen is a must for skin protection, and hats shade the face, but what about the eyes?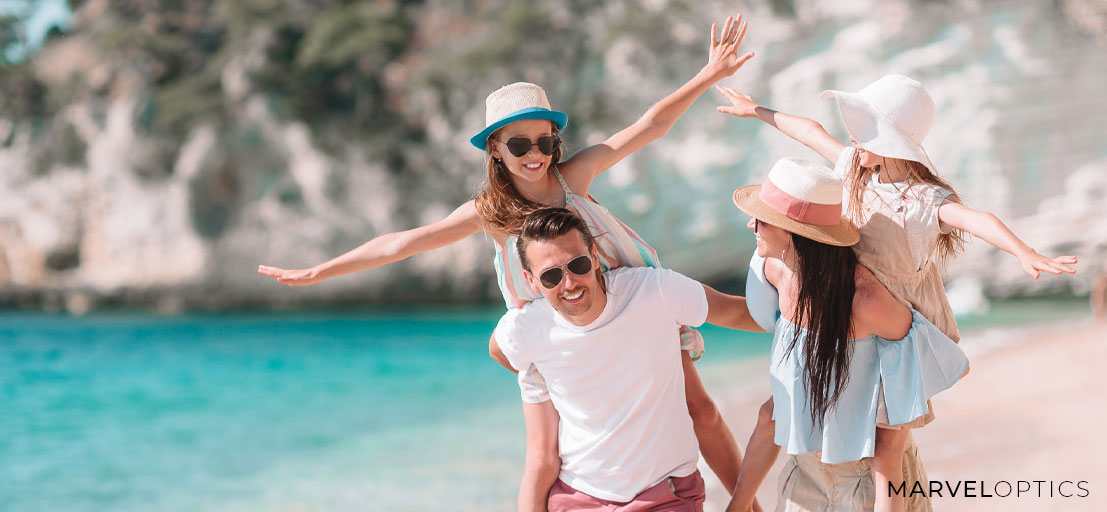 Children's eyes are most at risk from U.V. exposure because the lens, which filtrates the light, has not yet fully developed as it has in an adult's eyes. Extended exposure to the sun's U.V. light has been linked to cataracts (clouding of the eye's natural lens), macular degeneration (degeneration of the most sensitive part of the retina responsible for visual acuity and color vision), pinguecula and pterygium (two different types of growths), and photokeratitis (corneal sunburn).
Optical-grade sunglasses equipped with polycarbonate lenses with U.V.A and U.V.B protection – and, to take it a step further, polarized lenses – are most effective in keeping your child's eyes protected from the sun.
And not only does a good pair of sunglasses protect your child from the harmful rays of the sun, but it also protects them from the other summer elements like balls, dust, rocks, and sand. According to the American Association of Pediatric Ophthalmology and Strabismus, most eye injuries in children occur during play.
So whether you're packing your bags for a quick trip to the park or for a cruise around the world, I encourage you all to remember that a pair of sunglasses is a must-have for everyone in the family, children especially.
Here's a "MUST-HAVE" list to gear up for your kid's glasses.
*Polycarbonate (shatterproof) lenses with U.V protection
*A close or wrap-around fit that keeps the sun, dust and debris out
*A comfortable, light-weight frame
MarvelOptics cares and  values our customer to make sure we provide your needs. Especially to your little one's. Visit our website to see more of our frames and lenses at marveloptics.com
Already have this covered? Show us on Instagram (@marveloptics), Twitter (@MarvelOptics), Pinterest (marveloptics) or Facebook (MarvelOptics.com)  with hashtag #summereyewear