Prescription sunglasses are designed to protect your eyes from harmful UV rays. They also keep the eyes safe from gusty winds, flying debris, and inclement weather. Similarly, polarized sunglasses reduce light glare while making images appear clearer and sharper. They even increase visual clarity while ensuring optimal comfort for wearers.
From wood and metal to plastic sunglasses, there are several types of eyewear on the market today for men, women, and children. However, ever wonder how sunglasses are made and what exactly goes into the process? Let's take a look.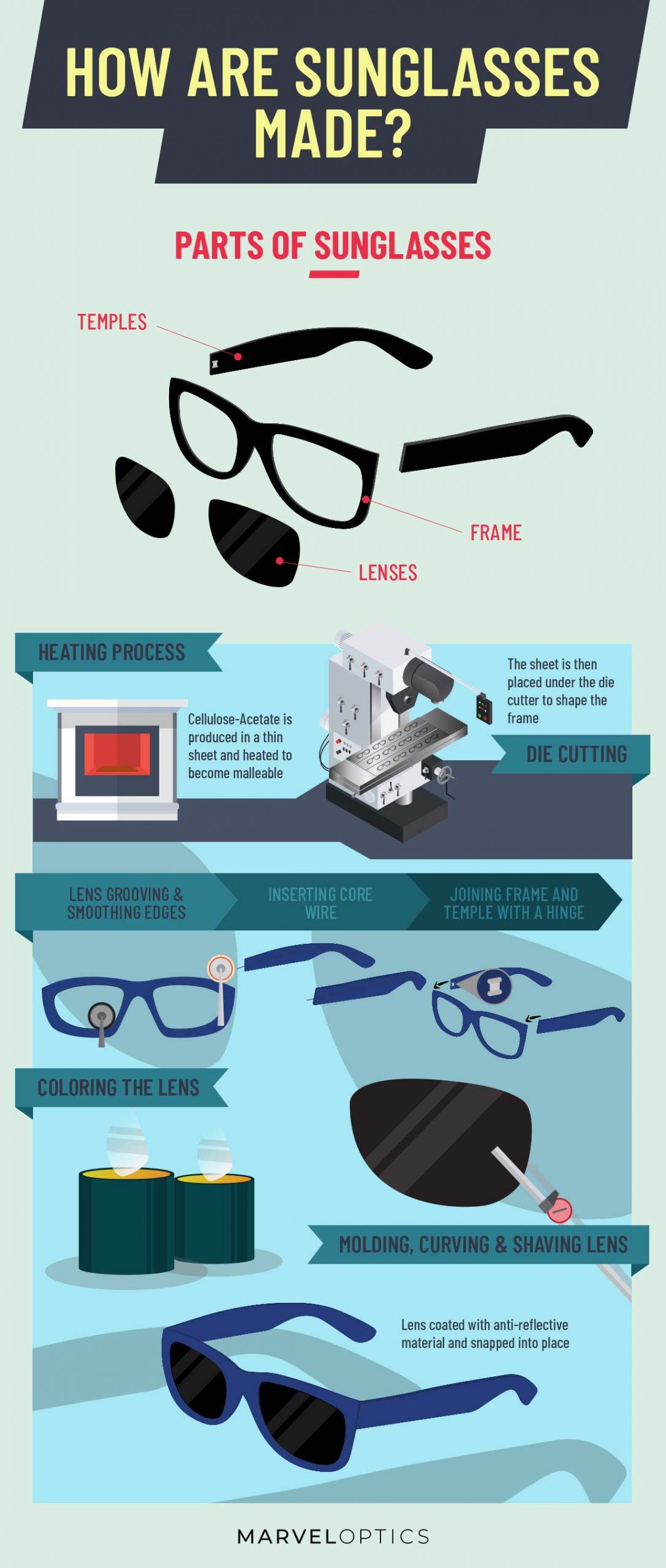 How are sunglasses produced for customers?
Prescription sunglasses are as aesthetic as they are functional. Many styles of sunglasses are influenced by nature, pop culture, art, and even modern architecture. The latter plays a pivotal part in how some glasses are geometrically designed for a contemporary allure. At the same token, some glasses are simply created based on the designer's specifications and demands. With this in mind, every set of sunglasses begins at the conceptual stage – with ideas that are put into fruition using the right materials that ensure the best fit for customers.
The Drafting Process
Whether for prescription or non-prescription sunglasses, the drafting process is where most eyewear production begins. This intricate process requires skilled designers with years of extensive industry experience. These experts begin making drafts based on input from product managers and/or development divisions. Here are some essentials that sunglasses designers keep in mind:
What types of sunglasses are needed for summer, winter, or year-round wear?
How many face types must be taken into consideration when designing sunglasses?
Which types of sunglasses need to be manufactured and who are the target groups? (Men, women, children, or individuals that need specialized sunglasses for the industries and sectors they work in.)
Which options will be available for customers? For example, Aviator, Cat Eye, Semi-Rimless, Shield, Wayfarer, polarized, oval, round, rectangular, square, and other shapes. Frame materials: wood, steel, plastic, etc.
Product managers and designers must align their goals to meet company deadlines and objectives. This includes showcasing the respective brands/manufacturers that specialize in producing sunglasses and eyewear.
What about the materials used?
Eyewear frames are mainly made from acetate or injected plastics. However, plastic sunglasses are molded while acetate frames are cut out of acetate planks. Acetate materials stem from cotton which is dried and mixed into cellulose powder. It is then treated with acid to create raw materials which are pressed into acetate planks. This process establishes the cast or mold which will then be used for mass production or specialty sunglasses.
The Final Steps
Once the drafts are completed, the designer(s) get the first prototypes. These are created through extensive handiwork – and the prototypes are created via filing and milling. While it depends on the materials that are used, filing and milling are instrumental in sufficiently modeling the sunglasses for public use. The prototypes are then 3D scanned and design enhancements are made with computer-aided design (CAD) programs.
The frames are also selected for the sunglasses which may include wood, plastic or metal. Most designers also insert tested lenses to check for durability, safety and sustainability. After a battery of stringent quality-control tests and inspections, the glasses are ready to go to market. These are essentially how sunglasses are made but processes may differ among eyewear companies and product development departments.