Your eyeglasses frames are designed to comfortably fit your face size and shape. When your frames become bent, twisted or misaligned, they can create an uncomfortable situation. Find out how to adjust your prescription glasses at home to restore their original shape. Don't stop wearing your glasses because of pinching, a loose fit or other issues.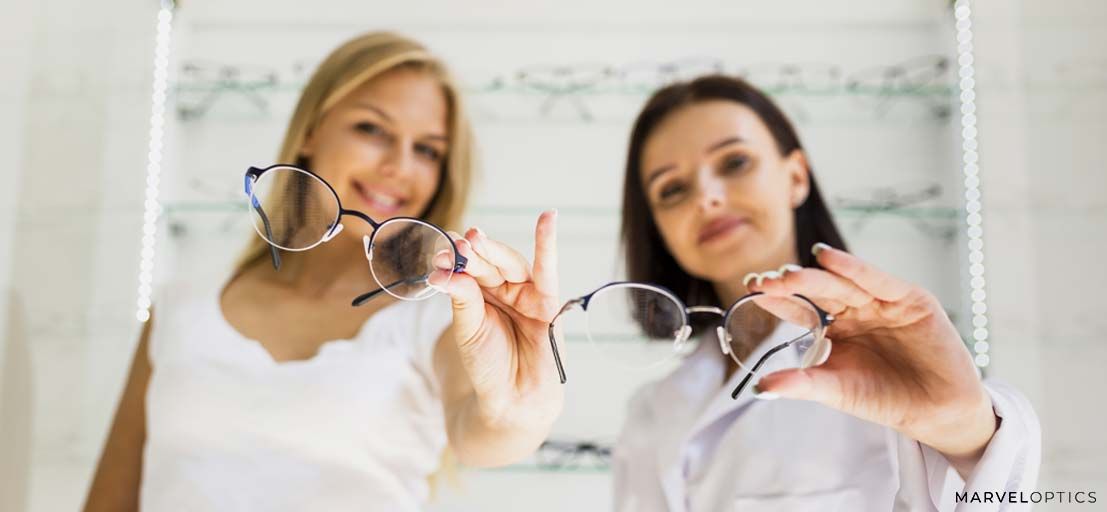 How To Make the Right Adjustment
Before you make any adjustments, it's important to consider what type of issue you're having. This affects where you make the adjustments. It's best to make minor adjustments at first. Over-adjusting and re-adjusting your glasses can wear them out or compromise your frames. For large adjustments, you may need to order a new pair of frames.
Many adjustments require you to carefully bend your frames. Plastic frames can be quite firm, so consider running warm water over them before attempting to bend them. Don't ever use boiling water, and try not to get too much hot water on your lenses. This can wear away anti-fog or anti-scratch coatings.
If you try to make extreme adjustments without running your plastic frames under hot water, you could crack or compromise the material. Even the most sturdy frames have a breaking point, so use care that you don't over-adjust frames.

Common Issues That Require Adjustments
Your glasses can be adjusted in a wide range of ways. Here are some common issues that require adjustments:
One lens higher or closer than the other
Looseness or tightness around your temples
Slipping or pinching at your nose or ears
Minor adjustments are easy to make by gently pulling or pushing on your frames. The easiest places to adjust frames are at the hinge, the nose pieces and the part of the arm that crosses over your ear. For a high lens, gently push down the opposite arm at an angle. A close lens is usually fixed by pushing the arm inward slightly and the opposite arm outward.
If your glasses feel tight or loose around the temples, it's a sign that the arms of your frames need to be adjusted inward or outward. Gently hold your glasses and bend the arms, either near the hinge or near the end, in the desired direction. Take care to bend both arms approximately the same amount to avoid making a lens higher or closer than the other.
Slipping and pinching are usually opposite problems. These problems are caused by arms or nose pieces that are adjusted to wide or too narrow. Gently push in or out to relieve pressure or add enough pressure to keep your eyeglasses from slipping.
It can take some time to find the ideal adjustment, so be patient as you adjust your own frames. Small adjustments to the arms of your frame can, over time, lead to a comfortable, even fit. While not every issue can be solved with adjusting, you may be surprised at what a few minor alterations can do to restore a comfortable, convenient fit.
If the arms of your glasses are too short, the frames are too narrow or you experience other issues that can't be solved by bending your frames, it's time to order prescription glasses online. Purchase new glasses that have the measurements you need to enjoy comfortable frames and clear vision.
Wire Frame vs. Plastic Frame Glasses
Both wire frame and plastic frame glasses can be safely adjusted at home. The main difference between the two, in terms of adjusting, is the type of nose piece. Most plastic frame glasses don't include separate nose pieces, while most wire frame glasses do.
If you don't have separate nose pieces, you'll need to make all your adjustments using the arms of the glasses. Wire frame glasses allow you to adjust the nose pieces individually, which can solve some pinching or slipping issues without bending the arms at all.
Always adjust your glasses slowly. Both metal and plastic frames can be compromised if you grip them too aggressively with tools or bend them too far. Minor adjustments are best to avoid permanent damage.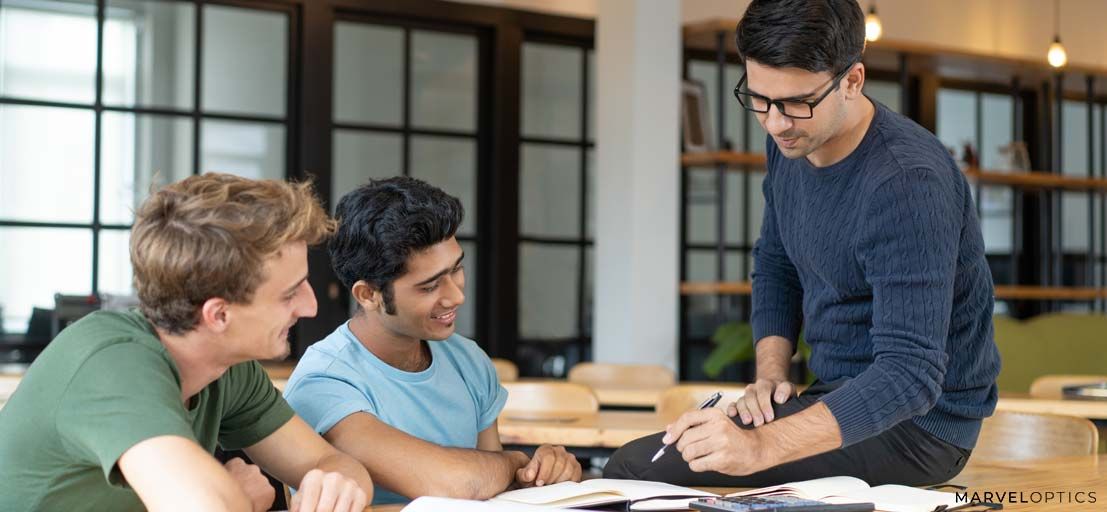 Why Do My Glasses Keep Slipping
Prescription eyeglasses, safety glasses and sunglasses all have either plastic or wire frames that are adjustable. If your glasses are slipping, they are either too large or adjusted too loosely. Inspect the arms and nose pieces to see if you can push them inward. If this doesn't work, it's time to order a smaller pair.
Can I Adjust Metal Frame Glasses?
Metal eyeglass frames are just as easy to adjust. You typically don't need to run these frames under hot water to adjust them, but can simply hold them and carefully bend the arms in the direction you need. Some thick metal frames may be easier to adjust with padded pliers, but use care to avoid leaving marks on your glasses.
Why Do My Glasses Hurt My Face?
Most glasses that are uncomfortable are simply too small or adjusted too tightly. First, try to bend the arm pieces out and open up the curves around your ears. If this doesn't help, consider ordering glasses that have larger frames or longer arms to enjoy comfortable eyewear.
Can I Adjust Prescription Glasses at Home?
As long as you use caution, you can safely adjust prescription eyewear at home. Follow these directions for bending the arms and nose pieces in the desired way to enjoy comfortable, snug glasses that don't hurt your face. If your glasses aren't bending the way you want, it may be time to pick up a more comfortable pair.
Where Can I Buy Comfortable Glasses?
At Marvel Optics, we make it easy to order comfortable glasses online. Compare sizes for frames and order a classy pair with your prescription to keep your face comfortable and stylish. Use customer reviews and detailed specifications to ensure the best pair for your face shape and lifestyle.
It's surprisingly easy to adjust prescription glasses at home. Unfortunately, some issues can't be solved by bending and adjusting. Shop for glasses today to see how you can replace your worn-out, uncomfortable frames with an affordable, convenient pair.
---
Best Prescription Glasses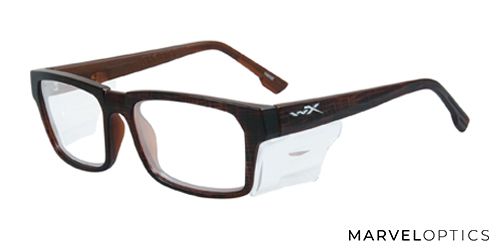 The WileyX WorkSight series of frames includes prescription-ready safety glasses. The Profile style has rectangular frames with full rims. Triloid frames and polycarbonate lenses meet the American National Standards Institute Z87.1-2010 high velocity and mass impact requirements and U.S. federal Occupational Safety and Health Administration 1910.133(b)(1)(1) standards. These glasses come with a fold-over case, removable side shields and a drawstring storage pouch.
Profile frames may be available in several color choices such as Gloss Brown Demi, Gloss Green Demi, Matte Hickory Brown, and Matte Black. This eyewear can accommodate single vision, bifocal and progressive lenses. Check the frame size and dimensions to determine whether Wiley X Profile can provide the best fit for daily, occupational or activewear.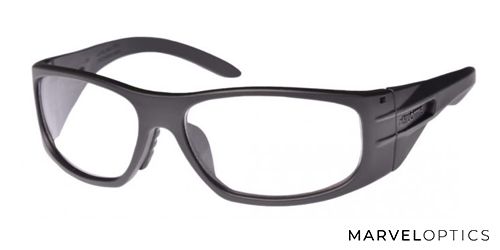 Another popular frame style ready for prescription lenses is ArmourX 6001. These plastic glasses with polycarbonate lenses meet ANSI Z87.1 safety standards. Large black rectangle frames wrap around the wearer's face. While these glasses are compatible with single vision, bifocal or progressive lenses, the base curve may not be the best choice for high Rx lenses.
The 6001 style frames from ArmourX are suitable for on-the-job or activewear. A lightweight frame design is paired with lenses treated to resist dust, fog, reflections and scratches. When fitted with clear or tinted lenses, this eyewear provides protection from ultraviolet rays. This style is popular because it is comfortable and stylish enough to wear inside and outside while doing a wide range of activities.
Shellshore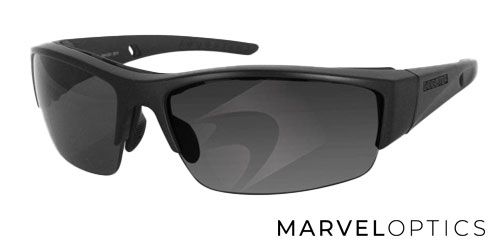 A double bridge distinguishes Shellshore by Marvel Optics apart from other metal rectangular frames. This small feature draws attention upward toward the browline, which can be helpful for balancing the features of a round, oval, triangle or diamond-shaped face and adding an element of style. These full-rim glasses come in a small size and accommodate single vision lenses.
Rectangle-shaped frames with a double bridge are ideal for oval and oblong face shapes. Check the measurements of these frames to determine whether Shellshore is the right safety prescription glasses style for you. These frames may be available in colors such as blue, gunmetal or jet black.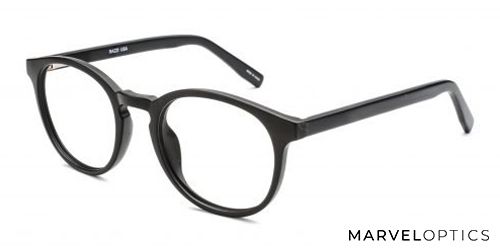 Brave frames by M-Line have on-trend vintage styling at an affordable price. These round acetate full-rim glasses have spring hinges. Some versions combine black frame fronts and colored temples. Single vision, bifocal and progressive lenses can all be fitted into these frames, as can high Rx prescriptions. An anti-scratch coating maintains optical clarity for comfortable wear and value.
Check the dimensions of Brave frames to determine whether this style is the best choice for your face. Men and women can both sport this retro style. Choose from several shades such as matte black with navy temples, matte black with red temples and matte black. You can also customize this style with clear or tinted lenses.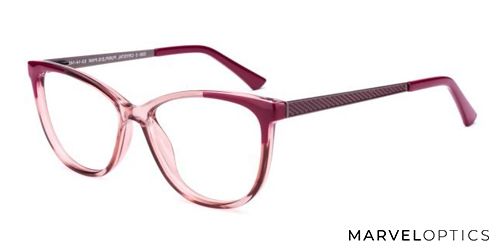 One of the most popular prescription frame styles for women is Katelyn by Marvel Optics. These cat-eye full-rim frames are another vintage style updated for modern wear. Plastic frame fronts and temples feature textural details for a unique look. The best online prescription glasses for women are compatible with single vision, bifocal, progressive lenses and high Rx prescriptions.
If you have an oval or pear-shaped face, you may want to consider Katelyn frames. These glasses can be fitted with clear or tinted lenses with an anti-scratch coating for vision correction or sun protection. These glasses come in a medium size. Check the dimensions of this eyewear to determine whether it will provide the best fit. Marvel Optics makes more prescription-ready styles for women.