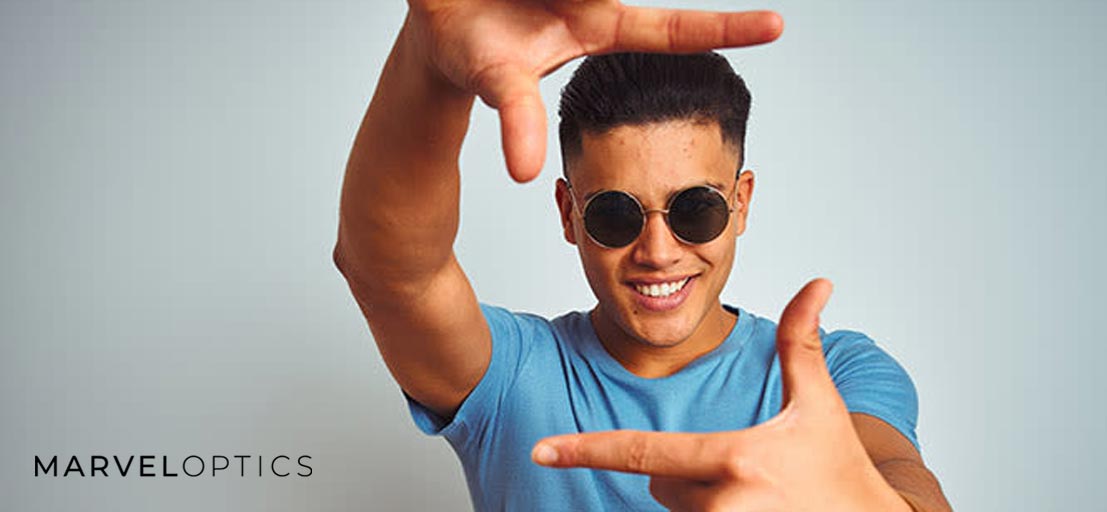 Choosing Men's Prescription Sunglasses Based on Face Shape How To Guide
Purchasing men's prescription sunglasses is about more than finding a frame that appeals to you. You also want a frame that complements your face shape. If you don't know your face shape, there is a simple way to figure it out. Pull your hair away from your face and take a straight-on picture. Print the image and use a pen to place dots at your face's forehead, chin, and cheekbones. Connect the dots to determine which shape is the closest match to your own.
1. Heart Face Shape
If you have a heart-shaped face, your forehead is wider than your jawline. Also, many men with heart faces have widow's peaks.
When looking for prescription sunglasses, you want to look for frames that help create an elongated look. Some frames to consider include:
Aviators
Rectangular frames
Wraps
Round frames

2. Square Face Shape
If your face is essentially equal width from your forehead to your cheekbones and jaw, you likely have a square face. Square faces need sunglasses that can balance their hard lines and symmetrical appearance. Soft silhouettes and 60s-era frames tend to work best. The best frames for this face shape include:
Wraps
Aviators
Wayfarers
Round frames
Oval frames

3. Oval Face Shape
When looking at your picture, does your face appear longer than it is wide? If so, you likely have an oval face. You can tell you have an oval face if your cheekbones are the widest area and if your features are rounded.
The good news for oval faces is nearly every frame style works. The best frames include:
Clubmasters
Wraps
Wayfarers
Aviators
Rectangular frames

4. Round Face Shape
Round faces are similar to square faces, with equal widths around the forehead, cheekbones, and jawline. The primary difference with round faces is their soft angles.
As with all men's prescription sunglasses, you want to find frames that complement and enhance the shape. For round faces, the goal is usually to elongate the face. Round faces should wear more rigid glasses, such as:
Rectangular frames
Wraps
Aviators

5. Triangle Face Shape
Triangular-shaped faces are wider at the jawline and become narrower at the forehead. The chin is also flat or squared off.
When choosing prescription sunglasses for men with triangle faces, you want to minimize the jawline by bringing volume to the upper part of the face. Top-heavy frames are likely your best bet, including:
Aviators
Clubmasters
Wraps
Oval frames
Rectangle frames

6. Diamond Face Shape
Like oval faces, men with diamond-shaped faces have wider cheekbones with a narrowing at the forehead and the jawline. Unlike oval faces, the angle to the forehead and jawline is sharper.
You want to enhance your cheekbones if you have this face shape. The frames you might consider include:
Oval frames
Round frames
Wraps
Aviators
One thing you might have noticed while learning about men's prescription sunglasses and face shapes is that aviators are often a safe bet for all shapes. Regardless of the shape of your face, the primary concern is finding a pair of sunglasses that you feel comfortable wearing. You can talk to experts to learn more about which frames might complement your face, or go check out the selection of prescription sunglasses at Marvel Optics.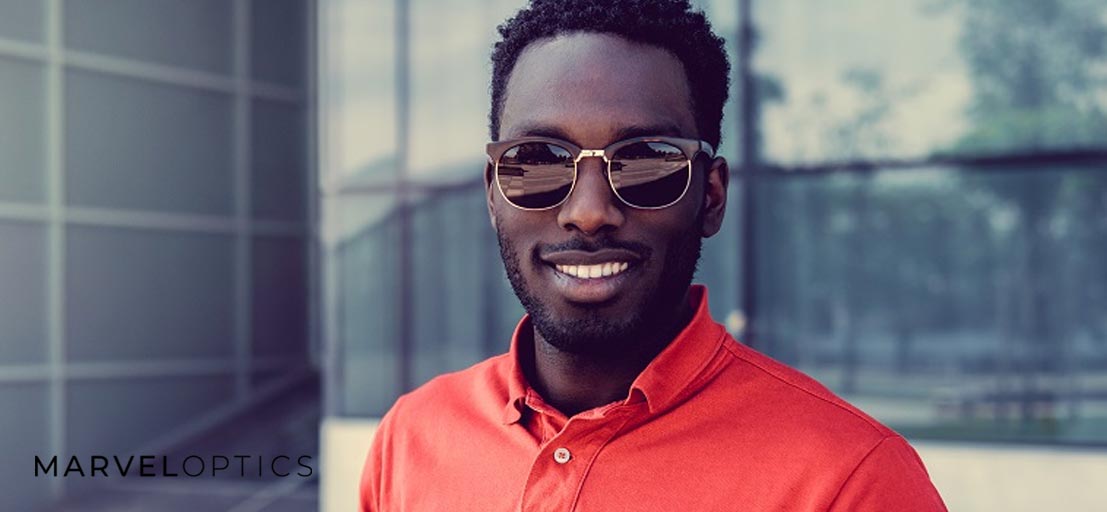 ---
Best Polarized Sunglasses
Bobster Ryval 2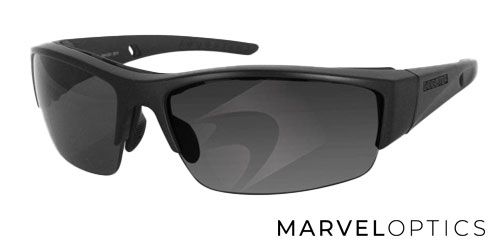 These sleek, modern frames have an adjustable nose piece and removable foam so you can achieve the perfect fit. The polarized lenses reduce glare and have an anti-fog coating to provide you with a clear field of vision in varying conditions. These high-performance sunglasses offer 100% protection from UV rays and feature impact resistance, too, so you can remain active and keep your eyes safe from harm. Bobster incorporates the latest technology into great-looking sunglasses for the ultimate in safety and style.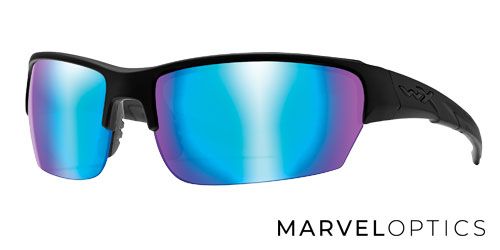 These stylish sunglasses look great and offer many benefits. Rated by the American National Standards Institute for impact protection, these polarized sunglasses are shatterproof, scratch-resistant and provide 100% UV protection. They give you clear vision in bright light so you can stay active in high-glare conditions. The comfortable, plastic wraparound frames showcase your style and protect your eyes for the best combination of fashion and function.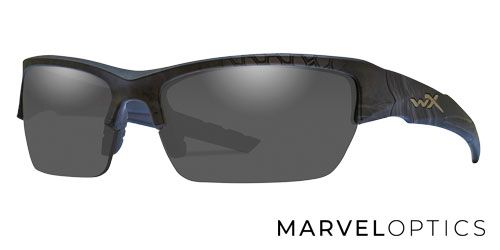 WileyX Valor polarized glasses feature lightweight, durable plastic frames that provide both comfort and protection. You can get a variety of lens types and switch them out to fit the current sun conditions. This option gives you the ultimate flexibility for many activities and adventures. Choose the frame color and pattern that fits your unique style. You will look great and get distortion-free clarity with UVA/UVB protection.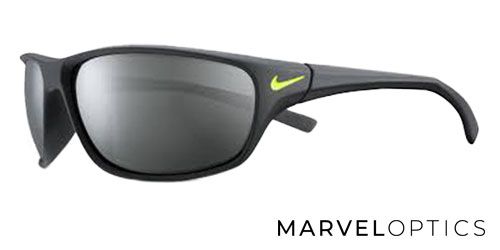 These sunglasses feature lightweight, sport-wrap frames with a slim fit profile. Maximum wide-angle coverage with polarized lenses for sharp visual acuity helps you perform at the top of your game. The lenses reduce glare and resist scratching, dust and fogging. UV protection safeguards your eyes from the dangers of the sun so that you can engage in outdoor pursuits safely. Nike upholds a quality standard for athletes and people with active lifestyles, so you get high-performance eyewear that is sleek, sporty and comfortable.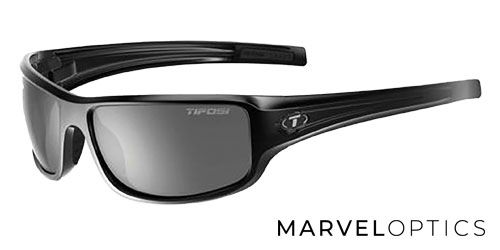 These lightweight, wraparound frames are ANSI rated for durable, long-lasting eye protection. Hydrophilic rubber nose pieces ensure a non-slip fit for your active endeavors. UV protection averts eye damage, and polarized lenses prevent color distortion and glare. Tifosi designs technologically advanced sunglasses to offer you the best eyewear for your activity.