As you may know, the light emitted by computer screens and other devices is not quite like light from natural sources. It has a lot of blue light, the light from the blue side of the visible spectrum. Blue light is also called high-energy visible light. It has a short wavelength, meaning that there is a lot of energy reaching your eyes compared to the much wider wavelengths of the other end of the spectrum.
There is a lot of blue light in sunlight. So, you may experience blue light exposure if you are outside on a bright day without sunglasses. However, this diminishes as sunset arrives. People using computers and other screens may be exposed to blue light for much longer. This can have some negative effects.
Fortunately, you can use blue light glasses to get some protection from these unnatural sources of blue light. There are a few reasons you may consider using such glasses.
1) Reduced Eye Strain
For many people, the may reason to consider wearing blue light blocking glasses is to reduce eye strain. If you have ever sat at a computer for a long day of work, you are familiar with the discomfort that comes with looking at a screen.
This is believed to be partially caused by the blue light from screens. Our eyes evolved over millennia to be well-adapted to natural light (even then we need protection from bright lights). They haven't adapted to digital screens, however. So, the intense blue light can irritate the light-sensitive tissue in the backs of our eyes.
If you find yourself with tired, strained eyes at the end of the day, consider using glasses with blue light filtering. Taking breaks from screens for a while can help even more. However, that isn't an option for everyone. So, some glasses may help.
2) Improved Sleep
As mentioned above, our bodies are adapted to blue light diminishing as the sun goes down. This helps to signal to our bodies that it is time to go to sleep. However, if we are being exposed to the bright, blue light from screens, our bodies and minds may not be fully ready to go to sleep at night.
It is believed that blue light suppresses the body's ability to produce an important sleep hormone called melatonin. Therefore, you may find that you simply aren't sleepy after working at a screen all day.
Feeling restful at night is a complex thing with many factors. However, people using blue light filtering glasses often find that they sleep better.
3) Protect Your Eyes From Certain Diseases
Some experts believe that blue light exposure can lead to certain eye diseases including age-related macular degeneration. This can cause worsening eyesight and even blindness.
It is important to note that there are many other factors and blue light may only play a small role. Additionally, this link has not been conclusively proven. However, if you are concerned about the effects of harsh light from screens on your eyes, consider buying a pair of glasses.
Do They Actually Work?
These glasses are effective in reducing the amount of blue light that reaches our eyes. However, there are many other sources, particularly the sun. Many users report that the glasses help them feel more comfortable and sleep better. However, medical experts also warn that users should not rely solely on these glasses. It is important to also take breaks from looking at screens.
Order Your Blue Light Blocking Glasses Today
Place your order for some blue light filtering glasses. Safety Gear Pro has a large selection of these and other protective eyewear. We are confident you will find a pair of blue light glasses that you love. Get started today.

FAQs
Where Can I Order Blue Light Glasses?
You can order blue light filtering glasses from Safety Gear Pro. Our catalog includes a broad selection of protective glasses including safety glasses, sunglasses and glasses for blue light. Find a pair you love and customize the lenses to suit your needs.
How Do I Know If I Need Glasses To Block Blue Light?
If you are experiencing poor sleep, eye strain or are worried about harm to your eyes from blue light, consider ordering a pair. They effectively reduce the blue light that reaches your eyes. There are numerous affordable pairs in the Safety Gear Pro catalog. Give them a try if you think you may need some.
Is It Bad to Wear Blue Light Glasses All Day?
Yes, it is okay to wear them all day. In fact, this may actually benefit your eyes by blocking out some of the harsh blue light from screens. If you find them uncomfortable to wear, you can simply put them on when looking at screens.
How Do I Order Prescription Blue Light Glasses?
If you are ordering your glasses from Safety Gear Pro, you can likely order them with prescription lenses. When you find a pair that you like, select the "Prescription Lens" option then click "Customize Lens." In the final customization step, you can upload, enter or send your prescription information.
Is Blue Light Bad for Your Eyes?
This question is somewhat up for debate. Some studies have found that blue light from artificial sources is not bad for your eyes. However, users' experiences and some other research suggests that it is bad. If you feel strained from looking at screens, consider getting some glasses.
---
Best Prescription Glasses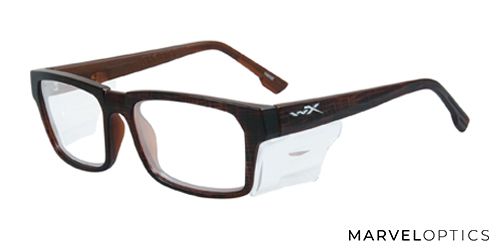 The WileyX WorkSight series of frames includes prescription-ready safety glasses. The Profile style has rectangular frames with full rims. Triloid frames and polycarbonate lenses meet the American National Standards Institute Z87.1-2010 high velocity and mass impact requirements and U.S. federal Occupational Safety and Health Administration 1910.133(b)(1)(1) standards. These glasses come with a fold-over case, removable side shields and a drawstring storage pouch.
Profile frames may be available in several color choices such as Gloss Brown Demi, Gloss Green Demi, Matte Hickory Brown, and Matte Black. This eyewear can accommodate single vision, bifocal and progressive lenses. Check the frame size and dimensions to determine whether Wiley X Profile can provide the best fit for daily, occupational or activewear.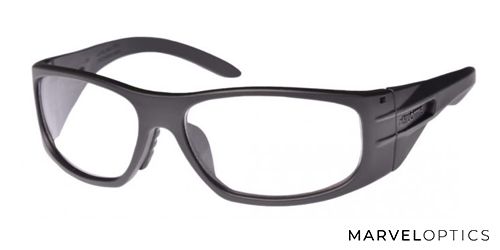 Another popular frame style ready for prescription lenses is ArmourX 6001. These plastic glasses with polycarbonate lenses meet ANSI Z87.1 safety standards. Large black rectangle frames wrap around the wearer's face. While these glasses are compatible with single vision, bifocal or progressive lenses, the base curve may not be the best choice for high Rx lenses.
The 6001 style frames from ArmourX are suitable for on-the-job or activewear. A lightweight frame design is paired with lenses treated to resist dust, fog, reflections and scratches. When fitted with clear or tinted lenses, this eyewear provides protection from ultraviolet rays. This style is popular because it is comfortable and stylish enough to wear inside and outside while doing a wide range of activities.
Shellshore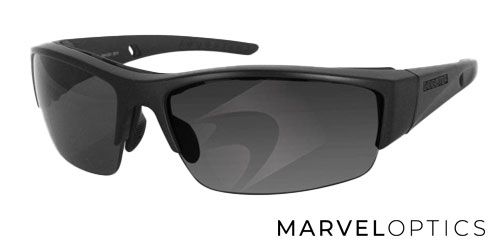 A double bridge distinguishes Shellshore by Marvel Optics apart from other metal rectangular frames. This small feature draws attention upward toward the browline, which can be helpful for balancing the features of a round, oval, triangle or diamond-shaped face and adding an element of style. These full-rim glasses come in a small size and accommodate single vision lenses.
Rectangle-shaped frames with a double bridge are ideal for oval and oblong face shapes. Check the measurements of these frames to determine whether Shellshore is the right safety prescription glasses style for you. These frames may be available in colors such as blue, gunmetal or jet black.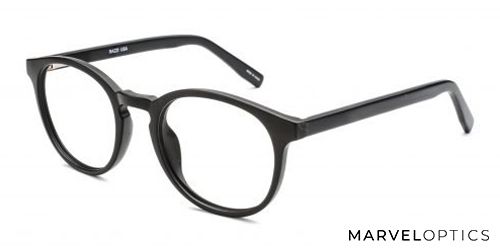 Brave frames by M-Line have on-trend vintage styling at an affordable price. These round acetate full-rim glasses have spring hinges. Some versions combine black frame fronts and colored temples. Single vision, bifocal and progressive lenses can all be fitted into these frames, as can high Rx prescriptions. An anti-scratch coating maintains optical clarity for comfortable wear and value.
Check the dimensions of Brave frames to determine whether this style is the best choice for your face. Men and women can both sport this retro style. Choose from several shades such as matte black with navy temples, matte black with red temples and matte black. You can also customize this style with clear or tinted lenses.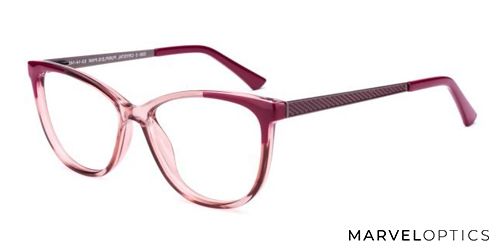 One of the most popular prescription frame styles for women is Katelyn by Marvel Optics. These cat-eye full-rim frames are another vintage style updated for modern wear. Plastic frame fronts and temples feature textural details for a unique look. The best online prescription glasses for women are compatible with single vision, bifocal, progressive lenses and high Rx prescriptions.
If you have an oval or pear-shaped face, you may want to consider Katelyn frames. These glasses can be fitted with clear or tinted lenses with an anti-scratch coating for vision correction or sun protection. These glasses come in a medium size. Check the dimensions of this eyewear to determine whether it will provide the best fit. Marvel Optics makes more prescription-ready styles for women.