Picking out the perfect glasses is a decision you want to put a bit of thought behind. However, some people aren't sure where to begin the search. While there are countless options available, this volume can actually do more harm than good in some cases. Thankfully, you can sort through the weeds with ease by narrowing your search based on a few different parameters. For example, those interested in being fashion-forward when shopping around for eyewear will find it most useful to seek this year's trendiest designs.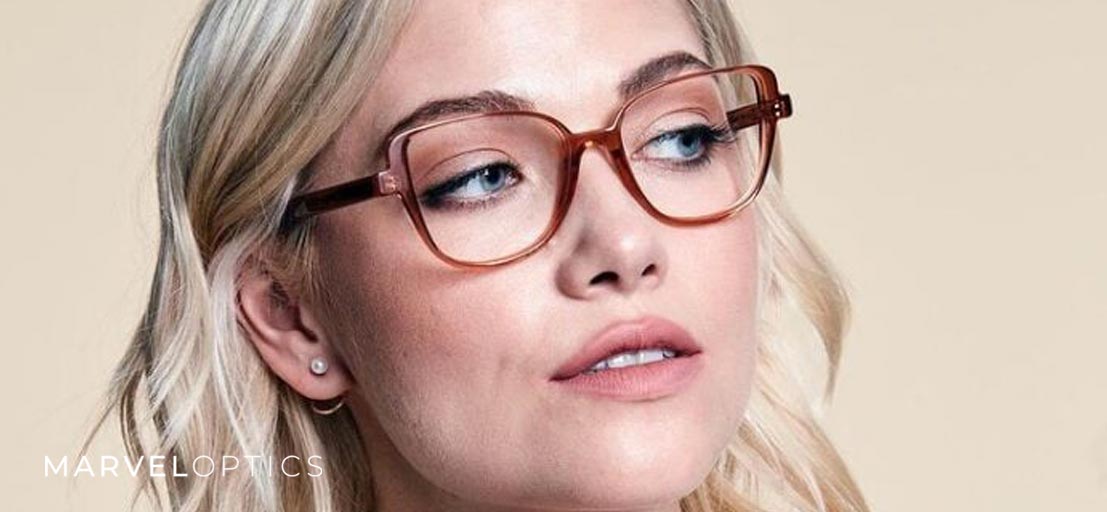 Take a look at the most fashionable eyewear options and start to get a feel for what's available. With a little research, you'll have no trouble discovering the perfect prescription glasses online.
Fashion Cat Eyeglasses
Certain designs come in and out of fashion every few years. Cat eyeglasses are a perfect example of this. In the past, these glasses have served the perfect purpose of framing the face in a way that is both bold and classic. Nowadays, this style is available in many variations, making it easy to find a fit that works with your current sensibilities.
Clear Eyeglasses
Though many styles harken back to popular designs from previous generations, there are also many that capitalize upon what's modern and new. Though not exactly an entirely new concept, more and more consumers are opting for clear frames when they buy eyeglasses online. There is something instantly contemporary about clear material being used in the construction of eyewear, allowing you the ability to look like you are a person who always knows what's "in" at any given time.
Thick Rims and Geometric Frames
Another trend that is coming back in style is the option of picking thicker frames with bold rims. However, the fad is unique in the sense that people are now preferring frames that capture a more exciting look overall. This has led to a surge in interest over glasses that boast thick, geometric frames. If you want to make a statement with your look, then this is the type of accessory that can make your goal easy to accomplish.
Bright and Simple Options
Not all trends are about standing out from the pack with a bold choice. In fact, there are plenty of popular options that actually are considered trendy because they are simple and straightforward. Glasses that feature brighter colors and a basic design are extremely popular at the moment, as this type of eyewear can be used to complement a variety of outfits. Whether you're looking for glasses for home, work, or going out, this is a great style to play around with.
Big and Vintage Glasses
For some, big is the way to go when shopping for accessories. Statement pieces can do a lot for a look, giving you the edge of sophistication and a bit of mystery. To put a twist on the idea of oversized glasses, many people are now going for vintage designs when going big. Styles of the past given a modern treatment in terms of overall size can be a fantastic way to find glasses that are as unique as you are.
Classic 70s Styles
Every generation has a fixation on a previous decade when it comes to fashion. With eyewear, a good chunk of recent trends rotate around the 1970s. The era is known for a lot, and glasses are definitely at the top of the list. From tinted lenses to metallic frames, you can have a lot of fun by seeing what these classic 70s prescription eyeglasses have to offer. You don't need to disco to make the most out of a look meant for getting down and looking your best.
Thin and Lightweight Eyewear
Though many current trends are focused around bold frames, there are just as many consumers interested in the opposite style. This year, you may wish to consider glasses that are thinner and more lightweight. Glasses of this design not only look great in an understated way, they also make for a more comfortable experience overall. This, in turn, makes it easy to wear your glasses whenever you may require them.
Rounded Frames
Frames come in a plethora of designs. While some experts advise picking a style based around the shape of your face, there are some designs that look good on everyone. A current trend has people exploring big, rounded frames. The circular look has long been popular in certain places, but now this style has become widespread in a way that has celebrities and fashionistas interested. Best of all, there are many different styles available when it comes to rounded options.
Aviators
Some trends never go out of style. Aviators are a type of sunglasses that have persisted generation after generation. Though initially crafted to help pilots see better when dealing with the sunlight present at high altitudes, the eyewear fast became a staple when Hollywood actors and famous cultural figures started to wear them. No matter what your lifestyle entails, you can bet a classic option like aviators are an easy choice.
Hipster Styles
Finally, one trend making its way back into the public sphere is the hipster style. Originally popular only a few years back when musicians in indie scenes made the look famous, people are once again turning to this bold and simple design. Whether you rely on prescription lenses to see or just want frames to wear for the sake of fashion, this is the fit that you will definitely find appealing.
FAQs
Where Can I Find the Right Prescription Glasses Online?
When the time comes to invest in some new prescription glasses online, you don't need to do much to discover the right fit. Simply explore the vast selection of designs available at Marvel Optics and gain some perspective on the exciting choices before you.
What Factors Matter Most With New Glasses?
Outside of how the glasses look, you want to make sure the model you purchase is also comfortable and durable. The last thing you want is to buy eyewear that you never wear because the glasses irritate your skin or break easily.
How Long Do Glasses Last?
A quality pair of glasses will last several years. Of course, you need to make sure you take care of the eyewear in the right way to guarantee longevity. Additionally, the prescriptions might need to be adjusted before the glasses need to be replaced, meaning you only need to swap out the lenses instead of replace everything.
How Can I Best Care for My Glasses?
There are many ways to go about caring for your glasses. Keeping the lenses clean and storing the eyewear in a protective case are a great start. All glasses require certain maintenance actions, so be sure to learn more about the needs of whatever pair you purchase.
How Do I Pick Glasses That Look Good on Me?
Buying glasses that look good on you comes down to a few simple points. For many, buying glasses that boast frames of a shape opposite their natural face shape is the right way to go. This is a simple tactic experts advise when consumers aren't sure what direction to go.
Buying the perfect prescription glasses online is a journey that you definitely do not want to rush. While style might not feel like the most important component related to quality eyewear, it actually can make a world of difference about how you feel. If you're someone who likes to stay ahead of the pack and find glasses that invoke a fashionable edge, then shopping based around current trends is the way to go. Check out the offerings at Marvel Optics to get your adventure underway and discover glasses you absolutely love.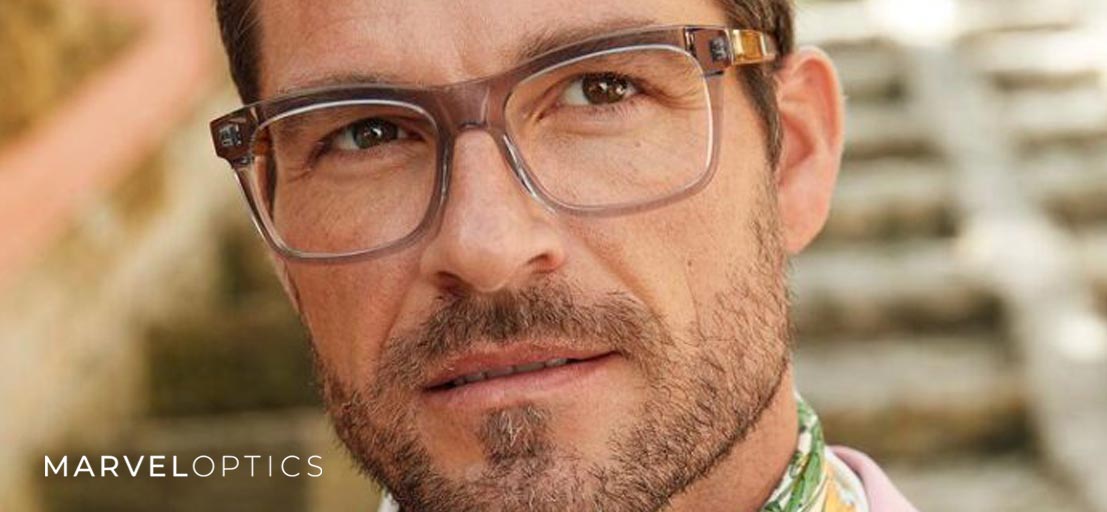 ---
Best Prescription Glasses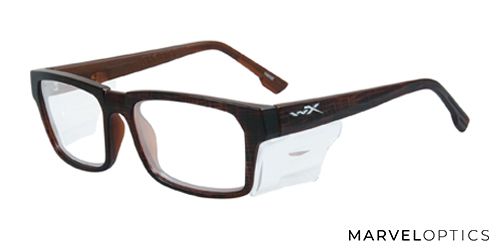 The WileyX WorkSight series of frames includes prescription-ready safety glasses. The Profile style has rectangular frames with full rims. Triloid frames and polycarbonate lenses meet the American National Standards Institute Z87.1-2010 high velocity and mass impact requirements and U.S. federal Occupational Safety and Health Administration 1910.133(b)(1)(1) standards. These glasses come with a fold-over case, removable side shields and a drawstring storage pouch.
Profile frames may be available in several color choices such as Gloss Brown Demi, Gloss Green Demi, Matte Hickory Brown, and Matte Black. This eyewear can accommodate single vision, bifocal and progressive lenses. Check the frame size and dimensions to determine whether Wiley X Profile can provide the best fit for daily, occupational or activewear.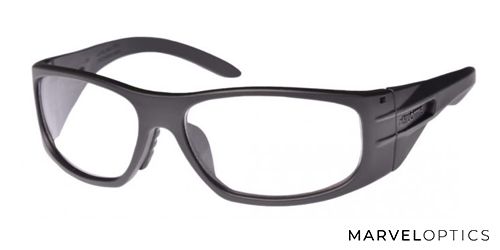 Another popular frame style ready for prescription lenses is ArmourX 6001. These plastic glasses with polycarbonate lenses meet ANSI Z87.1 safety standards. Large black rectangle frames wrap around the wearer's face. While these glasses are compatible with single vision, bifocal or progressive lenses, the base curve may not be the best choice for high Rx lenses.
The 6001 style frames from ArmourX are suitable for on-the-job or activewear. A lightweight frame design is paired with lenses treated to resist dust, fog, reflections and scratches. When fitted with clear or tinted lenses, this eyewear provides protection from ultraviolet rays. This style is popular because it is comfortable and stylish enough to wear inside and outside while doing a wide range of activities.
Shellshore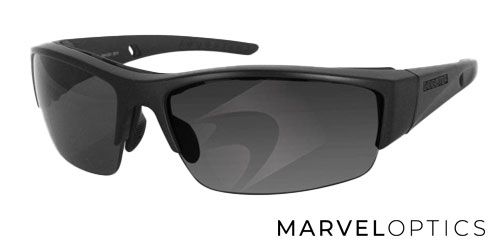 A double bridge distinguishes Shellshore by Marvel Optics apart from other metal rectangular frames. This small feature draws attention upward toward the browline, which can be helpful for balancing the features of a round, oval, triangle or diamond-shaped face and adding an element of style. These full-rim glasses come in a small size and accommodate single vision lenses.
Rectangle-shaped frames with a double bridge are ideal for oval and oblong face shapes. Check the measurements of these frames to determine whether Shellshore is the right safety prescription glasses style for you. These frames may be available in colors such as blue, gunmetal or jet black.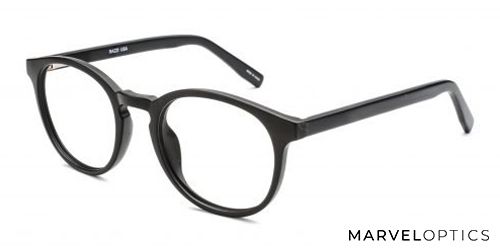 Brave frames by M-Line have on-trend vintage styling at an affordable price. These round acetate full-rim glasses have spring hinges. Some versions combine black frame fronts and colored temples. Single vision, bifocal and progressive lenses can all be fitted into these frames, as can high Rx prescriptions. An anti-scratch coating maintains optical clarity for comfortable wear and value.
Check the dimensions of Brave frames to determine whether this style is the best choice for your face. Men and women can both sport this retro style. Choose from several shades such as matte black with navy temples, matte black with red temples and matte black. You can also customize this style with clear or tinted lenses.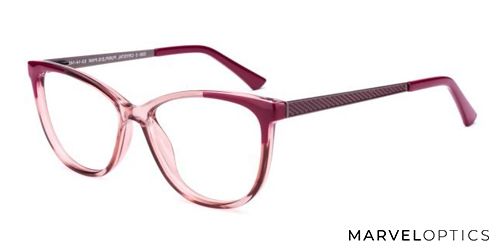 One of the most popular prescription frame styles for women is Katelyn by Marvel Optics. These cat-eye full-rim frames are another vintage style updated for modern wear. Plastic frame fronts and temples feature textural details for a unique look. The best online prescription glasses for women are compatible with single vision, bifocal, progressive lenses and high Rx prescriptions.
If you have an oval or pear-shaped face, you may want to consider Katelyn frames. These glasses can be fitted with clear or tinted lenses with an anti-scratch coating for vision correction or sun protection. These glasses come in a medium size. Check the dimensions of this eyewear to determine whether it will provide the best fit. Marvel Optics makes more prescription-ready styles for women.