When shopping for womens prescription glasses, there are several things to consider. Eyeglasses not only enhance your vision but elevate your style, too. The right pair provides the perfect accessory to complete your look.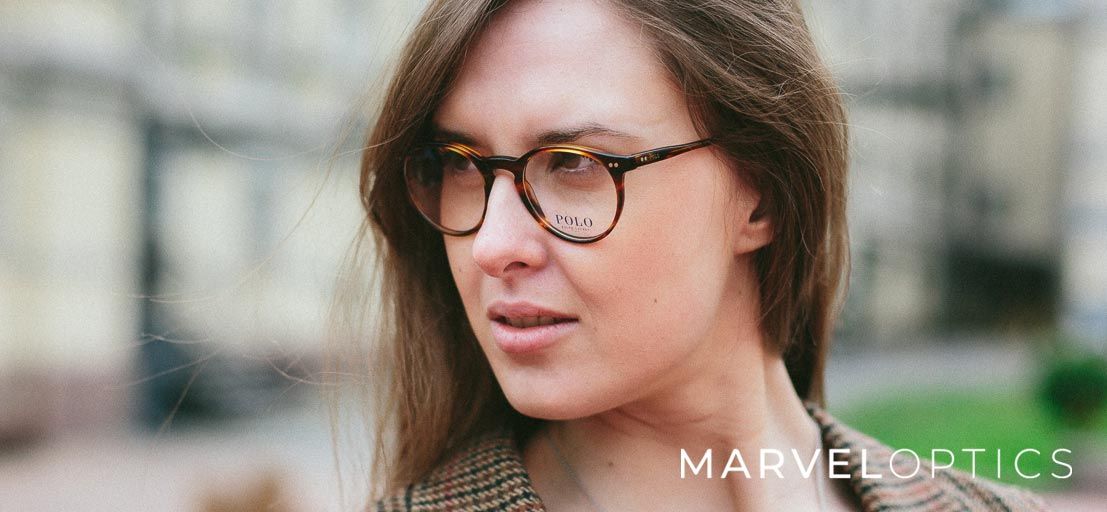 Choose Womens Glasses Based on Face Shape
The first step to selecting a great pair of new frames is to determine the shape of your face. Picking complementary frames is an excellent way to look and feel beautiful in your new eyewear. Find the right style for you based on your face shape:
Oval:An oval-shaped face has balanced features. Look for wide frames with a strong bridge. Go for geometric shapes but avoid oversized choices.
Round:Choose rectangle or square shapes to contrast with your round features. Avoid round or rimless frames.
Diamond:Cat-eye options accentuate your cheekbones to complement a diamond shape. Do not choose narrow or boxy frames.
Oblong:Choose length over width for your eyeglasses to balance out your face shape. Glasses with a low bridge and decorative sides are a good choice.
Square:Look for a style that sits high on the bridge of your nose. Choose round or oval frames rather than angular types.
Heart: Select a pair in light colors. Minimal frames in oval or rectangular shapes work best.
Consider Your Eyebrows When Selecting Prescription Glasses
Your eyebrows are a prominent feature that gives your face character. You want to select frames that complement your brows. To find the right glasses:
Choose a pair that shows more than half of your eyebrows above the edges.
Find options that mimic the shape of your brows for a more natural look.
Opt for thin or semi-rimless frames if you have notable eyebrows.
Go with thick frames to accentuate thin brows.

Find the Right Color of Womens Prescription Glasses for You
When looking for the perfect pair of eyeglasses, assess whether you have warm, cool or neutral undertones. Then choose your frame color accordingly:
Cool skin tones:Blue-based hues of green, pink, purple, magenta and red are a good choice for cooler tones.
Warm tones:Honey, dark red, coral and olive shades are an attractive selection for these tones.
Neutral skin tones:If you fall in this category, the sky's the limit on your frame options. Everything works with this skin tone.
Accentuate Your Glasses With Lip and Cheek Color
If your eyewear has bold frames, daring lip color can complement the look. Or you may choose to contrast your lips depending on your outfit and agenda for the day. Blush adds warmth to your face, giving you a more seamless look.
Shop Marvel Optics for top-quality prescription eyeglasses at affordable prices that help you feel and look your best.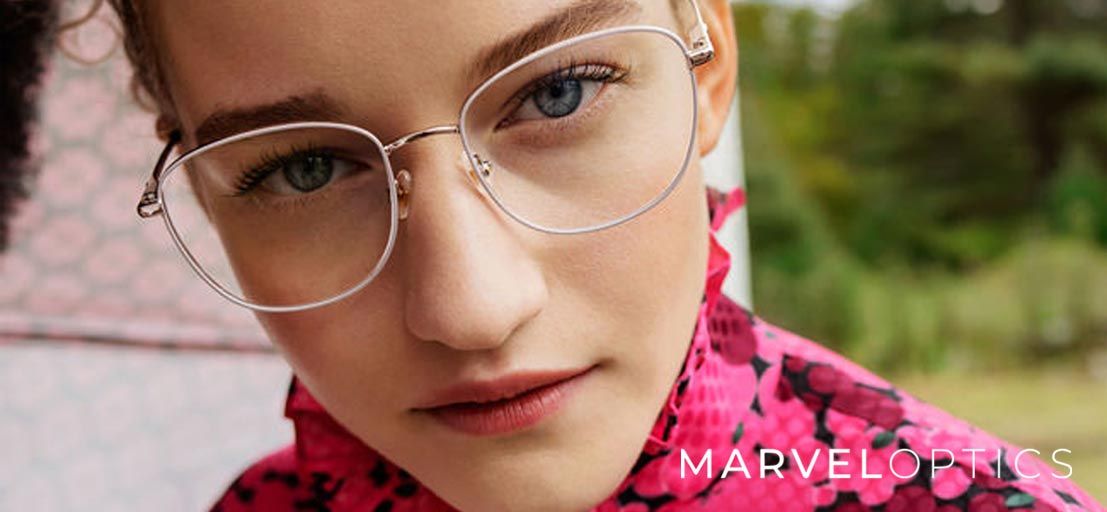 FAQs
What's trending in women's eyeglasses?
Whether you need prescription glasses or merely want to make a fashion statement, eyewear is a popular accessory. Current trends include:
Sporty frames to accentuate your sportswear
Brightly-colored, geometric choices for a vacation look and feel
Extra-large frames that elevate your look to high-fashion
Thick-rimmed options that make a statement
What type of glasses make you look young?
Some types of eyeglass frames that can help you look and feel young include:
Oversized eyewear is a trendy fashion that can hide features that reveal your age.
Black or blue frames pair nicely with gray hair.
Bold colors or shapes look youthful and stylish.
Round frames accentuate your eyes.
What kind of glasses are in style in 2021?
Clear frames of all shapes and sizes
Thin, gold-rimmed frames for a professional look
Cat-eye glasses for a decisive expression
Oversized frames for a retro vibe
Geometrically shaped eyewear with thick rims and bold colors
Round glasses for a vintage feel
Tortoiseshell glasses in unique patterns
Hipster frames in black
How do you find glasses that look good on you?
Your face shape helps determine which type of eyeglasses looks best on you. Choose a pair that contrasts with your face's contours to balance your features. Next, decide if you have a warm or cool skin tone and select a shade close to this hue to improve your eyewear's look.
What are some popular women's eyeglass frames?
Some of our bestselling womens prescription glasses include:
Brave:Lightweight round frames that look good on various face shapes
Lividicious:Small, round plastic frames in shiny black or blue
River Falls:Full-rim, lightweight plastic eyewear
Rumford:Rectangular full-rim plastic frames
Bonners Ferry:Lightweight, metal frames with a rectangle shape
Our Top 5 Women's Prescription Glasses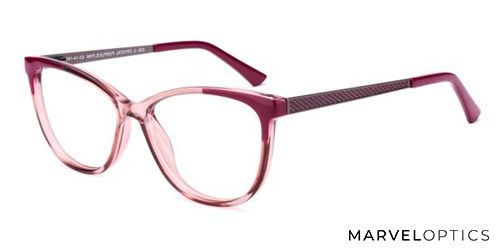 You don't need to sacrifice style when it comes to quality womens prescription safety glasses. The Katelyn is a model that was made to be as durable as it is appealing. The classic style of the frames are reminiscent of the vintage cat eyeglasses look. Available in bold colors, these are an ideal fit for any woman who wishes to show off her personality through her eyewear. The full-rim plastic frames are tough and will not break easily. If you're looking to be fashionable with your approach to eyewear, the Katelyn might be worth your while.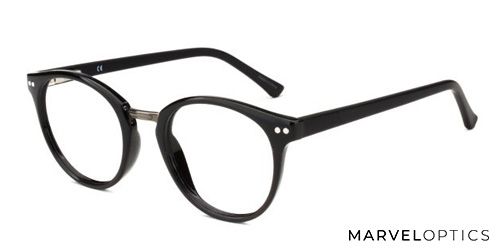 Not everyone wants a flashy or showy pair of glasses. Still, that doesn't mean you're looking for something bland. The Lividicious is designed to feature only a hint of color, allowing for an elegant look that appeals to the sensibilities of those who like to keep things simple. Featuring plastic frames, these glasses are a good fit if you tend to live an active lifestyle or enjoy engaging with physical activities like playing sports on a regular basis. The general look also makes them perfect for professional settings and intimate environments.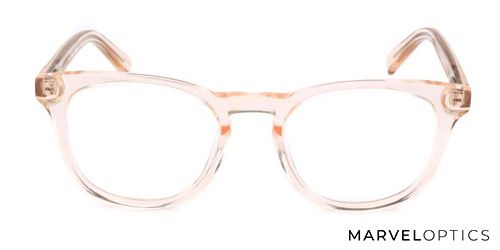 Working outdoors for long stretches of time can be an important factor to consider when selecting your new glasses. Temperature shifts can create problems with untreated lenses, allowing condensation to collect and obscuring your ability to see. The Wahiawa addresses this problem by featuring a design that is resistant to both high and low temperatures. The metal frames also make the Wahiawa a great pick for those who work in high-risk environments. The durability of the frames helps to reduce the odds of damage in the event of an impact.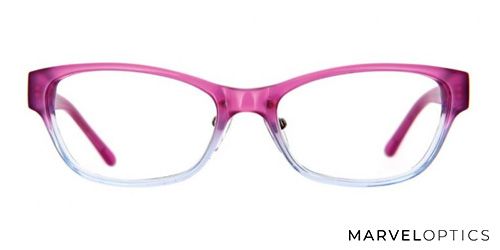 When you work in an industrial environment or any space with large, complicated equipment, you absolutely want to prioritize safety when selecting your eyewear. The Hudson DesignGard Series DG-10 has an ANSI Z87.1 designation. This means that the glasses have been tested in accordance with the strict standards of the American National Standards Institute. The lenses will not shatter in the event of a sudden impact and the frames will stay in shape regardless of how much of a daily beating they take. The lenses also feature anti-fog and scratch-resistant coating.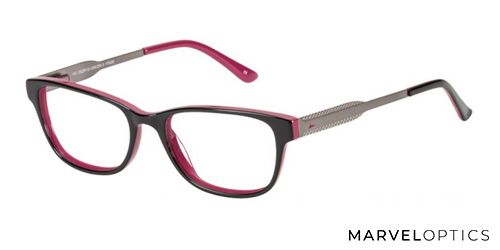 Another trusted option when it comes to safety is the OnGuard ELITE 619. The slick and modern design of the frames make them a perfect contemporary style for women and men alike. Available in several colors, the ELITE 619 also features i-Shield technology to offer frame style integrity and overall safety. If you're looking for womens prescription glasses for work, this model meets both ANSI Z87.1 and CSA Z94.3 standards. A versatile option that is perfect for work, play, hanging around the house, or engaging in your favorite physical activities.