Protecting your children from harm is the most important part of being a parent. This is especially true when it comes to selecting the right eyeglasses. Unfortunately, it isn't always easy to pick out the perfect eyewear for your little ones. There are many important factors to consider, from the fit to the frame materials to the overall style. Thankfully, a little help can go a long way. Review this guide and learn everything you need to know about picking out the perfect glasses for kids.

How To Tell Your Child Needs Glasses
For many parents, it can be difficult to tell whether a child needs glasses in the first place. Kids might not always know how to articulate what they are experiencing, which can make it challenging to understand what they are going through. However, some kids are more vocal than others. If your little one is expressing difficulty with seeing, then this is a strong indication that you need to make an appointment for an eye exam. Visiting a professional will not only help you determine what's wrong but also provide the correct solution.
As with adults, children might need corrective lenses for a number of reasons. Some will have difficulty seeing objects that are far away. Others might not be able to see close-up items, like the text in a book or images on a tablet. Knowing exactly what is the matter can provide you with peace of mind and a plan of action.
Signs Your Child Might Require Glasses
One of the easiest indications that a child needs glasses is that he or she is squinting a lot. When your child's eye is not able to focus on an object, it means that he or she could be dealing with a refractive error. The main reason that people squint when attempting to see an image more clearly is because it helps the eye to create a pinhole effect, which makes it easier to see. Squinting too much can lead to eyestrain, especially when a child is attempting to read from the board at school.
If your child is constantly tilting his or her head when attempting to see, it could be another strong indication that corrective glasses are needed. When a child tilts his or her head, it often suggests that he or she is dealing with a "lazy eye," also known as amblyopia. Aside from tilting the head, children might also indicate that they are struggling with this condition when they constantly cover one of their eyes in order to see.
Other Indications To Watch For
Some of the signs that a child may need glasses will not be as apparent as others. For example, headaches are common in kids who are struggling to see. The more they strain their eyes to see, the more likely it is that they will develop a headache. Headaches are also commonplace ailments for people of all ages. However, when your little one complains about pain in the head or eyes, it might be time to schedule an eye exam and learn more about the root cause of the problem.
Finally, pay attention to how often your children rub their eyes. Another strong indication that glasses are needed is when children strain their eyes to see so much that it causes them physical discomfort. If your children are rubbing their eyes constantly throughout the day, it likely means you need to have them fitted for glasses.


Finding the Right Fit
First and foremost, you need to think about the fit of the glasses. Picking out glasses that are too loose increases the odds that they will fall off and become damaged. Conversely, an option that proves too tight can be irritating and make your child not want to wear the glasses when they are supposed to. There are several key areas to pay attention to when determining the appropriate fit for the needs of your kids.
Frames
The frames tend to be a place to begin your search for glasses for your children. Typically, you will be able to tell whether the frames are the right size when your child puts them on. However, there are a few rules to keep in mind to make the most appropriate choice. For one, the glasses should never come in contact with your child's cheeks. If the glasses are pressed up against their cheeks or touch the eyelashes in any capacity, it means the fit is incorrect.
Nose Bridge
The nose bridge of the frames is another useful place to focus when making your selection. A child's nose is still forming, which can be both a help and a hindrance when it comes to picking glasses. Have your child try on a pair of glasses and see if they sit comfortably on the bridge. If the eyeglasses slip from place, it means you need to find another option. Some experts suggest opting for glasses with lowered nose bridges, as this increases the odds of the eyewear staying in place.
Eye Position
Another important factor to review when picking kids glasses frames is eye position. Experts state the frames should always align on a horizontal plane with the center of the eyes. When you take your child to the eye doctor, you will be given information related to pupillary distance. Basically, the PD highlights the distance in millimeters between both pupils. By having this information handy, you will be able to find frames that perfectly fit your child's needs.
Temples
Children tend to live life to the fullest. Since they are still growing and far more resilient than adults, they throw their entire bodies into whatever they do. While this helps them play, it can cause serious damage to their glasses. When picking frames, opt for models that have temples that curve behind the ears. Glasses like this are more likely to stay in place when your little one is running around and having fun. What's more, this style also increases the overall durability of the frames.
Frame Materials
Typically, the most popular materials when it comes to frames for children's glasses are plastic and metal. While metal frames are more durable, the material can also prove heavy or uncomfortable for children. If you opt for plastic, however, you want to make sure to select a material that offers flexibility. Not all plastics are created equally, and some will break when a little bit of force is applied. Professionals also suggest looking at hypoallergenic frame materials if your child has sensitive skin, as this lowers the odds of irritation.
Frame Style and Color Options
Though your children might not be thrilled about picking glasses based on factors like durability and comfort, selecting an eyewear style can be a great way to get them interested in the process. As with adult glasses, there are tons of different designs to choose from. Some experts advise selecting glasses based on the shape of your child's face. For example, if your child has rounded features, then square frames are the best fit. Naturally, this is only a guideline and there is no need to adhere to the suggestion.
Your child might also be interested in funky or trendy glasses, especially if they are inspired by adults they look up to or certain characters on television. Cat-eye glasses are a great example of this, as the vintage look may appeal to kids with quirky or hip personalities.
Choosing a Durable Lens
While frames are a great place to start your search for kids prescription glasses, you must also consider the lenses. Specifically, you want to focus on a material that is durable enough for the way your child likes to live. Polycarbonate lenses are thin and light, which typically makes them a popular choice for children. If your child requires a strong prescription, polycarbonate can also be good because the material does not need to be made thicker to compensate.
Trivex is another popular option for lenses, as the material is known to deliver sharper vision. Beyond this, Trivex is a material that can block both UV-A and UV-B rays. This is ideal if your children spend a lot of time outdoors. Finally, photochromic lenses are ideal for parents who are looking to reduce the odds of eye fatigue in their little ones. These lenses are great for indoor and outdoor settings, adapting to new light conditions without causing any glare.
The Importance of UV Protection
Whatever lenses you pick, UV protection is vital to take into consideration when selecting glasses for your kids. Prolonged exposure to sunlight can cause long-term damage to the eyes. For this reason, you should focus on lenses that boast superior UV protection. Photochromic lenses tend to be the best choice in this regard, as the material is known to absorb 100% of both UV-A and UV-B rays. The lenses also reduce glare, which is a great help if your child spends a lot of time near bodies of water or other reflective surfaces.
Properly Caring for Your Child's Glasses
After you have selected the best possible glasses for your child, you need to understand how to best care for the eyewear. First and foremost, a durable case is necessary to shield the glasses from damage when not being worn. Get your children in the habit of putting the glasses in the case when they take them off, as this will reinforce the best practices and reduce the odds of the glasses being left out in the open. When placing the glasses in the case, always leave the lenses facing up.
Regularly cleaning the glasses is important to ensure the eyewear lasts a long while. Do not just grab any cloth to remove smudges or dust from the lenses. Using something "rough" like a paper towel, for example, can increase the odds of scratching the lenses. Experts recommend finding a cloth that is specifically made for the lens material you have selected. However, soft cotton will do in a pinch. For more difficult marks or stains, look for cleaning solutions that are formulated for glasses or computer screens.

FAQs
Where Can I Find the Best Glasses for Kids?
When the time comes to invest in a pair of glasses for your child, check out what Marvel Optics has to offer. The vast selection of eyewear makes it easy for you to discover glasses for kids that perfectly fit the needs of your little one.
How Often Should I Replace My Child's Glasses?
As a rule, children under the age of 20 should have one eye exam a year to determine if there have been any major changes to their vision. If there are no changes, the same pair of glasses should work for anywhere between two and three years.
How Long Does It Take for Children To Adjust to New Glasses?
A child's ability to adjust to new glasses will largely depend on the child. However, vision experts state that it can take up to 18 weeks for the eyes to fully adjust. The more your kids wear their glasses, the easier it will be for them to get used to them.
Will Relying on Glasses Make My Child's Eyesight Worse?
Wearing glasses does not make a child's eyesight worse. In fact, wearing corrective lenses has been shown to improve a child's vision exponentially. In some cases, a child may only need glasses while his or her eyes are still developing.
What Factors Matter Most When Picking Glasses for Kids?
Since children tend to be active, durability is the most important quality to focus on when selecting glasses. Beyond this, it can be helpful to select glasses that are comfortable. If they are not comfortable, your child may not want to wear them for long.
When you notice that your child is struggling to see, it is important to take action fast. Since picking the best glasses for kids requires time and research, be sure not to rush the process. Review the selection at Marvel Optics to discover the perfect fit for your little ones.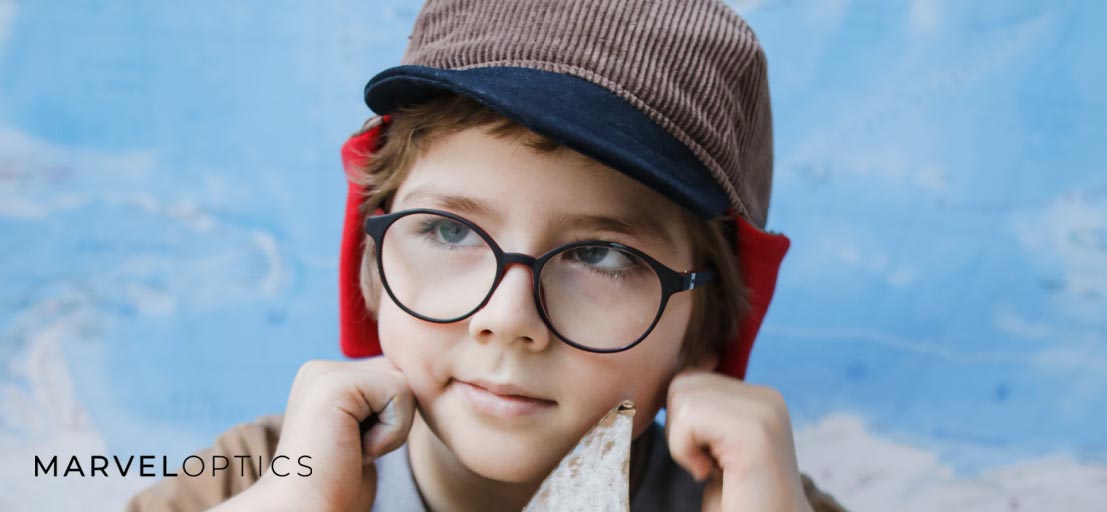 ---
Best Prescription Glasses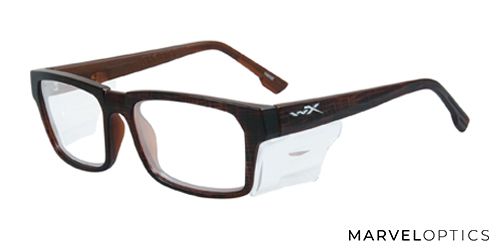 The WileyX WorkSight series of frames includes prescription-ready safety glasses. The Profile style has rectangular frames with full rims. Triloid frames and polycarbonate lenses meet the American National Standards Institute Z87.1-2010 high velocity and mass impact requirements and U.S. federal Occupational Safety and Health Administration 1910.133(b)(1)(1) standards. These glasses come with a fold-over case, removable side shields and a drawstring storage pouch.
Profile frames may be available in several color choices such as Gloss Brown Demi, Gloss Green Demi, Matte Hickory Brown, and Matte Black. This eyewear can accommodate single vision, bifocal and progressive lenses. Check the frame size and dimensions to determine whether Wiley X Profile can provide the best fit for daily, occupational or activewear.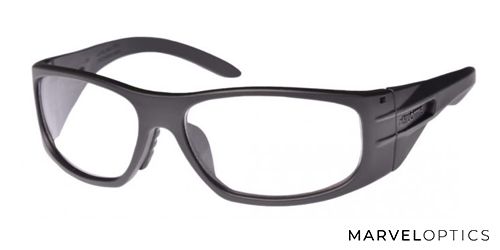 Another popular frame style ready for prescription lenses is ArmourX 6001. These plastic glasses with polycarbonate lenses meet ANSI Z87.1 safety standards. Large black rectangle frames wrap around the wearer's face. While these glasses are compatible with single vision, bifocal or progressive lenses, the base curve may not be the best choice for high Rx lenses.
The 6001 style frames from ArmourX are suitable for on-the-job or activewear. A lightweight frame design is paired with lenses treated to resist dust, fog, reflections and scratches. When fitted with clear or tinted lenses, this eyewear provides protection from ultraviolet rays. This style is popular because it is comfortable and stylish enough to wear inside and outside while doing a wide range of activities.
Shellshore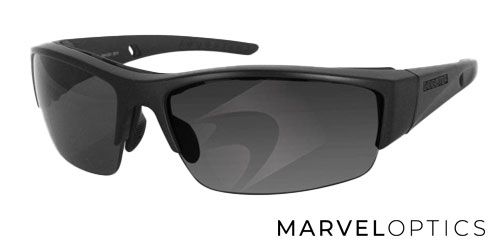 A double bridge distinguishes Shellshore by Marvel Optics apart from other metal rectangular frames. This small feature draws attention upward toward the browline, which can be helpful for balancing the features of a round, oval, triangle or diamond-shaped face and adding an element of style. These full-rim glasses come in a small size and accommodate single vision lenses.
Rectangle-shaped frames with a double bridge are ideal for oval and oblong face shapes. Check the measurements of these frames to determine whether Shellshore is the right safety prescription glasses style for you. These frames may be available in colors such as blue, gunmetal or jet black.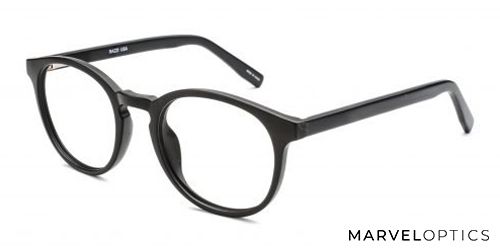 Brave frames by M-Line have on-trend vintage styling at an affordable price. These round acetate full-rim glasses have spring hinges. Some versions combine black frame fronts and colored temples. Single vision, bifocal and progressive lenses can all be fitted into these frames, as can high Rx prescriptions. An anti-scratch coating maintains optical clarity for comfortable wear and value.
Check the dimensions of Brave frames to determine whether this style is the best choice for your face. Men and women can both sport this retro style. Choose from several shades such as matte black with navy temples, matte black with red temples and matte black. You can also customize this style with clear or tinted lenses.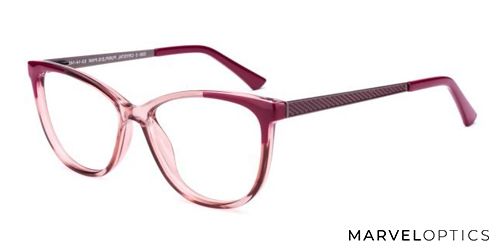 One of the most popular prescription frame styles for women is Katelyn by Marvel Optics. These cat-eye full-rim frames are another vintage style updated for modern wear. Plastic frame fronts and temples feature textural details for a unique look. The best online prescription glasses for women are compatible with single vision, bifocal, progressive lenses and high Rx prescriptions.
If you have an oval or pear-shaped face, you may want to consider Katelyn frames. These glasses can be fitted with clear or tinted lenses with an anti-scratch coating for vision correction or sun protection. These glasses come in a medium size. Check the dimensions of this eyewear to determine whether it will provide the best fit. Marvel Optics makes more prescription-ready styles for women.