The glasses you wear to work contribute toward your professional appearance. Work eyewear should accommodate your prescription, fit comfortably and complement your wardrobe. Here are four styles of womens prescription glasses that are ideal for pairing with office outfits this year.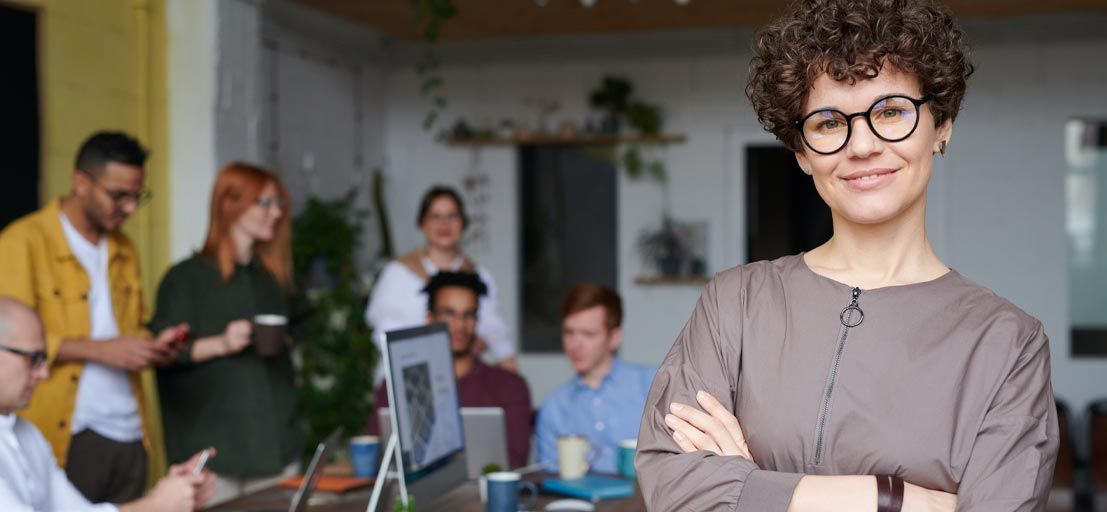 River Falls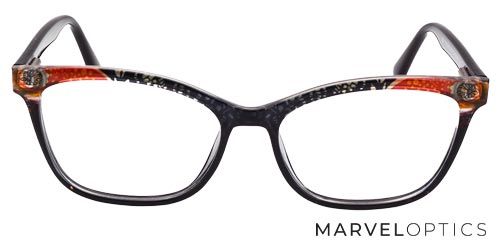 M-Line offers an elegant and affordable style of womens prescription eyeglasses for office wear. River Falls frames are upswept, rectangular eyewear with a subtle red and black pattern along the browline and stylish flourishes at the temples. These glasses are compatible with single vision, bifocal or progressive lenses. If you work in a conventional office, River Falls or a similar style could be a great choice.
SHOP RIVER FALLS
Ann Taylor AT105 Eyeglasses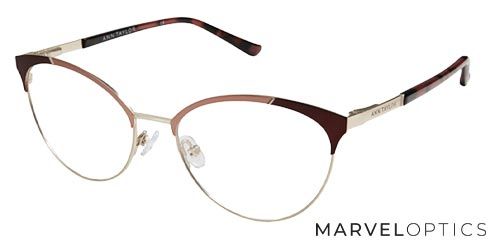 The AT105 frames by Ann Taylor also have cat-eye styling. These full frames made of metal can accommodate most prescription lenses. Choose from eye-catching color pairings such as burgundy and gold or eggplant and gold. The mixed-material temples combine branded metal accents with patterned cushioning.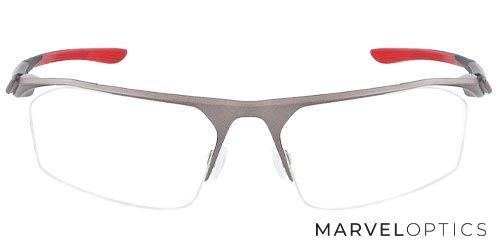 Women working in fast-paced environments can appreciate the sporty styling of Nike 8050 frames. These half-rim frames with a wrap-around profile can accommodate most types of prescription lenses. Choose from color combinations such as Satin Black and Wolf Grey, Satin Gunmetal and University Red or Satin Navy and Royal Pulse.
Hudson DesignGard Series DG-98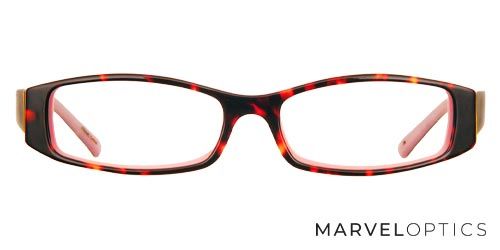 The DesignGard series from Hudson Optical includes safety glasses that can function as everyday eyewear. If your work environment poses any eye safety hazards, consider this frame style that meets the American National Standards Institute Z87.1 safety standard and is compatible with PSS-32 side shields.
SHOP HUDSON DESIGNGARD SERIES DG-98
Kate Spade Briella Eyeglasses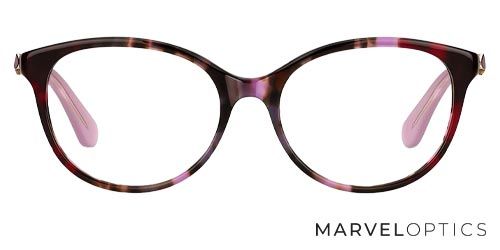 Work eyewear doesn't have to be boring. Kate Spade Briella Eyeglasses have a creative flare but are still formal enough for office wear. These round frames pair patterned or solid fronts with colorful or patterned temples. Check out the Havana Patterned Pink, Pink, Violet Havana or Black Pattern White versions of Briella frames.
These four styles of eyewear can be a good match for different work environments and office outfits. River Falls, AT105 and Kate Spade Briella frames are lifestyle eyewear. More demanding workplaces may call for Nike 8050 sports frames or safety-rated Hudson DesignGard Series DG-98 glasses. Factor in your working environment and style to select the best prescription eyeglasses to wear to work.
FAQs
How can I order womens prescription glasses for work?
Browse our inventory of Rx-able glasses for women to find a style suitable for your work environment that complements your professional wardrobe. Check the frame size and compatibility with single vision, bifocal or progressive lenses. Once you find your favorite frames, customize lenses for on-the-job lighting levels and safety concerns.
Which frames look most professional?
Any frame shape and style can look professional in the right color and materials. Many women prefer to wear square, rectangular or oval glasses to the office. If your occupation requires you to wear safety glasses, you can find a pair of protective frames that also look stylish and professional.
Can I wear fashionable frames in an office?
Fashion-forward frames can be great accessories that reveal your personality at work. Some glasses-wearers prefer subdued frames in neutral colors for professional environments while others enjoy wearing glasses that have bright frame colors or bold patterns. Get the best of both worlds by selecting frames that have striking accent colors.
Which brands make stylish safety glasses?
Brands such as 3M, ArmourX, Hudson Optical, OnGuard and Uvex are among the most trusted makers of safety glasses. Many safety-rated frames look like ordinary glasses but provide impact protection. Make sure that any safety glasses you consider ordering meet applicable standards, such as having a ANSI Z87.1 rating.
How do I get the right size of womens glasses?
Check the size and gender of frames in the product description. Women's frames tend to be smaller than men's or unisex frames. It is also helpful to look at dimensions such as frame width, bridge width, lens width and temple length. Compare specifications to your current eyewear or facial measurements.
Wearing any of these brands and styles of womens prescription glasses can help you see clearly and look professional while in the office. Consider your professional wardrobe and whether you need safety glasses for eye protection to pick the right frames for any occupation.