The price of prescription sunglasses ranges from under $50 to several hundred dollars. The cost of frames, lenses and custom lens options add up to the total cost of a pair of sunglasses. Learn more about the average price range for sunglasses that correct your vision and have lenses with your preferred features.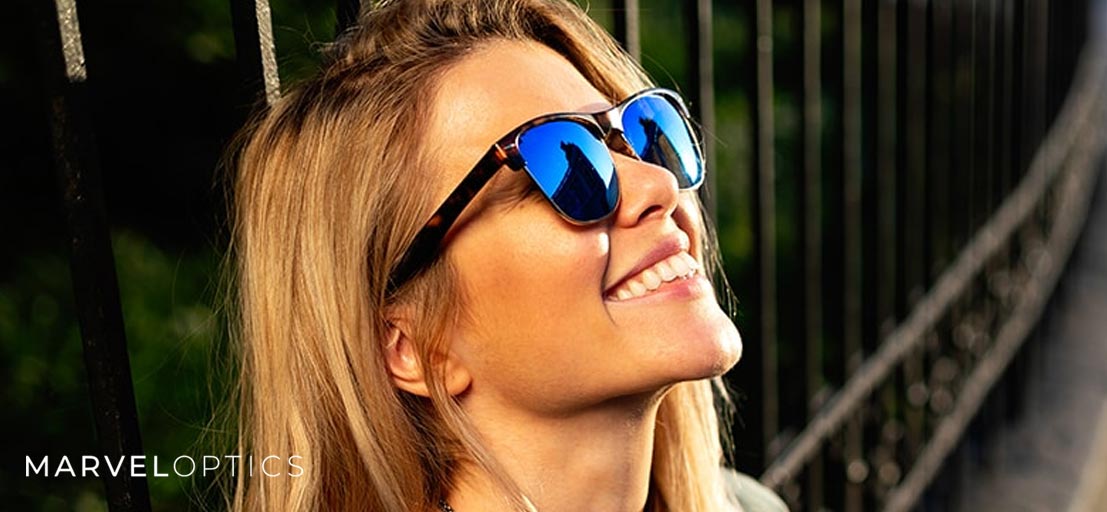 The Brand of Prescription Sunglasses
Sunglasses frames on Marvel Optics range from $25 on the low end up to $200 on the high end. Frame prices do not include the cost of prescription lenses. Quality brands, such as Tifosi, Bobster and M-Line, offer frames under $50. Sort our full selection of Rx-able sunglasses by price to find the best deals on affordable prescription-ready frames.
Many eyewear brands offer frame styles at a range of price points. Designer frames usually cost more than basic optical frames. We make it easy to find affordable eyewear in styles that follow designer trends. Try choosing budget-conscious frames and put some of the money you save toward custom prescription lenses with your choice of tints, finishes and coatings.
Your Choice of Custom Lens Options
Single vision lenses cost less than multifocal lenses. The type of lenses you choose, such as single vision or multifocal, can raise the price of even the most affordable frames to more than $40 with single-vision lenses, $78 with bifocal lenses, $98 with progressive lenses or $118 with premium progressive lenses.
Additional lens options, such as the use of high-definition digital equipment to make lenses or your choice of tints and coatings, also raise the price of lenses. Photochromic, mirrored or polarized sunglasses lenses cost more than standard tints. Options for thinner lenses or impact-rated polycarbonate safety lenses are also more expensive.
Shop Prescription-Ready Frames By Brand
Marvel Optics makes it easy to shop by brand or filter search results for designer sunglasses. High-end brands often factor the price of proprietary plano lenses into frame prices. The ability to customize any frames with tinted lenses can also help you save on eyewear.
From the leading sports and safety eyewear brands to fashion sunglasses, Marvel Optics carries an extensive selection of frames. Shop sunglasses styles from leading optical brands such as Adidas, Ann Taylor, Bobster, Guess, Kate Spade, Smith, Tommy Hilfiger and Wiley X.
Sunglasses That Meet Your Vision Needs
Prescription sunglasses enable you to see clearly, protect your eyes from ultraviolet rays and reduce glare. Our lens customization options can help you order the right type of lenses with your preferred tint and features.
In addition to premium thin lenses, you can also order high Rx frames and lenses through Marvel Optics. Check the description of your favorite frames for specified limits on the range of prescription measurements. The size and dimensions of frames can also impact visual acuity and overall comfort.
Save on your favorite brand and style of sunglasses at Marvel Optics. Shop a large selection of prescription sunglasses frames and select options to add corrective lenses with your choice of tints and finishes to your favorite frames.

FAQs
What Is the Average Price of Prescription Eyewear?
The average price of a pair of sunglasses with prescription lenses is between $150 and $500. Basic sunglasses that have single vision prescription lenses are available for under $50 at Marvel Optics. Browse affordable frames from premium brands and choose from a wide range of custom lens tints and finishes.
Do High Rx Frames and Lenses Cost More?
Lens options can affect the total price of prescription eyewear. Frames that accommodate high Rx lenses are usually in the same price range as other prescription-ready sunglasses. Provide your prescription measurements to find out the total cost of eyewear. Multifocal lenses tend to cost more than single vision prescription lenses.
How Can I Customize Sunglasses Lenses?
Select your preferred type of prescription lenses and specify whether you want standard or high definition lens surfacing. Select the option for sunglasses to choose from a full spectrum of standard, gradient or mirrored lens tints. Polarized or polarized mirrored prescription lenses are available in gray, green or brown tints.
Do Prescription Eyeglasses Cost Less Than Sunglasses?
The price points of prescription eyeglasses and sunglasses frames are comparable. Marvel Optics makes it easy to add tinted lenses to many styles of eyeglasses frames to get the best deal on eyewear that accommodates your prescription. Sort eyeglasses or sunglasses styles by price to find the most affordable frames.
What Are Some Tips To Save On Prescription Eyewear?
The best way to save on sunglasses with prescription lenses is to order affordable frames from Marvel Optics. Single vision lenses with standard or gradient tinting have the lowest additional cost. Expect to spend more for HD lens surfacing, multifocal lenses, thinner lenses or lenses with mirrored or polarized tints.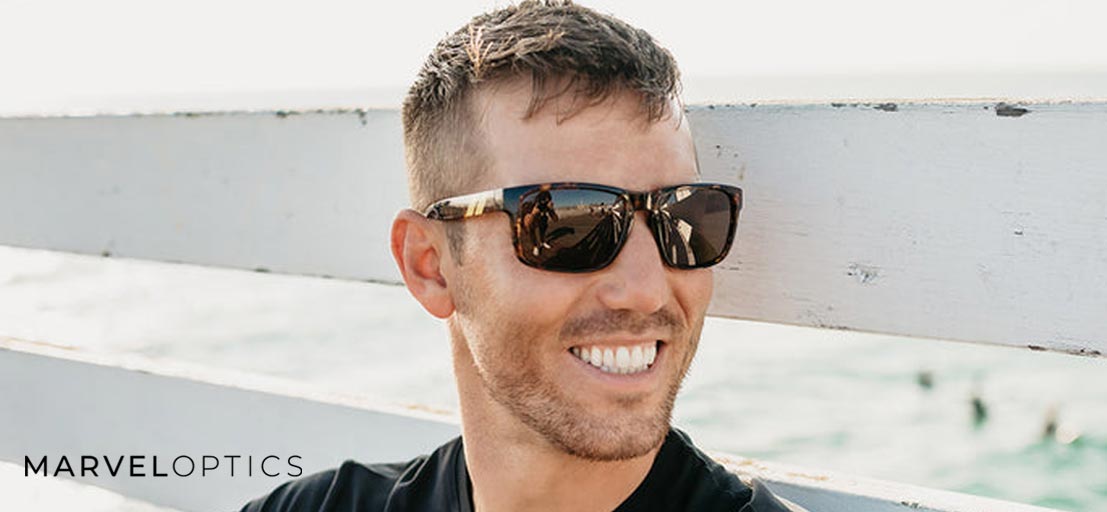 ---
Best Polarized Sunglasses
Bobster Ryval 2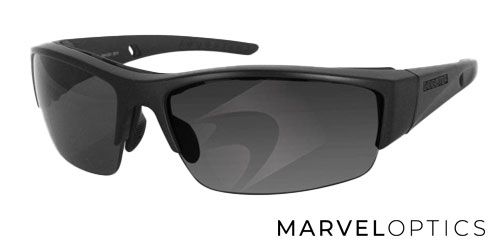 These sleek, modern frames have an adjustable nose piece and removable foam so you can achieve the perfect fit. The polarized lenses reduce glare and have an anti-fog coating to provide you with a clear field of vision in varying conditions. These high-performance sunglasses offer 100% protection from UV rays and feature impact resistance, too, so you can remain active and keep your eyes safe from harm. Bobster incorporates the latest technology into great-looking sunglasses for the ultimate in safety and style.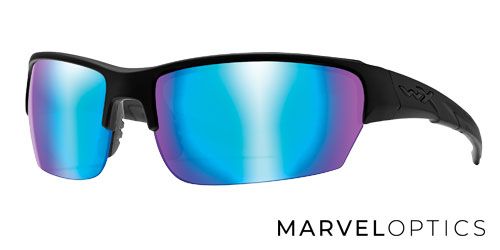 These stylish sunglasses look great and offer many benefits. Rated by the American National Standards Institute for impact protection, these polarized sunglasses are shatterproof, scratch-resistant and provide 100% UV protection. They give you clear vision in bright light so you can stay active in high-glare conditions. The comfortable, plastic wraparound frames showcase your style and protect your eyes for the best combination of fashion and function.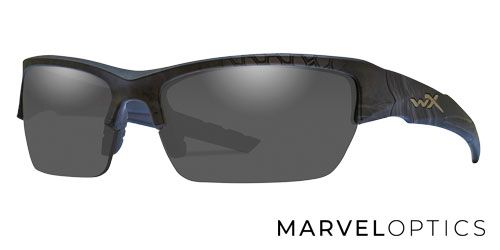 WileyX Valor polarized glasses feature lightweight, durable plastic frames that provide both comfort and protection. You can get a variety of lens types and switch them out to fit the current sun conditions. This option gives you the ultimate flexibility for many activities and adventures. Choose the frame color and pattern that fits your unique style. You will look great and get distortion-free clarity with UVA/UVB protection.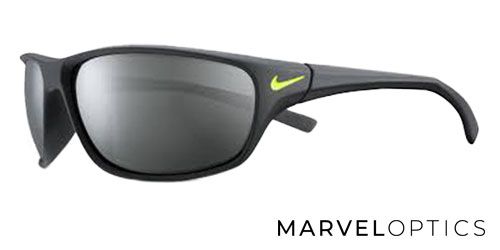 These sunglasses feature lightweight, sport-wrap frames with a slim fit profile. Maximum wide-angle coverage with polarized lenses for sharp visual acuity helps you perform at the top of your game. The lenses reduce glare and resist scratching, dust and fogging. UV protection safeguards your eyes from the dangers of the sun so that you can engage in outdoor pursuits safely. Nike upholds a quality standard for athletes and people with active lifestyles, so you get high-performance eyewear that is sleek, sporty and comfortable.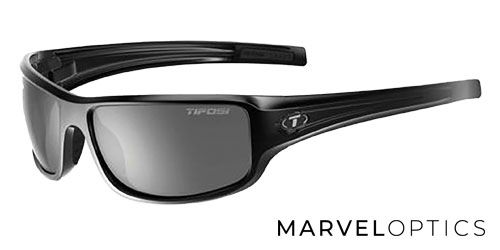 These lightweight, wraparound frames are ANSI rated for durable, long-lasting eye protection. Hydrophilic rubber nose pieces ensure a non-slip fit for your active endeavors. UV protection averts eye damage, and polarized lenses prevent color distortion and glare. Tifosi designs technologically advanced sunglasses to offer you the best eyewear for your activity.