When it comes to the daily routine, our vision plays an important role in getting things done. Many of the things we do would be very difficult or nearly impossible without eyesight. In the United States, over half the adult population, an estimated 166.5 million people wear prescription glasses to take care of their personal and professional responsibilities. The time it takes to get new prescription eyewear can be especially critical for someone who has to wear prescription frames. It's important to know the typical timeframe for a new set of prescription frames.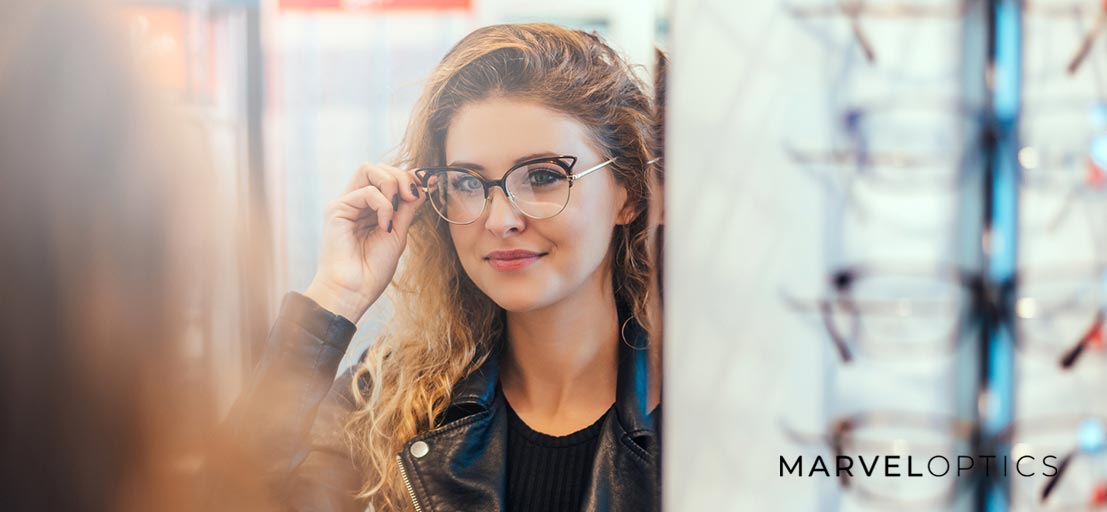 Building New Prescription Glasses
There are a number of factors that affect the time it takes for you to receive a new order of prescription eyewear. For most patients, these are the most common factors:
Prescription: A unique prescription can take longer to fill.
Lens material: Lenses can be made of standard glass, plastic, polycarbonate, and Trivex, all of which have different availabilities and requirements for use in eyewear.
Coatings: Some lenses require special coatings such as UV protection or scratch resistance to make them practical for use.
Frames: Prescription glasses frames come in various materials, shapes, and availabilities.
Creating a set of frames depends on the time it takes to match a lens shape with material, coatings, and frames.

Waiting for New Glasses
In most cases, it will take between 7 and 14 days for a new set of prescription eyewear. This timeframe is also impacted by where you get your prescription filled. Brick-and-mortar vision stores typically deliver orders in one to two weeks. When you pick up your order, a professional can check your prescription glasses for fit and make adjustments as necessary. Even with stores, you can have your order sent directly to you, but you may have to go in for adjustments.
If your prescription is processed at a doctor's office, timing will vary, but the one to two-week window applies in most cases. It's important to check with a provider for average delivery times, especially if you're under a time crunch. Similar to vision stores, the doctor will check your frames to see how they fit and if any fine-tuning is needed.
Online stores usually take one to three weeks to fulfill your prescription based on the standard or default shipping option. Delivery time will also be affected by whether orders are processed in-house or outsourced to another provider, which in some cases may be located overseas. Online stores usually ship directly. You may be able to take your frames to a vision store for free adjustments.
Enjoying Your New Glasses
Today, glasses deliveries are faster than ever. Even with a 7 to 10-day window, it's quite common to receive notification that an order is ready within 3 to 4 days. Be advised that special orders such as safety prescription glasses or prescription sunglasses may require extra time, especially with respect to making the lens. The comfort and confidence you feel when you have a new set of glasses that correct your vision with the perfect fit and ideal style make the wait worth it. You may only have to go through the process once every few years, instead of annually.
FAQs
What are ANSI prescription safety glasses?
ANSI safety prescription glasses are safety eyewear that is rated for durability for impact by the American National Standards Institute, a nonprofit organization that manages the development of standards for products within the United States. ANSI assigns different types of ratings based on the impact from a 2.4-oz steel ball from a distance of 50 inches.
What are high-index lenses?
High-index lenses are either plastic or glass and offer a refractive index of 1.60 or higher. These glasses are usually thinner than other materials for cosmetic and aesthetic purposes. They are often recommended for patients who need high-strength prescription glasses. These materials don't meet ANSI standards for impact resistance.
What is the difference between bifocals and progressive lenses?
Prescription glasses with bifocal lenses usually have a line that separates the two areas on each frame. Progressive lenses offer the same functionality, but the line is blended in. Some wearers have difficulty adjusting to the lines in bifocal lenses, making progressive lenses the preferred option.
Can prescription glasses be polarized?
Yes. Your prescription glasses can have a special coating that offers polarization benefits. Polarized glasses help to reduce glare that can lead to eye strain. UV protection coating can also be added to prescription lenses.
What limitations are there on my frames?
Your prescription glasses frames are largely dependent on the brand and style you choose. In theory, prescription lenses aren't limited by the frame. Lens materials and vision requirements will affect your options.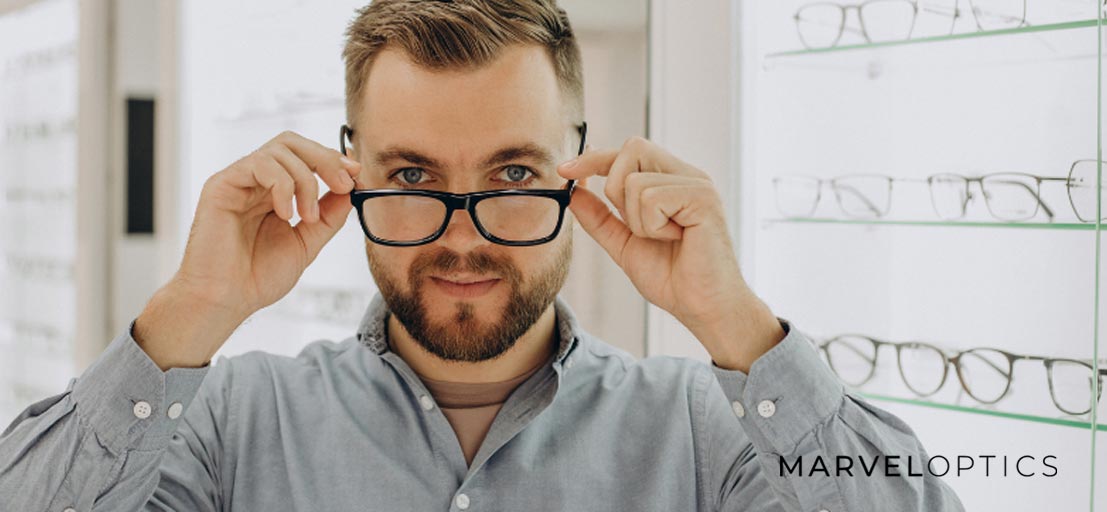 ---
Best Prescription Glasses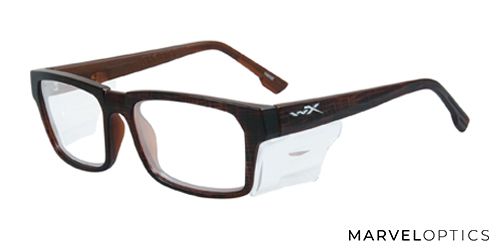 The WileyX WorkSight series of frames includes prescription-ready safety glasses. The Profile style has rectangular frames with full rims. Triloid frames and polycarbonate lenses meet the American National Standards Institute Z87.1-2010 high velocity and mass impact requirements and U.S. federal Occupational Safety and Health Administration 1910.133(b)(1)(1) standards. These glasses come with a fold-over case, removable side shields and a drawstring storage pouch.
Profile frames may be available in several color choices such as Gloss Brown Demi, Gloss Green Demi, Matte Hickory Brown, and Matte Black. This eyewear can accommodate single vision, bifocal and progressive lenses. Check the frame size and dimensions to determine whether Wiley X Profile can provide the best fit for daily, occupational or activewear.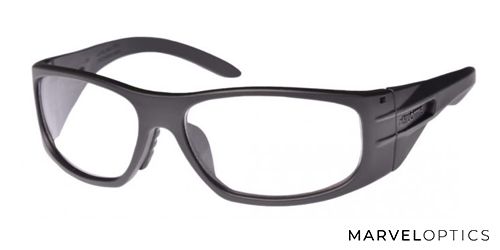 Another popular frame style ready for prescription lenses is ArmourX 6001. These plastic glasses with polycarbonate lenses meet ANSI Z87.1 safety standards. Large black rectangle frames wrap around the wearer's face. While these glasses are compatible with single vision, bifocal or progressive lenses, the base curve may not be the best choice for high Rx lenses.
The 6001 style frames from ArmourX are suitable for on-the-job or activewear. A lightweight frame design is paired with lenses treated to resist dust, fog, reflections and scratches. When fitted with clear or tinted lenses, this eyewear provides protection from ultraviolet rays. This style is popular because it is comfortable and stylish enough to wear inside and outside while doing a wide range of activities.
Shellshore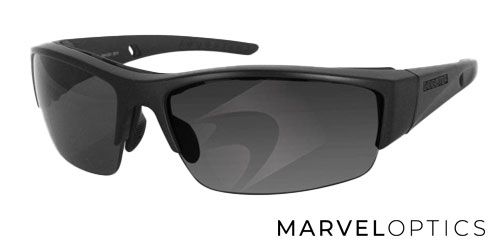 A double bridge distinguishes Shellshore by Marvel Optics apart from other metal rectangular frames. This small feature draws attention upward toward the browline, which can be helpful for balancing the features of a round, oval, triangle or diamond-shaped face and adding an element of style. These full-rim glasses come in a small size and accommodate single vision lenses.
Rectangle-shaped frames with a double bridge are ideal for oval and oblong face shapes. Check the measurements of these frames to determine whether Shellshore is the right safety prescription glasses style for you. These frames may be available in colors such as blue, gunmetal or jet black.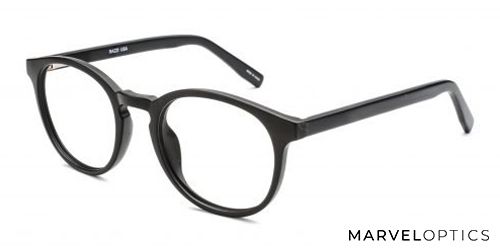 Brave frames by M-Line have on-trend vintage styling at an affordable price. These round acetate full-rim glasses have spring hinges. Some versions combine black frame fronts and colored temples. Single vision, bifocal and progressive lenses can all be fitted into these frames, as can high Rx prescriptions. An anti-scratch coating maintains optical clarity for comfortable wear and value.
Check the dimensions of Brave frames to determine whether this style is the best choice for your face. Men and women can both sport this retro style. Choose from several shades such as matte black with navy temples, matte black with red temples and matte black. You can also customize this style with clear or tinted lenses.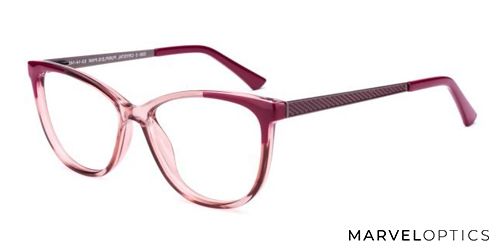 One of the most popular prescription frame styles for women is Katelyn by Marvel Optics. These cat-eye full-rim frames are another vintage style updated for modern wear. Plastic frame fronts and temples feature textural details for a unique look. The best online prescription glasses for women are compatible with single vision, bifocal, progressive lenses and high Rx prescriptions.
If you have an oval or pear-shaped face, you may want to consider Katelyn frames. These glasses can be fitted with clear or tinted lenses with an anti-scratch coating for vision correction or sun protection. These glasses come in a medium size. Check the dimensions of this eyewear to determine whether it will provide the best fit. Marvel Optics makes more prescription-ready styles for women.