The prescription eyeglasses offer a variety of lenses. These lenses include; high-index lenses, progressive lenses, multifocal lenses, and single vision lenses. All of these lenses have distinctive properties which cater to the individualized needs of every patient. Let's take a detailed look at each of these lens types.
High Index Lenses
High-index lenses are by far the most advanced form of lenses available. These lenses have the highest refractive index due to which they have the highest power of bending the light to correct the refractive errors of the eye.
Doctors usually prescribe these lenses for patients who require strong correction for myopia i.e. shortsightedness and hyperopia i.e. long-sightedness, along with light and thin lens material.
High-index lenses have thinner edges as compared to conventional lenses with similar prescription power. These lenses are also light in weight as less lens material is used for their formation because of thinner edges of these lenses, and this reduces the total weight of these lenses. Because of being lightweight, these lenses are a source of great comfort for such patients who need to wear their glasses at all times.
Progressive lenses are popularly called as 'no-line bifocals' because they eliminate the highly visible lines of the conventional multifocal lenses. One of the major advantages of these lenses is seamless progression of different power lenses meant for viewing objects at all distances. Patients usually prefer these lenses over multifocal lenses for the correction of presbyopia because of better quality vision.
The 'image jumping' problem is a common issue with multifocal lenses. This means that as the patient's eyes are moved through the sharp boundary between the distant and near parts of the lens, the image seems to jump. This is because the lenses of different power present with a single multifocal lens don't possess a smooth and seamless transition. Whereas, there's absolutely no image jumping in case of progressive lenses because of perfectly seamless lens progression.
Multifocal Lenses
There are two types of multifocal lenses i.e. bifocal and trifocal lenses. Bifocal lenses contain two lens powers to correct distant and near vision when the focus can't be changed naturally by the eyes because of different factors such as age, exposure to harmful radiations, and more. Trifocal lenses are an advanced form of bifocal lenses as they contain three lenses to correct the vision.
These lenses are prescribed to correct a common vision disorder 'presbyopia'. In this condition, the patient experiences blurred near vision during reading, sewing, or using the computer. This condition becomes quite apparent after a person crosses the age of 40. In addition to this, multifocal lenses are also used as a tool to prevent the onset of myopia in those children and teenagers who use computer and smart phones quite excessively.
Single vision lenses are the most conventional lenses used to treat the vision defects like myopia, hyperopia, and astigmatism by converging or diverging the light ways entering the eyes, so that they strike the right spot of the eye's retina. The light rays don't fall on the right spot of retina because of the compromised refractive power of the eye's lens. The single vision lenses correct this refractive power of our eyes which results in a clear image. However, these lenses are not very effective in correcting the refractive index after the age of 40, hence, they're usually replaced by multifocals, progressive, or high-index lenses.
Marveloptics.com is the number one online prescription eyeglass store which offers a vast variety of cheap prescription glasses available with all types of lenses. Now you can purchase online cheap prescription glasses from the comfort of your home and ensure maximum safety of your eyes.
---
Best Prescription Glasses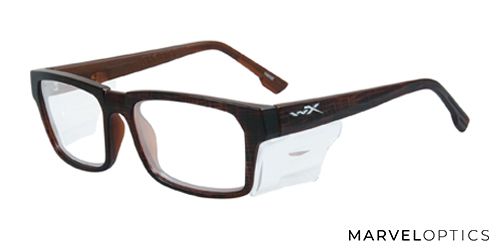 The WileyX WorkSight series of frames includes prescription-ready safety glasses. The Profile style has rectangular frames with full rims. Triloid frames and polycarbonate lenses meet the American National Standards Institute Z87.1-2010 high velocity and mass impact requirements and U.S. federal Occupational Safety and Health Administration 1910.133(b)(1)(1) standards. These glasses come with a fold-over case, removable side shields and a drawstring storage pouch.
Profile frames may be available in several color choices such as Gloss Brown Demi, Gloss Green Demi, Matte Hickory Brown, and Matte Black. This eyewear can accommodate single vision, bifocal and progressive lenses. Check the frame size and dimensions to determine whether Wiley X Profile can provide the best fit for daily, occupational or activewear.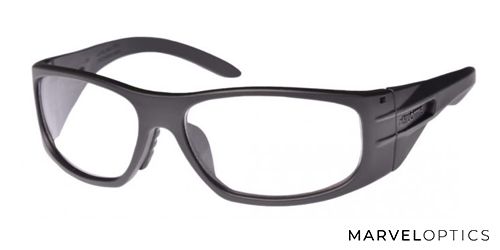 Another popular frame style ready for prescription lenses is ArmourX 6001. These plastic glasses with polycarbonate lenses meet ANSI Z87.1 safety standards. Large black rectangle frames wrap around the wearer's face. While these glasses are compatible with single vision, bifocal or progressive lenses, the base curve may not be the best choice for high Rx lenses.
The 6001 style frames from ArmourX are suitable for on-the-job or activewear. A lightweight frame design is paired with lenses treated to resist dust, fog, reflections and scratches. When fitted with clear or tinted lenses, this eyewear provides protection from ultraviolet rays. This style is popular because it is comfortable and stylish enough to wear inside and outside while doing a wide range of activities.
Shellshore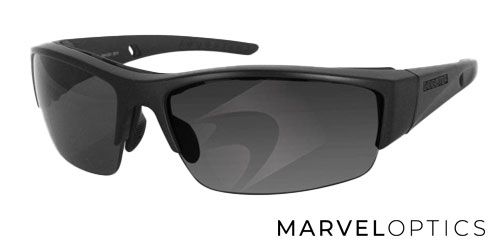 A double bridge distinguishes Shellshore by Marvel Optics apart from other metal rectangular frames. This small feature draws attention upward toward the browline, which can be helpful for balancing the features of a round, oval, triangle or diamond-shaped face and adding an element of style. These full-rim glasses come in a small size and accommodate single vision lenses.
Rectangle-shaped frames with a double bridge are ideal for oval and oblong face shapes. Check the measurements of these frames to determine whether Shellshore is the right safety prescription glasses style for you. These frames may be available in colors such as blue, gunmetal or jet black.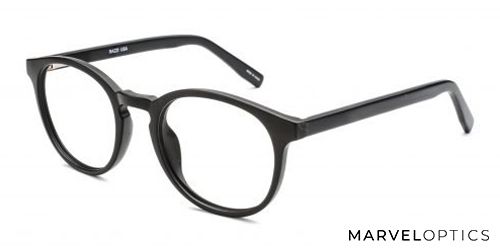 Brave frames by M-Line have on-trend vintage styling at an affordable price. These round acetate full-rim glasses have spring hinges. Some versions combine black frame fronts and colored temples. Single vision, bifocal and progressive lenses can all be fitted into these frames, as can high Rx prescriptions. An anti-scratch coating maintains optical clarity for comfortable wear and value.
Check the dimensions of Brave frames to determine whether this style is the best choice for your face. Men and women can both sport this retro style. Choose from several shades such as matte black with navy temples, matte black with red temples and matte black. You can also customize this style with clear or tinted lenses.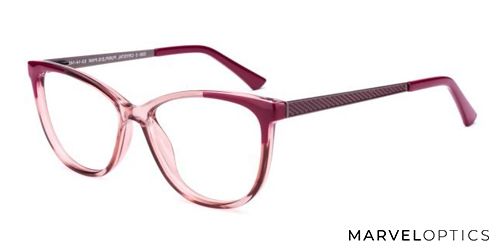 One of the most popular prescription frame styles for women is Katelyn by Marvel Optics. These cat-eye full-rim frames are another vintage style updated for modern wear. Plastic frame fronts and temples feature textural details for a unique look. The best online prescription glasses for women are compatible with single vision, bifocal, progressive lenses and high Rx prescriptions.
If you have an oval or pear-shaped face, you may want to consider Katelyn frames. These glasses can be fitted with clear or tinted lenses with an anti-scratch coating for vision correction or sun protection. These glasses come in a medium size. Check the dimensions of this eyewear to determine whether it will provide the best fit. Marvel Optics makes more prescription-ready styles for women.