If you're hunting for a new pair of glasses, you may feel overwhelmed by how many options are available to you. Some consumers find that the variety can make it difficult to discern which eyewear styles will actually exceed their expectations. To make the journey less complicated, you may find it useful to look specifically at glasses crafted by a brand with a glowing reputation like Guess. The eyewear produced by this company delivers when it comes to style and substance. Review these top models of Guess mens glasses to find the perfect pair for you.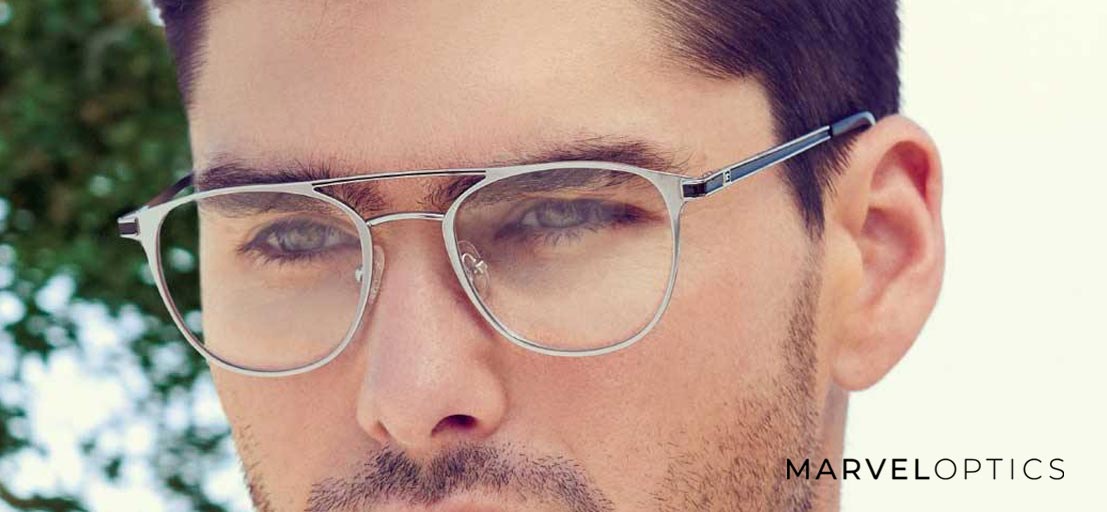 GU9184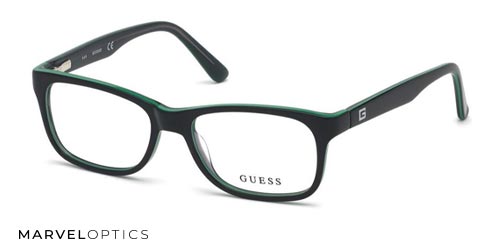 Finding the right glasses is about more than simply searching for models that will improve your ability to see. You want to feel confident when you wear your glasses, which means you need to look for a design that appeals to your sensibilities. The GU9184 is both glamorous and sexy, allowing you to showcase your individuality through your accessories. Whether you live an active lifestyle or stick close to home, this is a design that works wherever your daily routine takes you.
GU1963F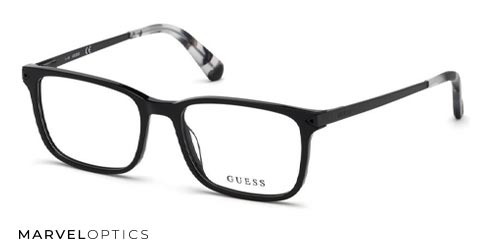 The Guess glasses that you pick should offer a bit more than a stylish edge. If you want to feel safe when you put on your eyewear, the GU1963F could be the model for you. The lenses are crafted to offer maximum protection. Treatments on the lenses allow the material to be resistant to dust, scratches, and fog. The glasses also boast enhanced UV protection, meaning you will not need to worry about the impact of direct sunlight when you spend a good amount of time outdoors.
GU9195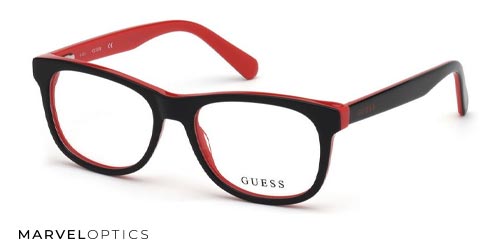 If you're the type of man who spends a lot of time behind the wheel, you may find that there are some obstacles in terms of your vision. When light bounces off of glass and reflects back into your eyes, it can create a glare that makes it difficult to discern what's ahead of you on the road. A pair of glasses like the GU9195 has been crafted with this in mind. The treatments offered on the GU9195 reduce this glare and allow you to have a comfortable and clear experience whenever you're driving for long stretches.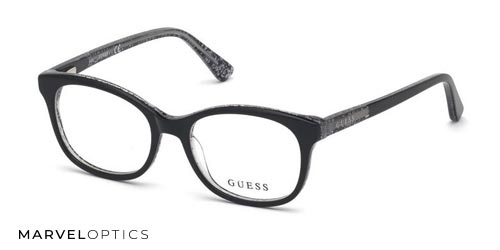 When picking out the right pair of men's prescription glasses for you, it is important to think about your personal sense of style. If you're the type of guy who prefers a simple and sophisticated look, then the GU9181 could be the perfect design to meet your needs. The look of the GU9181 is modern and classic at once, delivering a slick aesthetic that will help you feel chic without standing out. Plus, the frames have been designed to be both durable and comfortable.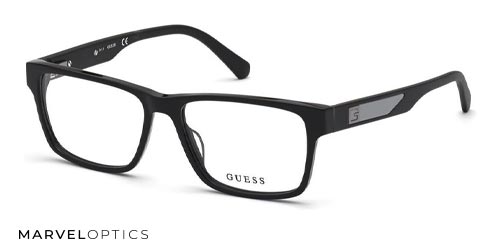 Staying prepared for anything means having access to the gear that can make your day easier to manage. If you rely on glasses to see, then you need to make sure you keep your eyewear handy. Unfortunately, some people avoid carrying around their glasses because they worry it will damage the lenses. With the GU50018, you won't need to worry about this. Whether you're out and about or hanging around the house, the GU50018 will ensure you stay safe and see with sharp precision.

FAQs
Where Can I Find the Best Guess Mens Glasses?
Shopping for the best Guess mens glasses is easy when you know where to look. Check out the variety of designs available at Marvel Optics and get a feel for the selection. In no time, you'll be ready to invest in a brand new pair of quality glasses.
What Qualities Matter Most With Men's Eyewear?
Though there are a few different factors to consider when picking glasses, experts say to focus on durability and comfort above the rest. When glasses are strong, they will last a long while. When the eyewear is comfortable, you can wear the glasses for long stretches without worry.
Can Athletes Wear Glasses?
Yes, athletes wear glasses all the time. If you're someone who lives an active lifestyle and requires a bit of enhanced protection from your eyewear, then be sure to search for glasses that are meant for those involved in sports and related fields.
How Can I Pick Glasses That Look Good on Me?
To select glasses that look good on you, be sure to take factors like the shape of your face into consideration. If you pick frames that have an opposite structure as your face shape, you will find that the design complements the natural angles and curves of your bones.
Are Glasses Considered Cool Now?
In recent years, there has been a huge shift in terms of how the public views glasses. Nowadays, the right eyewear can be thought of as cool, sexy, and suave. All you need to do is find a pair that looks the best on you.
If you're searching for the right pair of glasses, you'll find narrowing your results down to the top brands can be a great way to weed out less spectacular options. Look over the different styles of Guess mens glasses at Marvel Optics and find a pair that you feel satisfied with.