"The eyes are the windows to the soul" is an expression that is often used to describe the deep connection one feels when looking into another's eyes. However, like windows, the eyes work both ways. They are not only important in seeing into another person's soul, but they are also vital in how we view the world around us. Sight and vision are important because they allow us to connect with our surroundings, keep us safe, and help maintain the sharpness of our minds.
Sight and vision are different entities. Sight is physical – it is a sensory experience in which light reflects off of shapes and objects and the eyes then focus this light. Signals are sent to the brain to be converted into images. Vision is how the mind, an aspect of the brain, interprets these images. Vision is a metaphysical concept. Sight may allow a person to witness an event, but vision helps the person understand the significance of that event and draw interpretations. The two are harmonious, and are very important in our everyday lives.
Sight and vision help to connect people with their surroundings. Our world is filled with an extreme variety of colors, shapes, and patterns. Sight gives us the ability to perceive movement, and vision gives us the ability to make assessments about that movement. For example, you see a dog catch a Frisbee in the park, he brings the Frisbee back to his owner, and the owner gives the dog a pat on the head. Your vision tells you that this dog and this owner have a loving relationship, and that the dog enjoys playing in the park. Sight and vision are important because they bring beauty and understanding of the world to us.
They also keep us safe. The two concepts work together to provide awareness of the dangers around us. A person who can see a car coming knows to stay on the sidewalk so that he or she will not be hit and ultimately injured. In fact, sight is arguably the most important sense for safety and self-preservation. Protecting your eyes and your sight is highly important so that you may avoid harm.
Finally, sight and vision keep our minds sharp and alert. It is important to maintain your eyesight, so that you may continue to connect with the world and make quick assessments of whatever situation comes your way. Frequent stimulation of the mind and philosophical interpretation of one's sense of vision helps with overall health
and intelligence.
The quote "keep your eyes on the stars, and your feet on the ground" relates to vision. While one might say that they are literally standing and looking at the sky, there is truly more to Theodore Roosevelt's words. The message is to aim high – set goals for yourself, have great ambitions, and high expectations for your life and your future. However, do not forget to remain grounded and humble. Be realistic about your life, while never letting go of your dream and your vision.
---
Best Prescription Glasses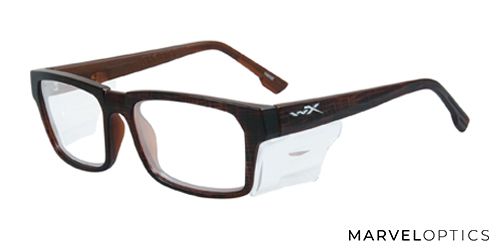 The WileyX WorkSight series of frames includes prescription-ready safety glasses. The Profile style has rectangular frames with full rims. Triloid frames and polycarbonate lenses meet the American National Standards Institute Z87.1-2010 high velocity and mass impact requirements and U.S. federal Occupational Safety and Health Administration 1910.133(b)(1)(1) standards. These glasses come with a fold-over case, removable side shields and a drawstring storage pouch.
Profile frames may be available in several color choices such as Gloss Brown Demi, Gloss Green Demi, Matte Hickory Brown, and Matte Black. This eyewear can accommodate single vision, bifocal and progressive lenses. Check the frame size and dimensions to determine whether Wiley X Profile can provide the best fit for daily, occupational or activewear.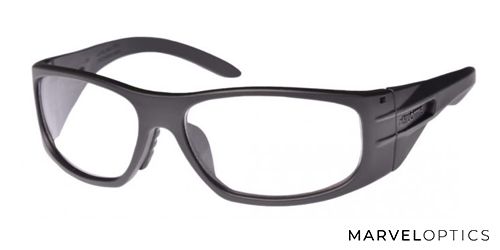 Another popular frame style ready for prescription lenses is ArmourX 6001. These plastic glasses with polycarbonate lenses meet ANSI Z87.1 safety standards. Large black rectangle frames wrap around the wearer's face. While these glasses are compatible with single vision, bifocal or progressive lenses, the base curve may not be the best choice for high Rx lenses.
The 6001 style frames from ArmourX are suitable for on-the-job or activewear. A lightweight frame design is paired with lenses treated to resist dust, fog, reflections and scratches. When fitted with clear or tinted lenses, this eyewear provides protection from ultraviolet rays. This style is popular because it is comfortable and stylish enough to wear inside and outside while doing a wide range of activities.
Shellshore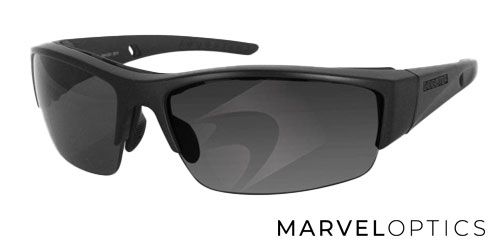 A double bridge distinguishes Shellshore by Marvel Optics apart from other metal rectangular frames. This small feature draws attention upward toward the browline, which can be helpful for balancing the features of a round, oval, triangle or diamond-shaped face and adding an element of style. These full-rim glasses come in a small size and accommodate single vision lenses.
Rectangle-shaped frames with a double bridge are ideal for oval and oblong face shapes. Check the measurements of these frames to determine whether Shellshore is the right safety prescription glasses style for you. These frames may be available in colors such as blue, gunmetal or jet black.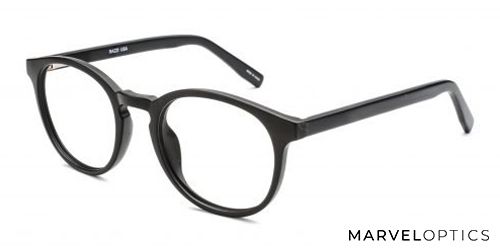 Brave frames by M-Line have on-trend vintage styling at an affordable price. These round acetate full-rim glasses have spring hinges. Some versions combine black frame fronts and colored temples. Single vision, bifocal and progressive lenses can all be fitted into these frames, as can high Rx prescriptions. An anti-scratch coating maintains optical clarity for comfortable wear and value.
Check the dimensions of Brave frames to determine whether this style is the best choice for your face. Men and women can both sport this retro style. Choose from several shades such as matte black with navy temples, matte black with red temples and matte black. You can also customize this style with clear or tinted lenses.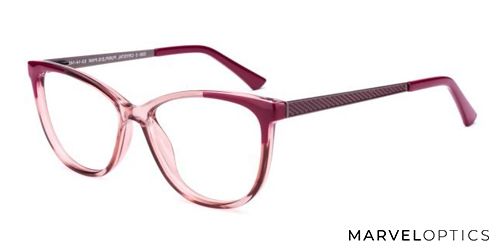 One of the most popular prescription frame styles for women is Katelyn by Marvel Optics. These cat-eye full-rim frames are another vintage style updated for modern wear. Plastic frame fronts and temples feature textural details for a unique look. The best online prescription glasses for women are compatible with single vision, bifocal, progressive lenses and high Rx prescriptions.
If you have an oval or pear-shaped face, you may want to consider Katelyn frames. These glasses can be fitted with clear or tinted lenses with an anti-scratch coating for vision correction or sun protection. These glasses come in a medium size. Check the dimensions of this eyewear to determine whether it will provide the best fit. Marvel Optics makes more prescription-ready styles for women.